The Main Differences between the AP 2800 and AP 3800 Access Points
The Cisco 2800 and 3800 Series Access Points target customers requiring support for mission-critical and best in class applications.
The 2800/3800 embodies ClientLink 4.0, an innovative antenna technology comprising four transmit radios and four receive radios called 4x4 in a Multiple Input Multiple Output (MIMO) configuration and supporting three spatial streams (3SS), together referenced as 4x4:3. Using this type of antenna system along with additional Modulation Coding Scheme (MCS) rates supporting up to 256 QAM and up to 160 MHz channel bonding, rates of up to 5 Gbps can be supported.
ClientLink 4.0 uses these features along with an additional antenna (N+1) to allow for beam-forming for all 802.11a/g/n/ac and now ac Wave-2 clients including those supporting 3 spatial streams.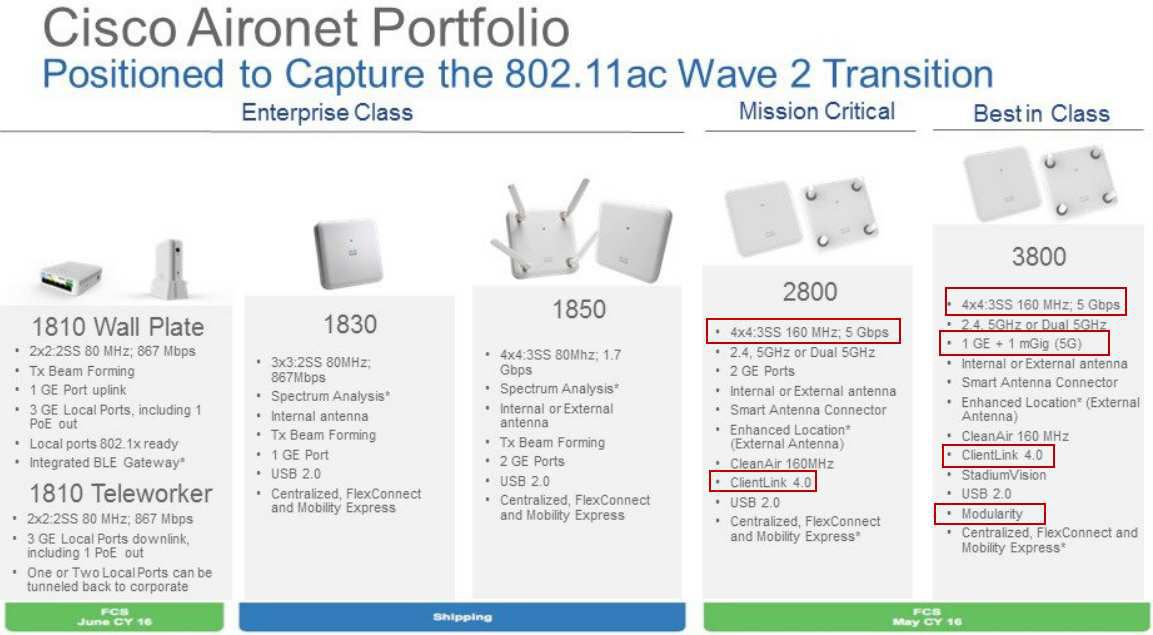 Multigigabit Ethernet
MultiGigabit Ethernet, also known as MGig or NBaseT, provides multiple gigabit uplink speeds of 2.5 Gbps and 5 Gbps in addition to 100-Mbps and 1-Gbps speeds. All speeds are supported on Category 5e cabling for an industry first, as well as 10GBASE-T cabling. This is huge achievement which can result in significant cost savings for large campus network. No longer are you constrained to 1Gbps, nor do you have to worry about running new cabling in order to support the new speeds.
Cisco Catalyst Multigigabit technology solves these challenges on their newer Catalyst 3850, 4500E and 3560-CX switches, with the 3800 Series access point taking full advantage of the single-wire MGig connection. This is an incredibly important consideration for 802.11ac Wave 2 implementations, and should be reviewed before any deployment.
Peter Jones, Principle Engineer with Cisco and NBASE-T Alliance chair, gave an impressive presentation at TFDX earlier this year, detailing the technical achievements engineered to overcome this obstacle of capacity.
Expansion Module Slot
The 3800 Series AP sports a module port for future expandability. Physical modules can be fitted for value-adds like advanced security or hyperlocation technologies.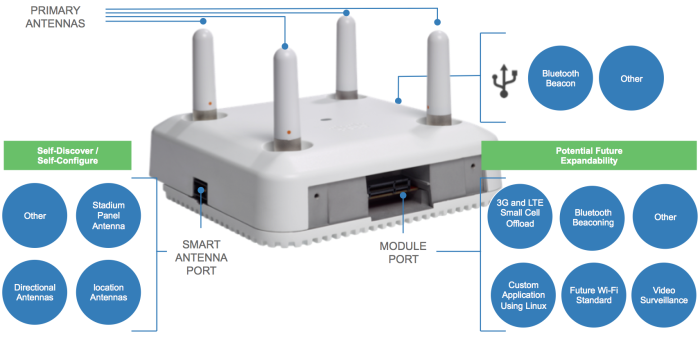 Reference from
https://overlaid.net/2016/04/21/802-11ac-wave-2-mgig-and-ciscos-2800-3800-series-access-points/
More Related
802.11AC WAVE 2, Aironet 2800 vs. Aironet 3800 SERIES ACCESS POINTS
Cisco Aironet 3800, the Newest Best-in-Class Access Point
Cisco Aironet 2800 and 3800 APs, Keep Your Connected World Spinning
To be informed of the latest articles, subscribe: