Cisco's new 802.11ax-Ready Wireless Controller for the 5G World
November 30 2018 , Written by Cisco & Cisco Router, Network Switch Published on #Cisco & Cisco Network, #Cisco Wireless - Cisco Wireless AP, #IT, #Networking, #Technology
Cisco expands Catalyst 9000 portfolio with new 802.11ax-ready wireless controller- Cisco Catalyst 9800 Series Wireless Controllers.
With the new controller, customers can, for the first time, run consistent security, automation and analytics services across wired and wireless environments by leveraging the same OS, according to Cisco. The 9800 series controller can run on premise, in the cloud—public or private—or embedded virtually on Catalyst 9000 switches.
The New Cisco Catalyst 9800 Series Wireless Controllers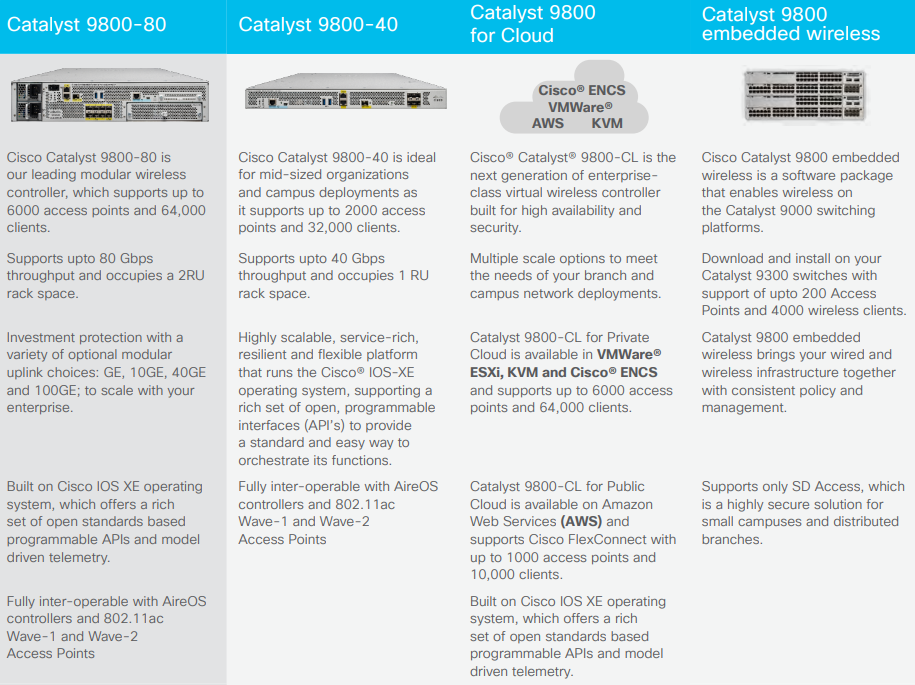 The new Cisco Catalyst 9800 wireless controllers are the next generation of wireless infrastructure products that have been built from the ground-up for Intent-based Networking. They are designed to take advantage of Cisco Digital Network Architecture (Cisco DNA™) and Cisco SD-Access. An open and programmable operating system provides flexibility of management and automation. The Cisco Catalyst 9800 is also the first in the line to offer flexible deployment and unprecedented scale options to meet the needs of your growing organization.
The Catalyst 9800 and certain 9200 model switches will be available in the fourth quarter. The remainder of the Catalyst 9200 switches available in the first quarter of 2019.
More Related:
New Catalyst Products-Cisco Catalyst 9200 Switches & Cisco Catalyst 9800 WLC
Cisco's Wireless Solutions-Deployment Modes
Cisco Catalyst 9300 Series–Tech Overview
To be informed of the latest articles, subscribe:
Newsletter
Subscribe to be notified of future posts.