Enterprise and service provider customers alike are in the fortunate position to be able to pick between two great technologies:
• IEEE 802.11ac with MU-MIMO, beamforming, and speeds from 290 to 1300 Mbps within 80 MHz
• IEEE 802.11ax with up to 8 SS and 600 to 1800 Mbps for clients (with 1024 QAM) plus additional predictability for advanced applications
IEEE 802.11ac is available today and is robust for most current customer use cases.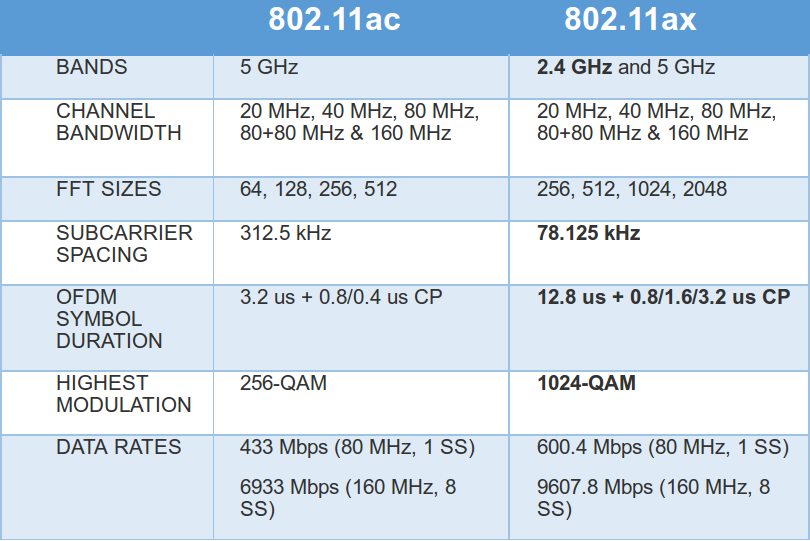 IEEE 802.11ax is the future of wireless LANs, but Wi-Fi-certifiable 802.11ax access points will be available only in several months. Clients (smartphones, tablets, laptops, etc.) supporting 802.11ax are also expected to be available starting in 2019. IEEE 802.11ax will provide:
• 4K/8K video at range to multiple simultaneous users (a true relief to every parent of teenagers in a household for sure)
• Ultra-High-Density (UHD) clients
• Determinism for AR/VR applications and significant power savings, especially for IoT devices
Most enterprise customers deploy new access points at the same time that they fit out a building or retrofit a space. For these customers, we recommend installing 802.11ac wave 2 access points today, because of the sheer value of 802.11ac wave 2. Consider also the infrastructure (port speeds) of the LAN and WAN networks because 802.11ac can deliver higher than gigabit speeds today, and 802.11ax can certainly deliver it tomorrow, so your investment plans for the future make this evaluation relevant today.
Mission-critical applications increasingly require determinism and predictability. IoT scale continues to outpace projections. For these reasons consideration of 802.11ax is warranted. The incremental value of 802.11ax exceeds any reasonable price differential and protects your investment without compromising operational realities today.
Summary
IEEE 802.11ax is an exciting new step for wireless LANs. This sixth generation of Wi-Fi will not only deliver higher effective speeds, but will enable new business models and use cases, including:
• Full service provider carrier offload
• IT/IoT convergence
• Real-time applications such as enterprise-grade 4K/8K video or augmented or virtual reality
As with every other recent Wi-Fi advances, 802.11ax is backward-compatible, building on existing technologies and making them more efficient. This scenario enables a graceful installed base transition with ever-increasing gains as the client base converges toward 802.11ax. 802.11ax is worth considering as soon as it's available, even if the client density for the technology is still evolving. In the meantime, enterprise and service provider customers looking at long-term investments in wireless LANs should strongly consider 802.11ac access points.
Detailed Technical White Paper: IEEE 802.11ax: The Sixth Generation of Wi-Fi
More info https://www.cisco.com/c/dam/en/us/products/collateral/wireless/white-paper-c11-740788.pdf
More Cisco Wireless Topics:
Cisco's Wireless Solutions-Deployment Modes
How to Order Cisco ONE for Access Wireless Products?
More: http://blog.router-switch.com/category/technology/wireless/
Top three reasons to upgrade to Catalyst 9000 family:
Secure
With access to Cisco's best in class security portfolio anchored by Talos, Encrypted Traffic Analytics, Trustworthy Solutions, MACsec encryption and segmentation, the product family provides advanced security features that protects the integrity of the hardware as well as the software and all data that flows through the switch and the network.
Always On
The Catalyst 9000 family provides enterpriselevel resiliency to keep your business up and running seamlessly. Opttions like FRU power supplies and fans, modular uplinks, modular patching, perpetual PoE, and the industry's highest MTBF.
Catalyst 9800 wireless controllers can be deployed as redundant or cloud-based options for additional wireless control redundancy.
IT Simplicity
Combine the application visibility of full flexible NetFlow with telemetry and the open APIs of Cisco IOS XE and on switches, the UADP ASIC programmability, and Catalyst 9000 portfolio gives you the best experience provisioning and managing your network now with investment protection on future innovations.
Migrate to the New Cisco Catalyst 9000 Series
Learn More:
Why Migrate to the Cisco Catalyst 9200 Series Switches?
Why Migrate to Cisco Catalyst 9300 Switches?
Why Migrate to the Cisco Catalyst 9400 Series Switches?
Why Migrate to Cisco Catalyst 9500 Switches?
Migration Guide: Cisco Catalyst 2960-X Series to New 9200 Series
Cisco Catalyst 9000 is the best solution for a new era of intent-based networking.
The Cisco® Catalyst® 9000 family of switches is the next generation of enterprise-class switches built for security, Internet of Things (IoT), mobility, and multicloud.
These switches form the foundational building block for Cisco Software-Defined Access (SD-Access), the company's lead enterprise architecture. Cisco Catalyst 9000 switches are based on x86 CPU and the latest Cisco Unified Access™ Data Plane (UADP) ASIC, which support full programmability and serviceability as well as convergence between wired and wireless over a single platform. The switches provide superior high availability and unmatched security features for the next-generation enterprise network designs. Wired and wireless security and application visibility are natively built into the switches.
The Cisco Catalyst 9000 switching family also supports full IEEE 802.3at Power over Ethernet Plus (PoE+), and Cisco Universal Power over Ethernet (Cisco UPOE®). These switches enhance productivity by enabling applications such as IP telephony, wireless, IoT, and video for a true borderless network experience.
These switches also provide segmentation options with new, innovative Cisco Locator/ID Separation Protocol (LISP)- and Virtual Extensible LAN (VXLAN)-based segmentation called campus fabric- and Multiprotocol Label Switching (MPLS)- based segmentation. They also support all the foundational high-availability capabilities such as patching, Graceful Insertion and Removal (GIR), Non-Stop Forwarding/Stateful Switchover (NSF/SSO), redundant platinum-rated power supplies, and fans.
Additionally, all Cisco Catalyst 9000 switches:
• Deliver IoT convergence with industry-leading scale and capabilities such as service discovery and "Thing" classification
• Are based on the the latest UADP Application-Specific Integrated Circuit (ASIC) technology with programmable pipeline and tables that help ensure platform longevity
• Run a modern operating system, open Cisco IOS® XE Software, that supports model-driven programmability, streaming telemetry, and patching
• Use X86-based multicore CPUs and local Solid-State Disk (SSD) storage for third-party container-based application hosting
• Provide unprecedented application visibility and control with Network-Based Application Recognition (NBAR) Version2.
More info from https://www.cisco.com/c/dam/en/us/products/collateral/switches/catalyst-9000/nb-09-cat-9k-aag-cte-en.pdf
More Related:
Cisco's New Intent-based Networking & New Line of Catalyst 9000 Switches
Mapping between Catalyst 3850, Catalyst 4500E/4500X, 6800 and Catalyst 9000
Switching for a Digital World with Catalyst 9000 Switches
Cisco Catalyst 9000 Family-Technical Deep Dive
How to Find Your Right New Catalyst 9000 Switches?
Transition Guide
[PDF] Guide to Upgrade Cisco Access and Backbone Switch
[PDF] Selecting Cisco Switches-Campus, Branch, Digital Building
[PDF] Cisco Catalyst 4500/6500/6800 Series Transition Guide
[PDF] Migrating from Catalyst 3850, Catalyst 4500E/4500X, Catalyst 6800 to Catalyst 9000