When to Upgrade to 802.11ax?
Enterprise and service provider customers alike are in the fortunate position to be able to pick between two great technologies:
• IEEE 802.11ac with MU-MIMO, beamforming, and speeds from 290 to 1300 Mbps within 80 MHz
• IEEE 802.11ax with up to 8 SS and 600 to 1800 Mbps for clients (with 1024 QAM) plus additional predictability for advanced applications
IEEE 802.11ac is available today and is robust for most current customer use cases.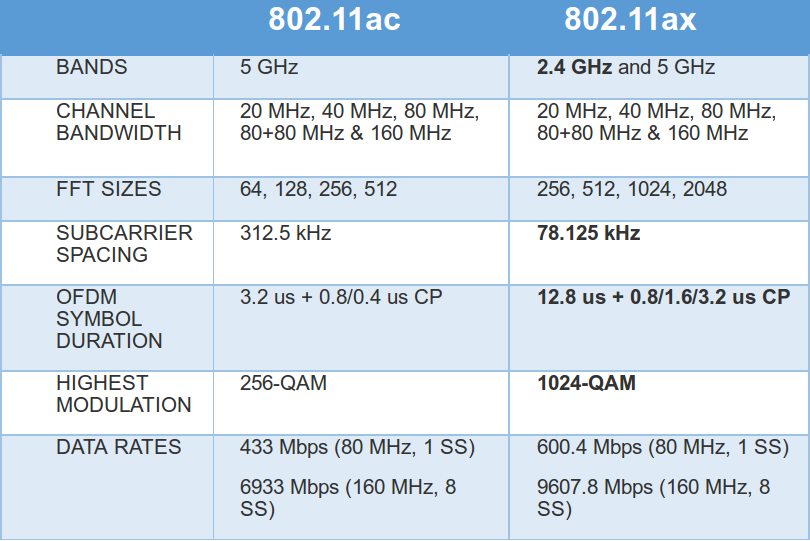 IEEE 802.11ax is the future of wireless LANs, but Wi-Fi-certifiable 802.11ax access points will be available only in several months. Clients (smartphones, tablets, laptops, etc.) supporting 802.11ax are also expected to be available starting in 2019. IEEE 802.11ax will provide:
• 4K/8K video at range to multiple simultaneous users (a true relief to every parent of teenagers in a household for sure)
• Ultra-High-Density (UHD) clients
• Determinism for AR/VR applications and significant power savings, especially for IoT devices
Most enterprise customers deploy new access points at the same time that they fit out a building or retrofit a space. For these customers, we recommend installing 802.11ac wave 2 access points today, because of the sheer value of 802.11ac wave 2. Consider also the infrastructure (port speeds) of the LAN and WAN networks because 802.11ac can deliver higher than gigabit speeds today, and 802.11ax can certainly deliver it tomorrow, so your investment plans for the future make this evaluation relevant today.
Mission-critical applications increasingly require determinism and predictability. IoT scale continues to outpace projections. For these reasons consideration of 802.11ax is warranted. The incremental value of 802.11ax exceeds any reasonable price differential and protects your investment without compromising operational realities today.
Summary
IEEE 802.11ax is an exciting new step for wireless LANs. This sixth generation of Wi-Fi will not only deliver higher effective speeds, but will enable new business models and use cases, including:
• Full service provider carrier offload
• IT/IoT convergence
• Real-time applications such as enterprise-grade 4K/8K video or augmented or virtual reality
As with every other recent Wi-Fi advances, 802.11ax is backward-compatible, building on existing technologies and making them more efficient. This scenario enables a graceful installed base transition with ever-increasing gains as the client base converges toward 802.11ax. 802.11ax is worth considering as soon as it's available, even if the client density for the technology is still evolving. In the meantime, enterprise and service provider customers looking at long-term investments in wireless LANs should strongly consider 802.11ac access points.
Detailed Technical White Paper: IEEE 802.11ax: The Sixth Generation of Wi-Fi
More info https://www.cisco.com/c/dam/en/us/products/collateral/wireless/white-paper-c11-740788.pdf
More Cisco Wireless Topics:
Cisco's Wireless Solutions-Deployment Modes
How to Order Cisco ONE for Access Wireless Products?
More: http://blog.router-switch.com/category/technology/wireless/
To be informed of the latest articles, subscribe: