Cisco's Cius, Android-based, Business-focused tablet to AT&T Coming This Fall
Many electronic stars promote their tablets one after the other while iPad is sweeping over the world, such as Samsung's Galaxy Tab, Lenovo's LePad, Acer's Iconia Tab and so forth. To follow this fashion and share market with other competitors, CISCO also announced that it would bring Cisco's Cius Android tablet to AT&T in the following fall. Cisco Cius, Android-based, business-aimed, is a "mobile collaboration tablet that delivers virtual desktop integration with anywhere, anytime access to the full range of Cisco collaboration and communication applications, including HD video."(John Chambers, Cisco CEO)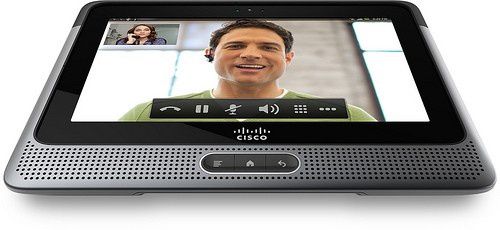 Also to aim at business sect, the Cius doesn't appear to be a consumer product. It's compatible with Cisco's suite of business software tools, and designed to be able to connect mobile employees with the right people and right content from within the network. To our surprise, CISCO's Cius is fully interoperable with telepresence tools, offers HD video streaming, multi-party conferencing, email, messaging, browsing and the ability to produce, edit and share content stored either locally or on the cloud.
And it features a front-mounted 720p HD camera that refreshes at up to 30 frames per second; Wi-Fi-enabled, comes with an accelerometer, has a detachable battery and a 5-megapixel rear-facing camera.
Cisco first unveiled the Cius tablet last summer. At the time, the company said the device would sell for less than $1,000. However, Cisco has yet to reveal pricing for the tablet. AT&T also failed to say how much it will charge for access to its HSPA+ network from the device.
Now, AT&T announced that it will sell CISCO's Cius to enterprise users this fall. Cisco is shifting away from the consumer market. Besides the business-focused tablet---th Cius, the typical example is that Cisco killed off Flip video camera business and refocused its operation on core routing (all types of Cisco enterprise-based routers: Cisco1800/1900/2800/2900 series, etc., switching (Cisco switch catalyst 2960/3560/3750, 4500 series, etc.) and services, collaboration, architectures, and video.
No matter what difficulties Cisco need to face, we still believe that Cisco is a leader in networking solution, services for enterprises.
What Cisco brings to us next like surprising Cius? We are looking forward to it.
To be informed of the latest articles, subscribe: