What Dose Customers Benefit From Cisco 2960-X Switches?
To address these challenges and transform IT, Cisco introduced the Cisco Catalyst 2960-X Series (stackable Gigabit Ethernet access switches) to enable network connectivity for enterprise, midmarket, and branch office locations. These switches enable reliable and highly secure business operations with lower total cost of ownership through a range of innovative features, including Cisco FlexStack Plus, Application Visibility and Control, Power over Ethernet Plus (PoE+), innovative power management, and Catalyst Smart Operations. This highly differentiated and innovative product will help you lock out the competition and win back port share. With these switches you can participate in the huge refresh opportunity from a large installed base that is fully amortized, and increase deal size by creating architectural linkages with other Cisco products, such as Cisco Identity Services Engine (ISE), and Cisco Prime.
What does customer benefit from Cisco 2960-X series? The switches are scalable, smart, simple, and secure and at the same time provide investment protection. They also provide Layer3 routing capability and application-aware intelligence, with double the scale of the existing generation.
Scalable: Catalyst 2960-X Series is scalable to meet growth needs today and in the future. These switches offer high density, with 24 or 48 Gigabit Ethernet ports and 1 and 10 Gigabit Ethernet uplinks for desktop connectivity and are ready for 1-Gbps wireless (802.11ac). They deliver wire-rate performance on all ports to keep up with increasing traffic by exploiting the full capacity of each port. The switches support FlexStack Plus with up to 80 Gbps of stack bandwidth and up to eight members in a stack for 384 Gigabit Ethernet ports, doubling many performance aspects of the existing Cisco Catalyst 2960-S Series Switches. They offer a high-capacity 740W power supply that can power all 48 ports for PoE or 24 ports for PoE+. The benefits of PoE and PoE+ are easy and rapid deployment of IP endpoints, such as IP phones, access points, and cameras, while saving the cost of installing power outlets.
The Cisco Catalyst 2960-X Series is resilient, with control-plane redundancy across FlexStack Plus switches. This feature minimizes traffic disruption if the stack member fails. The Catalyst 2960-XR is also equipped with redundant power supplies for power resilience.
Smart: The Cisco Catalyst 2960-X Series Switches are smart, with intelligent access services, in depth application visibility and control, and best-in-class energy efficiency.
•Built with True Stacking: FlexStack Plus enables unified configuration and unified single IP address management across all stack members for simplicity, efficiency, and scalability. Cross-stack quality of service (QoS) automatically applies the QoS configuration of the master switch to other stack members to ensure QoS consistency, configuration accuracy, and simplicity. Cross-stack high availability provides for automatic election of a new master switch in case of stack master failure for greater resilience.
•Built for network programmability: Cisco One Platform Kit (onePK) is an easy-to-use software-defined networking (SDN) toolkit for development, automation, rapid service creation, and more. Catalyst 2960-X Series Switches are onePK ready, enabling customers to build applications to automate and create services across the campus.
•Built for application visibility and control: For the first time, the Catalyst 2960-X Series supports NetFlow Lite services that enable IT teams to monitor and record important traffic flows through a packet-sampling mechanism. When combined with Cisco Prime or other NetFlow collectors, it can help IT prioritize business-critical applications.
•Built for unified access:
–One policy through integration with Cisco ISE
–One management through integration with Cisco Prime
•Built for green IT—the greenest access switch ever:
–Cisco EnergyWise monitors and controls PoE and PoE+ device power consumption to reduce energy costs. It can turn the connected IP devices on or off to reduce power consumption based on predefined policies. For example, the IP phones can be set to turn off automatically after business hours.
–Energy-Efficient Ethernet (EEE) enables dynamic power savings on all switch ports, saving about 15W for a 48 port-switch and 8W for a 24 port-switch.
–The Catalyst 2960-X Series introduces two new innovative energy-saving sleep modes for the switch. Switch Hibernation mode puts the switch to sleep, consuming as little as 6W, compared to approximately 50W in active mode.
Downlink Hibernation mode shuts down the downlink interface to save 0.5W per port when the connected devices are not in use, even if the devices are not EEE aware. Downlink Hibernation mode also shuts down PoE and PoE+ to save additional energy.
Collectively these features are game changers in green technology that can reduce switch power consumption by up to 80 percent.
Simple: Cisco Catalyst 2960-X Series Switches are simple to deploy, manage, and troubleshoot. As part of the Cisco Unified Access portfolio, the Cisco Catalyst 2960-X Series Switches are fully integrated with Cisco Prime, to offer simple operation from a central location.
They can also be managed by Cisco Network Assistant, which features an intuitive GUI with which users can easily apply common services across Cisco switches, routers, and access points.
Cisco Catalyst 2960-X Series Switches offer Catalyst Smart Operations features to lower the total cost of ownership:
•Smart Install automatically downloads Cisco IOS Software and configures the switches for zero-touch deployment.
•Auto Smart Ports automatically configures (for example, VLAN, security, and QoS settings) ports based on device type (such as IP phones, printers, and access points) for simplified configuration and rapid deployment.
•Smart Call Home offers proactive diagnostics and remediation of hardware and software issues.
Secure: Cisco Catalyst 2960-X Series Switches offer security features to help ensure easy and highly secure network deployment and access. The security policies can be set consistently across the network by Cisco ISE.
Unlike competitors' switches, Catalyst 2960-X Series Switches preserve customer investment by allowing mixed stacking with existing Catalyst 2960-S and 2960-SF switches. Customers can grow their access networks by adding the new 2960-X switches to their existing 2960-S and 2960-SF stacks.
What customers can Cisco recommend this product? The following points tell you the users who need the Cisco 2960-X series:
•Simplify the management of their unified wired and wireless infrastructure
•Build resilient converged network infrastructure to deploy BYOD, video, cloud applications, and 1-Gbps wireless solutions
•Improve the user experience and have granular control over policy
•Address more traffic in the future, including increasing numbers of devices (of all kinds)
•Scale its business for a larger amount of traffic and devices in the unified wired and wireless network
•Protect their investments in network infrastructure and build for future expansion
Table1 lists the Cisco solutions applicable to various customer deployments and needs. /When to Sell Catalyst 2960-X Series Switches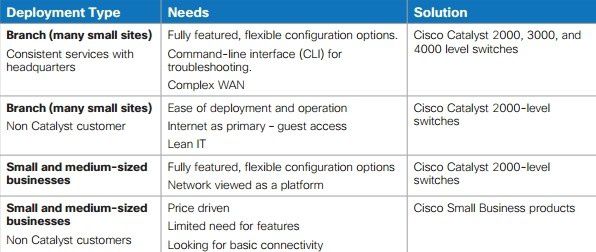 Table2 shows how the features of the Catalyst 2960-X Series compare to competitors' switches.
Table2 Comparison of the Catalyst 2960-X Series to Competitors' Switches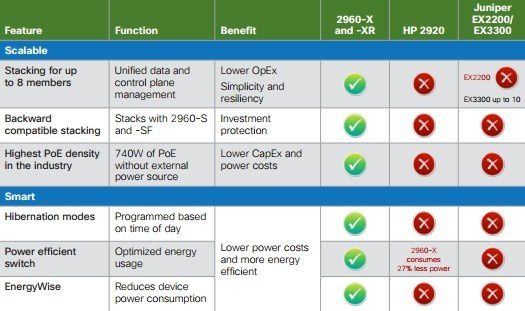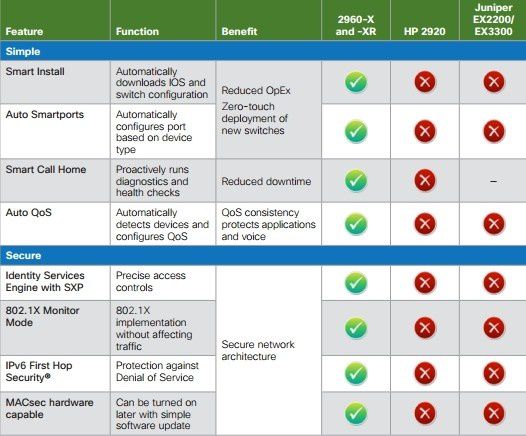 More Cisco 2960 Topics:
How to Configure the Voice VLAN Feature on the Catalyst 2960 and 2960-S Switches?
Cisco Catalyst 2960-X Series Switches Debut at Cisco Partner Summit
More Popular Topics Related to Cisco Catalyst 2960-S FlexStack
To be informed of the latest articles, subscribe: