What are Ethernet and Ethernet Switches?
Ethernet is the most common LAN (Local Area Network) technology in use today. Xerox developed Ethernet in the 1970s, and became popular after Digital Equipment Corporation and Intel joined Xerox in developing the Ethernet standard in 1980. Ethernet was officially accepted as IEEE standard 802.3 in 1985. The original Xerox Ethernet operated at 3Mbps. Ethernet networks up to 10Gbps now exist.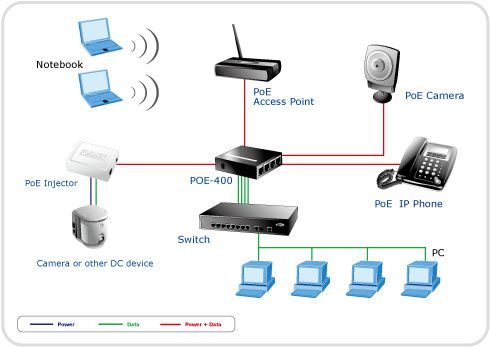 Ethernet Cabling
The first Ethernet standard, 10Base-5, ran over thick coaxial cable. A later standard, Ethernet 10Base-2, ran over a much thinner coaxial cable. These two versions of Ethernet were colloquially known as thicknet and thinnet.
Modern Ethernet standards run on UTP (Unshielded Twisted Pair) or fiber-optic cabling.
| | |
| --- | --- |
| Ethernet Standard | Cable Specification |
| 10Base-T | Category 3 UTP |
| 100Base-TX | Category 5 UTP |
| 1000Base-T | Cat 5e UTP |
| 1000Base-SX | Optical Fiber |
Ethernet Topologies
Ethernet 10Base-5 and 10Base-2 used a bus topology. Bus topologies were difficult to maintain and troubleshoot.
Modern Ethernet networks use a star topology with an Ethernet hub, switch, or router at the center of the star.
It is still possible to create a two-node Ethernet network in a bus topology using a null-Ethernet cable between the two devices.
Ethernet DTE and DCE
All nodes on an Ethernet network are either DTE (Data Terminal Equipment) or DCE (Data Communications Equipment).
Ethernet DTE are devices such as computers and printers that are trying to communicate on the Ethernet network.
Ethernet DCE are devices such as switches and routers that are trying to help other devices communicate on the Ethernet network.
Ethernet CSMA/CD
Like any network, Ethernet must have an algorithm for determining when each network node is allowed to communicate.
In Ethernet, this algorithm is known as CSMA/CD (Carrier Sense Multiple Access / Collision Detection).
CSMA/CD has proven to be a very capable, if highly anarchistic, algorithm.
Ethernet Switch
A switch is something that is used to turn various electronic devices on or off. However, in computer networking, a switch is used to connect multiple computers with each other. Since it is an external device it becomes part of the hardware peripherals used in the operation of a computer system. This connection is done within an existing Local Area network (LAN) only and is identical to an Ethernet hub in terms of appearance except with more intelligence. These switches not only receive data packets, but also have the ability to inspect them before passing them on to the next computer. That is, they can figure out the source, the contents of the data, and identify the destination as well. As a result of this uniqueness, it sends the data to the relevant connected system only, thereby using less bandwidth at high performance rates.
More Ethernet and Ethernet Switches Tips: Ethernet & Ethernet Switch
Ethernet Switches and Crossover Cables
The wires in a crossover cable are "crossed" so that output signals from the transmitting device are properly sent as input signals to the receiving end. An Ethernet switch can be thought of as a device that makes temporary crossover cable connections between computers that want to communicate. Just like crossover cables, switches do not suffer from collision problems.
However, it should be noted that the actual cables used are "straight through." The crossover function is done inside of the switch.
Since separate wires are used for sending and receiving, switches support operation in full duplex mode. This mode allows devices to send and receive data at the same time.
Advantages over Hubs
As mentioned above, switches are intelligent devices that can read the data packets that pass through them. By storing each host's MAC address and its corresponding port in a table, switches ensure that bandwidth is not wasted by intelligently directing traffic. Hubs are dumb devices that do not do any processing.
Unlike hubs, switches are modern, fast, and support full duplex operation. In short, they are much better.

To be informed of the latest articles, subscribe: