Three Big Reasons to Buy Cisco
While Cisco Systems has put up lackluster results thus far this year – down just over 1% on a year-to-date basis as of this writing– there are some significant reasons to buy this stock at current levels. To begin with, even as analysts wrongly try to reclassify Cisco as a value stock, the company is undervalued across various metrics. Additionally, through important strategic partnerships with players like VMware, the company continues to have significant growth potential. Finally, despite the negative press the company has received over its deal with ZTE, the relationship is not critical to Cisco and the news will continue to fade. Ultimately, Cisco offers real growth while trading at a value multiple and paying a healthy "value-stock" dividend. The stock is a strong buy for your core portfolio.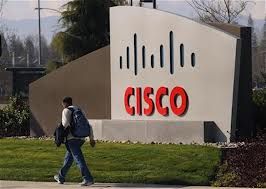 The Valuation Question
At current levels, Cisco is trading at a trailing P/E of 12.5 and a forward P/E of 9. Competitors are trading at much higher multiples, including Juniper Networks with a trailing P/E of 36.5 and a forward P/E of 15.6. Those figures are without the benefit of the 3% dividend offered by Cisco. The respective PEG ratios for the two companies are 1.21 for Cisco and 1.57 for Juniper, so even with the growth element included, Cisco is more attractive.
It's not that I wouldn't prefer to own a smaller company trading at a higher multiple with less growth and no dividend, but the analysts tell me that Juniper is a growth stock and Cisco has become a value stock. Sarcasm aside, on a valuation basis – regardless of whether we choose to call Cisco a growth stock or a value stock – the networking juggernaut is a better value at current levels than its peers. On this consideration alone, Cisco is a buy.
Strategic Alliances
Arguably the most important partnership that Cisco currently has in place to target future growth is the alliance it has forged with VMware. The two companies are collaborating on a variety of projects, but the software-defined data center is amongst the most critical. When the VMware CEO was recently interviewed in conjunction with his company's acquisition of Nicira, he admitted that as the company looks to transition the network space from hardware-based to software-based, its relationship with Cisco would change. He went on to add," Does it change our relationship with Cisco? Well, certainly, but we are reviewing this as a positive opportunity to create more partnerships with them."
Not that one would expect a CEO that has forged a partnership with a 70% market share player like Cisco to come out and say he plans to run them into the ground, but the nature of the relationship itself suggests otherwise. The software-defined data center is being developed by a team that is funded by the two companies, but is being run independently. As the market shifts and acquisitions are made, the relationship will evolve, but Cisco's close ties with VMware is a second reason to own the stock.
Dying Hype
One drag this year on Cisco shares has been the negative press the company received over the end of its sales relationship with Chinese ZTE Corp. The probe, that dates back to the early part of this year, uncovered that the Chinese affiliate had sold Cisco made products inside Iran. The fallout has sparked investigations by the FBI and several Congressional committees charged with addressing security concerns. The relationship between the two companies is said to have been tense for some time, so this development may actually give the company a needed out to end the relationship. While Cisco is not reliant of this relationship, having your company name mentioned in the same sentence as "concerns over national security" can cast a pall over the stock. This cloud is dissipating, however, and this should serve as a third reason to buy Cisco.
Overall, Cisco presents investors with a myriad of reasons to own shares at current levels.
Foolish Bottom Line
Cisco Systems has had a lot of movements both up and down, but is today's rise a sign of further gains to come? Get the answers you need in the Fool's latest premium report on Cisco, which provides our latest analysis along with a year's worth of free updates to take you well into the networking giant's future. Click here and start reading today.
News from msnbc.msn.com
http://www.msnbc.msn.com/id/49476808/ns/business-motley_fool/#.UIZGr-g2Ade
More Cisco News go to http://blog.router-switch.com/category/news/
To be informed of the latest articles, subscribe: