Router? Switch? Be Clear the Difference Between Router and Switch.
When someone talk about Cisco router, or Cisco switch with me, I'm very confused about this. Router? Switch? What are they? What are they used for? Oh, My Lady Gaga, complicated.
However, after I have found some details of router and switch, it seems a little interesting. Because both router and switch are tightly related to network, to internet. If you have PCs, if you need to email to somebody, or if you want to chat with friends, they are necessarily contained. Haha, eager to get more information of router and switch. I search many details and "the difference between router and switch" through Google. Now, I'd like share some key info about router and switch.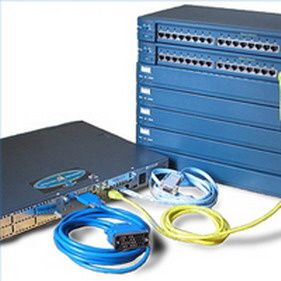 What's a router? A router is a more sophisticated network device than either a switch or a hub. It is a device that forwards data packets across computer networks, and perform the data "traffic directing" functions on the Internet. On the Internet or on a large corporate network, for example, routers serve as intermediate destinations for network traffic. These routers receive TCP/IP packets, look inside each packet to identify the source and target IP addresses, then forward these packets as needed to ensure the data reaches its final destination. Routers for home networks (often called broadband routers) also can join multiple networks. These routers are designed specifically to join the home (LAN) to the Internet (WAN) for the purpose of Internet connection sharing. In contrast, neither hubs nor switches are capable of joining multiple networks or sharing an Internet connection.
And switch? A network switch or switching hub is a computer networking device that connects network segments. The term commonly refers to a multi-port network bridge that processes and routes data at the data link layer (layer 2) of the OSI model. By paying attention to the traffic that comes across it, it can "learn" where particular addresses are. For example, if it sees traffic from machine A coming in on port 2, it now knows that machine A is connected to that port and that traffic to machine A needs to only be sent to that port and not any of the others.
The two pieces of equipment (router and switch) look so similar and perform some similar functions, but each has its own distinct function to perform on a network. To be simple, switches create a network. Routers connect networks. A router links computers to the Internet, so users can share the connection. A router acts as a dispatcher, choosing the best path for information to travel so it's received quickly.
So what do you need? A router or switch? After got these above, you can make sure that which you need. And more information of Cisco sale, you can visit RouterSwitch.com.
To be informed of the latest articles, subscribe: