Quick Q and A to know Cisco SMARTnet Service.
What is Cisco SMARTnet Service?
Cisco SMARTnet Service is an award-winning technical support service that can give your IT staff direct, anytime access to Cisco experts and online self-help resources required to resolve issues with most Cisco products. With SMARTnet Service, you can choose from a broad range of service delivery options for Cisco products.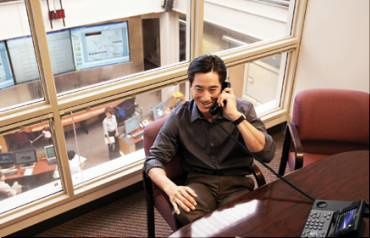 What is included with Cisco SMARTnet Service?
Cisco SMARTnet Service provides the following device-level support:
• Direct access 24 hours a day, 365 days a year to specialized experts in the Cisco Technical Assistance Center (TAC).
• Extensive self-help support through Cisco's online knowledge base, communities, resources, and tools.
• Smart, proactive diagnostics and immediate alerts on select devices enabled with Cisco Smart Call Home feature.
• Operating system (OS) software updates, including both minor and major releases within your licensed feature set.
• Advance hardware replacement options, including 2-hour, 4-hour, and next-business-day (NBD) replacement, as well as return for repair (RFR).
• Optional onsite service that provides a field engineer who can install replacement parts at your location.
• Increase ROI by up to 192 percent having access to Cisco operating system software enhancements
• Expedite time to repair with the right parts at the right time to resolve issues quickly
• Better manage scarce internal expert resources at all locations when utilizing the proactive diagnostics and realtime alerts available with Smart Call Home, on select devices
• Empower your IT staff and improve productivity and revenue per employee with access to tools and technical support documentation that can increase self-sufficiency and technical knowledge
Why should you purchase Cisco SMARTnet Service?
By covering networking devices with a Cisco SMARTnet contract, you can:
•Improve network availability, reliability, stability, and security with direct access to networking engineers at Cisco
•Reduce the cost of network ownership by using Cisco expertise, knowledge, and availability
Is Cisco SMARTnet Service only limited to break/fix insurance?
No. The Cisco SMARTnet Service offers you help handling complex network operation and management issues such as:
•Advance software configuration
•Interoperability and upgrade questions
•Hardware and software information
In addition, Cisco SMARTnet Service helps you protect your network investments and minimize risks by:
•Keeping your networking technology up-to-date with the latest OS software features and system improvements within your licensed feature set
•Supplementing your network support organization to help ensure the availability of the knowledge and skills necessary to address rapidly changing technologies
•Providing access to knowledgeable resources and tools for rapid resolution of issues
•Eliminating the challenges of carrying replacement hardware in inventory and delivering them to remote sites
•Providing optional trained field engineering resources to perform replacement services when and where you need them
•Troubleshooting Call Home-capable devices in real time and reporting details back to you using a web portal and alerts using Smart Call Home
What additional features are available under the Cisco SMARTnet onsite option?
Cisco SMARTnet onsite includes the same capabilities as Cisco SMARTnet, with the addition of an onsite technician for parts replacement and installation. It is available with all SMARTnet advance hardware replacement service levels.
How should you choose between Cisco SMARTnet and Cisco SMARTnet onsite?
Cisco SMARTnet onsite support is the appropriate choice when:
•You do not have the appropriate expert resources at a given site, such as a remote site.
•Trained personnel are not readily available to react quickly to a network issue. The Cisco SMARTnet onsite service option provides rapid replacement of hardware.
Features and Benefits: Service Capabilities
What are service capabilities for SMARTnet?
Table 1 illustrates SMARTnet's five main service capabilities.
Table 1. Cisco SMARTnet Service Capabilities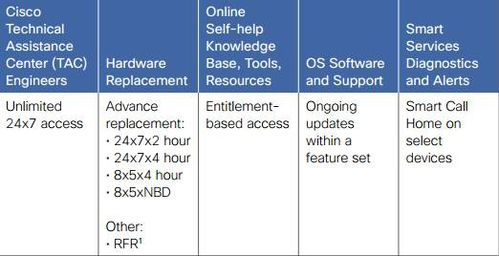 1. Return for repair on select video products only.
•Expert assistance: To complement your in-house resources, the Cisco TAC employs a highly skilled staff that offers you years of networking experience, including many customer support engineers with networking and CCIE certifications as well as research and development engineers. Cisco engineers hold more than 800 U.S.-issued patents and have authored numerous industry white papers and books.
•Faster resolution: The Cisco TAC provides constant measurement of customer satisfaction and time-toresolution tracking, including an automated escalation sequence beginning one hour after submittal of severity 1 and severity 2 issues, resulting in CEO intervention by John Chambers after 48 hours for any severity 1 problem.
For more information, view the Cisco Severity and Escalation Guidelines.
http://www.cisco.com/web/about/doing_business/legal/service_descriptions/docs/Cisco_Severity_and_Escalation_Guidelines.pdf
•Visibility into issue resolution status: You are kept up-todate on all changes to your case through email notifications and personalized handoffs between you and Cisco engineers if your case warrants a move to a new specialization due to the nature of the issue, or a change occurs in work shift.
•Networking expertise: The Cisco TAC offers depth and breadth of knowledge and experience with Cisco devices and operating system software, as well as a broad range of networking environments and technologies. Cisco TAC engineers have a minimum of five years of industry experience, and Cisco provides continuous training to help ensure our technical staff stays current with the latest technologies.
•Support 24 hours a day, 365 days a year in multiple languages: By telephone, web, or email, the Cisco TAC is there when you need it.
•Tested and proven resolution methods: Cisco uses a powerful virtual lab as an invaluable engineering resource and knowledge base for testing of network problems and recommended resolutions.
Can I get support from the Cisco TAC if I do not have a service contract?
Yes. The Cisco TAC will help you if you do not have a Cisco service contract, but you will be requested to pay a "perincident fee" or to purchase a service contract.
How does the Cisco TAC prioritize service requests?
Cisco processes allow for you to designate the severity of every service request reported. Problems are reported in a standard format using the following problem severity definitions:
•Severity 1: When an existing network or environment is down or there is a critical impact on the end user's business operations. Cisco and the end user will commit full-time resources to resolve the situation.
•Severity 2: When the operation of an existing network or environment is severely degraded or significant aspects of the end user's business operation are being negatively affected by unacceptable network performance. Cisco and the end user will commit full-time resources during standard business hours to resolve the situation.
•Severity 3: When the operational performance of the network or environment is impaired while most business operations remain functional. Cisco and the end user are willing to commit resources during standard business hours to restore service to satisfactory levels.
•Severity 4: When information is required on Cisco product capabilities, installation, or configuration and there is little or no effect on the end user's business operation. Cisco and the customer are willing to provide resources during standard business hours to provide information or assistance as requested.
More Related Cisco SMARTnet Service you can read at
http://www.cisco.com/en/US/services/ps2827/ps2978/services_qa0900aecd8042b4d6.pdf
Cisco SMARTnet Service-IMPROVE NETWORK & IT INFRASTRUCTURE PRODUCT AVALABILITY
Cisco Smart Care Service
http://www.cisco.com/en/US/services/ps2827/ps7343/services_qa0900aecd8061279a.pdf
To be informed of the latest articles, subscribe: