Overview on CISCO 7200VXR Series Routers
With processing speeds up to 2 million packets per second, port- and service adapters ranging from NxDS0 to Gigabit Ethernet, and OC-3 as well as an unparalleled number of high-touch IP services, the Cisco 7200 VXR series is the ideal Services Aggregation WAN/MAN edge device for enterprises and service providers deploying any of the following solutions:
• WAN edge-Award-winning quality-of-service (QoS) feature performance
• Broadband aggregation-Up to 16,000 Point-to-Point Protocol (PPP) sessions per chassis
• Multiprotocol Label Switching provider edge (MPLS PE)-Number one choice for provider edge deployment today
• Voice/video/data integration-Time-division multiplexer (TDM)-enabled VXR chassis and voice port adapters
• IP-to-IP Gateway Support-Direct IP-interconnections
• IP Security virtual private networking (IPSec VPN)-Scalable to 5,000 tunnels per chassis
• High-End Customer Premises Equipment (CPE)-For managed WAN services saving equipment, transport and administrative cost
The Cisco 7200 VXR addresses these solution requirements by integrating functions previously performed by separate devices into a single platform. Through this integration, the Cisco 7200 VXR provides a single, cost-effective platform that supports:
• High-density LAN and WAN interfaces
• Broadband subscriber services aggregation, including PPP, RFC 1483 termination, and Layer 2 Tunneling Protocol (L2TP) tunneling
• Digital T1/E1 TDM trunk termination for voice, video, and data
• High-density multichannel T3/E3 and T1/E1 with integrated channel service unit/data service unit (CSU/DSU)
• ATM and Packet over SONET (POS) connectivity
• ATM IMA (Inverse Multiplexing over ATM) for voice, video, and data
• Light-density Layer 2 Ethernet switching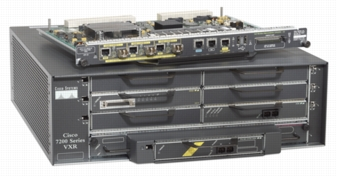 The Cisco 7200 VXR Router Series with Network Processing Engine NPE-G2
The Cisco 7200 VXR Series offers a rich set of capabilities that address requirements for performance, density, high reliability, availability, serviceability, and manageability.
Cisco 7200 VXR Features and Benefit
| | |
| --- | --- |
| | |
| | Provides high-performance routing and processing performance |
| | Meets a variety of topology requirements with the widest range of port densities and interface options |
| | Supports QoS, security, MPLS, broadband, multiservice, voice, IP-to-IP Gateway and management features for next-generation networks |
| | Low initial investment with upgrade and redeployment capability |
Hardware for Cisco 7200 VXR Series Router includes:
• 7204 VXR or Cisco 7206 VXR chassis
• Input/Output controller memory
• Console and auxiliary cables
• Second power supply, accessories
More Notes: If you need to know more about Cisco 7200VXR series (for enterprise head offices and service provider edge), such as its applications, Specifications--- Cards, Ports, Slots; Components--- Chassis, Environmental Conditions; Processors, Input/Output Controllers, Port Adapter Jacket Card, Interfaces, Performance---Memory; Network Management, Power; Protocols; Product Regulatory Approvals and Compliance; Software Requirements, you can visit Cisco's official website...
To be informed of the latest articles, subscribe: