CRN:"Cisco Competitors Say Meraki Move Makes Them More Attractive"
Several of Cisco and Meraki's wireless and cloud networking market competitors say that Cisco's $1.2 billion acquisition of Meraki validates many of the moves they've already made -- and raises their profile as channel partners that much more.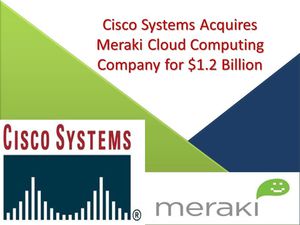 Many of the wireless segment's alternative vendors told CRN Tuesday that they plan to seize on Cisco and Meraki partner's anxiety and make some channel inroads.
"Cisco paid an awfully big price for an SMB company, and it's clear they bought them for provisioning," said David Callisch, vice president of marketing for Ruckus Wireless. "I guess it makes all of us in this space look good. But if I'm a reseller and I see this, am I better off with the Meraki stuff I bought or do I look at Ruckus, which just went public and did that on the back of the channel?"
Joel Vincent, director of product marketing for Aerohive Networks, said that Cisco's choice to pay nearly three times for Meraki what it did for Airespace -- the acquisition that cemented Cisco as a wireless LAN player in 2005 -- reinforces the idea that cloud networking is on "an exciting path."
"It's Cisco's 'modus operandi' to purchase innovation that leapfrogs its current offerings," Vincent said.
Aerohive gained notices for its controller-less approach to wireless LAN, and it soon moved into cloud management behind the 2011 acquisition of startup Pareto Networks. Often viewed as another IPO candidate, as Meraki was, Aerohive is also frequently mentioned as an acquisition target for a larger vendor like an HP or Dell.
Aerohive represents a better bet for channel partners, Vincent said.
"The challenge for the Meraki team will certainly be adapting to operating as part of a vastly larger organization and the non-technology challenges that poses," Vincent said. "Channel partners should start looking for alternative products immediately because there will be channel integration, many changes in structure, and therefore margin erosion in the near-term."
Shane Buckley, CEO of Xirrus, said that with industry research pointing to 90 percent of connections in enterprises going wireless in the coming years, vendors have to get their go-to-market strategies right immediately.
"Recent Wi-Fi market activity in the IPO market and with the recent announcement by Cisco on the Meraki acquisition further validate the importance and criticality of Wi-Fi to mainstream network buying trends," Buckley said in an email to CRN Tuesday. "There is clearly no doubt that Wi-Fi is a corner stone of the IT budget, and vendors such as Xirrus with clear differentiation are well positioned as enterprises look to deliver a user experience and a wireless network that performs as well as the wired network. While we're seeing consolidation in the wireless space, Xirrus continues to focus on innovation that can help companies deal with the immediate and massive shift from wired to wireless access."
Some analysts don't see a Cisco-Meraki acquisition as particularly threatening to enterprise-focused wireless players like Aruba Networks, though certainly a problem for networking companies playing at the lower end of the market.
"While the Aruba Instant product can be sold to SMBs and K-12 markets, it primarily targets enterprise branch offices," wrote Ehud Gelblum, managing director at Morgan Stanley, in a Tuesday research note. "Yet unlike Meraki's products, Aruba's can be seamlessly upgraded to enterprise-class features, further differentiating the solution and making the Meraki acquisition largely a non-event for Aruba. The deal does appear bad for Adtran, however, in that Meraki targets the same low-end SMB Adtran's NetVanta goes after."
Richard Valera, an analyst with Needham & Company, wrote in a note: "We think Aruba's relatively new Aruba Instant product offers many of the same ease-of-deployment/management advantages of Meraki, overlaps more with Meraki than Aruba's traditional products; however, we see this nascent and quickly growing product as an incremental growth opportunity for Aruba in the midmarket rather than a meaningful piece of Aruba's business that's threatened by the Cisco/Meraki deal."
"This move validates our vision that the market is rapidly moving towards the all-wireless enterprise, and along with this, the hastening decline of wired-based primary access networks," said an Aruba spokesperson in an email to CRN. "The consumer market was the first to go all-wireless. Small businesses were next. Medium to large enterprises will follow this trend, and Aruba is laser-focused on this part of the market."
Aruba's made no secret of targeting smaller and more distributed businesses through Aruba Instant and also its distribution relationships with players like Synnex. But partners don't see Cisco-Meraki as a big threat, especially with Aruba having embraced both controller and controller-less wireless infrastructure models and with its stronghold very much in larger midmarket and enterprise customers.
"I don't think it's a threat to Aruba," said Andy Welsh, director of partner alliances for Accuvant, the Denver-based integrator. "I think Aruba's been going down that [cloud] management path for a while. What it does for Cisco is help them compete better with the Aerohives and Ruckuses. Aruba will still battle hard in those places, too, but I don't know how interested Aruba is in all those smaller deals. My experience with Meraki is that they're happy with a three-AP deal in a K-12 building."
---News resource: http://www.crn.com/news/networking/240142438/cisco-competitors-say-meraki-move-makes-them-more-attractive.htm
More Related Cisco News:
Cisco Purchases Cloupia to Control Freak Clouds
Cisco to Acquire Meraki for $1.2 Billion
To be informed of the latest articles, subscribe: