Cisco: Wireless Networks Need to Catch up with Fixed Line
The explosion of smart devices means that enterprises can no longer fall back on Ethernet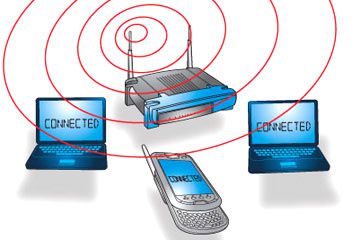 As smart devices continue to proliferate, the nature of the network is changing, and organisations need to focus on making their wireless networks as fast, reliable and scalable as their fixed line networks, according to Cisco.
Recent research by the UK communications regulator Ofcom found that tablet ownership in the UK has jumped from two percent to 11 percent during the last 12 months, and every two in five adults now owns a smartphone. Meanwhile, Cisco survey data suggests that the average person will own 3.47 devices in 2015, and 6.58 devices in 2020.
With the explosion of smart devices putting massive pressure on wireless networks, businesses cannot afford to offer inadequate services, according to Sarah Eccleston, head of borderless networks for Cisco UK and Ireland.
Most enterprises already have "best efforts" wireless networks in place, which have typically been built for the convenience of employees moving around the office, or for guest access. This is fine, said Eccleston, as long as there is a fixed line network to fall back on.
"In a traditional world, if your wireless network wasn't performing reliably, you simply plugged in your Ethernet cable. But you can't plug an Ethernet cable into a tablet or smart device because it doesn't have an Ethernet port," she said.
"The wireless network is becoming more and more relevant and can't just be a best efforts technology anymore."
Eccleston said that pressure is being put on organisations to holistically improve their wireless networks so that employees, clients and visitors can get the same level of service on their smart mobile devices that they have become used to on their PCs and laptops using a wired connection.
The biggest challenge is making wireless networks as fast as fixed networks, she said. This is partly because the the number of mobile devices connected to a wireless network is constantly changing, whereas the number of connections on a fixed line network is restricted by the number of Ethernet ports.
The speed of connection over wireless networks can also be affected by the wireless client on the smartphone or tablet, which is often not as powerful as on a laptop, so the network has to compensate for devices connecting slowly.
Meanwhile, making wireless networks more reliable means removing radio frequency (RF) interference from electrical devices such as microwaves, video cameras and motion detectors; making them more scalable means building wireless LAN controllers that can support as many devices as a typical wired enterprise LAN.
Cisco has brought out several products to tackle these issues, such as the Aironet 3600 access point and its CleanAir technology, but Eccleston said there is still some way to go before the wireless network is good enough to replace fixed line. However, one important step towards the two becoming interchangeable is offering unified access.
"It's not really about having a LAN or having a wireless network any more, it's about providing access, and that access has to be just as good and just as secure, whether it's wired or wireless because of the plethora of mobile smart devices," said Eccleston.
She said that IT departments used to have complete control of both the devices that employees were using, and of the applications running on those devices. Having lost control of both of those environments, as a result of the BYOD and cloud computing revolutions, they must now rely on the network for control.
"Unified access is about being able to know who's on your network, control what people can do when they're on that wireless network, and it's about being able to set that policy once. So regardless of the means of access of that person, that policy is set and enforced by the network."
This means that whether an employee is accessing the corporate network using a laptop in the office with a wired Ethernet connection or using Wi-Fi in Starbucks via a VPN, the IT department has an equal amount of control and can feel confident that the enterprise's sensitive data is secured.
"It's a little bit about giving them visibility, and a little bit about giving them management, but it's also about giving IT back some control of their environment," said Eccleston.
Providing fast, reliable and scalable access that enables people to use their own devices wherever they are, securely and effectively, is no longer just a "nice to have". It has become central to the smooth running of any business, and not only employees but also customers and partners will expect to be able to connect seamlessly.
"If organisations don't improve their wireless capability then they can't really truly enable these devices for productivity, and that has all kinds of implications in terms of employee satisfaction, and the ability to recruit and retain younger talent," concluded Eccleston.
---Written by Sophie Curtis from Techworld.com
More Cisco Reviews and Cisco News
Wireless Network: How to Configure Wireless Security?
Simple Ways to Secure Wireless Network
To be informed of the latest articles, subscribe: