Cisco Voip Phone 7960G Overview + Guide
The Cisco IP Phone 7960 G (Voip Phone) is designed to meet the communication needs of professional workers, Cisco 7960 G Voip Phone is a fully featured IP phone, providing six programmable line and feature buttons, and a high quality speakerphone.
The Cisco Voip IP Phone 7960 offers four dynamic soft keys that guide a user through call features and functions.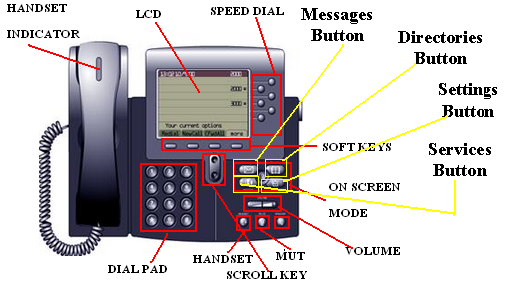 Built-in headset port and integrated Ethernet Switch. Also includes audio controls for full duplex speakerphone, handset and headset. The Cisco IP Phone 7960 also features a LCD display: date and time, calling party name.

You can find everything you need to know about the 7960 g voip ip phone in this guide (setup and installation instruction).
Cisco 7960 ip (voip) phone Features
| | |
| --- | --- |
| Lines/Speed Dial Buttons | Opens a new line or speed dials the number on the LCD screen.A 7960 has six buttons and a 7940 has two buttons. |
| LCD screen | displays the date and time, your phone number, your line and call status, and the available softkeys |
| Messages Button | access voicemail system |
| Directories Button | Provides access to your missed, received, and placed calls. You can use each of these directories to locate or dial these numbers. It also provides a corporate and site directory.A corporate directory includes all phones for your organization. A site directory is for your specific site within your corporate directory. |
| Services Button | Provides access to available phone services that have been implemented. These may include Fast Dials and Extension Mobility login/logout screens. |
| Handset Indicator | Red LEDs in handset cradle that are visible through a window in the handset. They flash when the phone rings and light solid red when you have voice mail messages. |
How to Set Up Your VoIP 7960 g IP Phone?
The Cisco 7960 g IP phone has connections for connecting to the data network, for providing power to the phone, and for connecting a headset to the phone.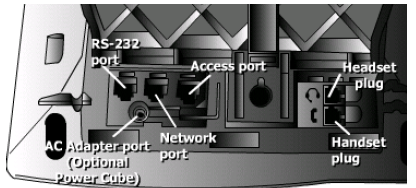 1. Connecting to the Network
Connect your IP Phone to the corporate IP telephony network. Your phone will share a network connection with your computer.
-Network Port: Use the network port to connect the phone to the network. You must use a straight-through cable on this port.
- Access Port: Use the access port to connect a network device, such as a computer, to the phone.
2. Connecting 7960 voip phone to Power
3. Connect the handset and headset to their respective ports. Ensure that the end of the cord of the handset with the longer uncoiled section is connected to the body of the phone.
Reference from http://www.voiptuts.com/2010/08/cisco-voip-phone-7960-g-user-guide.html
More Related
Quick Reference Guide: Overview of Cisco 7942/7962 IP Phone
Q and A: Cisco Unified IP Phone 7942G and Cisco Unified IP Phone 7962G
To be informed of the latest articles, subscribe: