Cisco UCS 6324 Fabric Interconnect Review
At the end of July, Cisco has quietly announced a new addition to the UCS family–a mini Fabric Interconnect, called the UCS 6324 Fabric Interconnect, which unlike the ones before it plugs directly into the UCS 5108 chassis. With connectivity for up to 15 servers (8 blade servers and up to 7 direct-connect rack servers), the Cisco 6324 is geared toward small environments.
"The 6324 FI is out! What amazing hardware! This is a whole UCS in a 5108 Chassis. Now what I wonder is if this is just code? Being able to take a single chassis and install proper code and have a stand-alone UCS would be GREAT. This will be "Cool" if it is a special chassis, but a GAME CHANGER if any chassis will do with code only (and maybe certain models of IOM's that might be on hand anyhow)." Some Cisco fans said like that.
Appear's a new IOM is needed to make this work in a 5108 Chassis.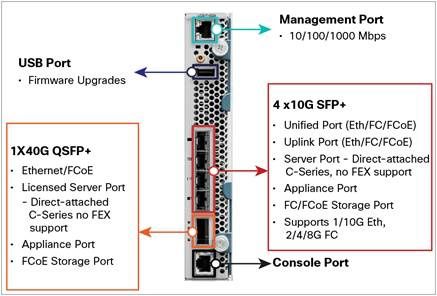 Cisco introduces Cisco UCS 6324 Fabric Interconnect like that.
The Cisco UCS 6324 Fabric Interconnect is a 10 Gigabit Ethernet, FCoE, and Fibre Channel switch offering up to 500-Gbps throughput and up to four unified ports and one scalability port.
The Cisco UCS 6324 Fabric Interconnect extends the Cisco UCS architecture into environments with requirements for smaller domains. Providing the same unified server and networking capabilities as in the full-scale Cisco UCS solution, the Cisco UCS 6324 Fabric Interconnect embeds the connectivity within the Cisco UCS 5108 Blade Server Chassis to provide a smaller domain of up to 15 servers (8 blade servers and up to 7 direct-connect rack servers).
CISCO 6324 FI Overview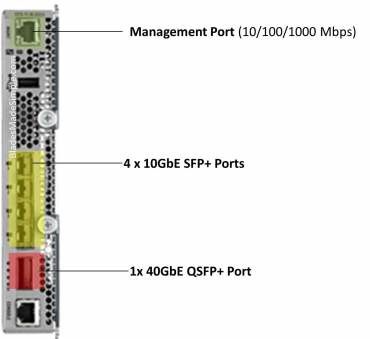 Each 6324 FI module contains:
16 x 10GbE internal ports (2 per 1/2 width slot)

4 x 10Gb SFP+ external uplink ports

1 x 40Gb QSFP+ scalability port

1 x 10/100/1000 Mbps Management port for out-of-band management
The 4 external uplink ports can be configured as 1/10 Gigabit Ethernet or 2/4/8-Gbps Fibre Channel ports. The scalability port is designed to allow for connectivity to up to 4 x UCS rack servers with a post-release feature of also allowing a 2nd UCS 5108 chassis to interconnect.
The 6324 FI provides Layer 2 forwarding with support for:
VLAN trunks

IEEE 802.1Q VLAN encapsulation

Support for up to 512 VLANs and 32 virtual SANs (VSANs) per interconnect

Jumbo frames on all ports (up to 9216 bytes)

Link Aggregation Control Protocol (LACP): IEEE 802.3ad

Internet Group Management Protocol (IGMP) Versions 1, 2, and 3 snooping

Advanced EtherChannel hashing based on Layer 2, 3, and 4 information

Pause frames (IEEE 802.3x)

Layer 2 IEEE 802.1p (class of service [CoS])
It is also rumored that UPDATED–based on the information from UCSGuru (below) a new an updated UCS 5108 blade chassis will be coming out soon which will allow for heartbeat and cluster connectivity between the UCS 6324 FI modules inside a chassis as well as support for "dual voltage" power supplies. Is that real? We are looking forward to it.
More Related
Cisco Quietly Unveiled UCS 6324 for Small Businesses
Cisco UCS E-Series Blade Servers for Cisco 2900&3900 Series
Cisco Buying Tips: Cisco UCS Server
10 Tips You Should Know about Cisco UCS
Cisco Unified Computing System: UCS Components
To be informed of the latest articles, subscribe: