Cisco's Wireless Unit Shifts Emphasis to "Mobility"
Cisco's Wireless Networking Business Unit doesn't actually talk so much about wireless networking these days. Increasingly, its message aimed at IT groups is about the broader concept of "mobility."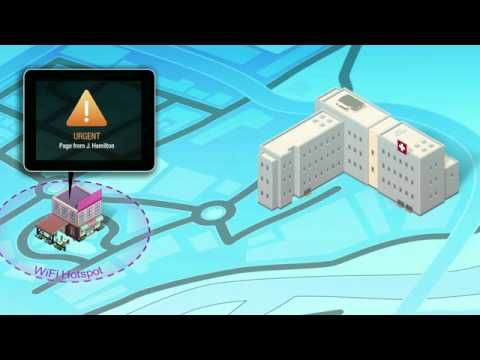 The change, not only for Cisco but its rivals, reflects the fact that mobile workers are no longer focused simply on replacing an Ethernet cable with a Wi-Fi signal and being able to carry their corporate laptop to the conference room. The real question has become: what can they, and the company, and the company's customers, now do once they've made that replacement?
"Connecting a device to my corporate network is just step one. The question is: what happens after that?" says Sujai Hajela, vice president/general manager of Cisco's wireless networking business unit, who spoke with Network World this week regarding Cisco's announcement of three new pre-tested bundles of products and services designed to cut through the confusing complexity of enterprise mobility.
The new Smart Solutions packages are by themselves not exactly new: they're formed of existing Cisco hardware and software, third-party partnerships, and consulting services from Cisco or its partners. But Cisco says they represent a shift in the company's thinking about how to deploy mobile technology for businesses. Instead of a grab bag of separate products, the new approach sees mobility, in effect, as a whole that's greater than the sum of its many parts, including devices, operating systems, apps, Wi-Fi access points, VPNs, authentication and security. The overarching enterprise benefit, according to Cisco, is summed up in a new term, "Cisco Unified Workspace."
BACKGROUND: Cisco mobility bundles target BYOD, mobile virtual desktop

"Enterprises are looking at the next generation of users coming into their ranks," says Tim Zimmerman, principal analyst for network services and infrastructure with market watcher Gartner. "Most of them don't even know what an RJ-45 plug is. The iPad doesn't even have one. There's a presumption of wireless connectivity [being available anywhere, anytime]. That puts more responsibility on IT organizations to manage that."
Cisco's main challenge in the enterprise market, he says, is execution and optimization - in effect, turning PowerPoint slides of talking points into concrete capabilities that enterprises buy into and then buy to mobilize business.
Cisco still dominates the enterprise wireless LAN landscape, but its dominance is less complete than it was a few years ago. By revenues, Cisco's share of the total worldwide market for enterprise WLAN equipment is now about 50%, down from the more than 60% it commanded for years, according to IDC. Its nearest rival, publicly held Aruba Networks, finally broke into a double-digit share of global revenues only last year, capturing 11.5% according to IDC.
Cisco continues to invest heavily in radio frequency technologies, leveraging its own Wi-Fi chip designs with Cisco-developed, on-chip code to boost signal reliability and consistency, and throughput. The focus is less on raw chip-level data rates, though that's important, and more on optimizing the connection to provide the reliability, security and throughput of a wired Ethernet link.
Cisco's Hajela, who formerly ran Motorola's WLAN group and came over to his current job at Cisco in August 2011, sometimes sounds like a network version of Dr. Phil. "More and more of our messaging is about customer 'care-abouts,'" he says at one point. And at another point, "The end user is looking for an uncompromised experience, regardless of the network" connectivity.
These bromides actually mean something, and Hajela becomes specific and insistent when pressed. "The network doesn't matter to the user," he says. "What he wants is to be able to use his app wherever he is."
And that use must be optimal. "If my device and my network connection support high-def video, then I should get high-def video," he says. "And if I'm using a smartphone, I should get optimal battery life. These things should be handled by intelligence placed in the network."
Cisco's job is to cram more and more intelligence into the networks and applications and infrastructure that supports the enterprise's mobile users and mobile business.
"What's really resonating with enterprise IT is this: the system looks at who the user is, and what he's trying to do, rather than how he's connecting" by wire or wireless, Hajela says.
Cisco's Identity Services Engine (ISE) is a key part of this approach, identifying and authenticating users regardless of how they connect, and adjusting their access and security privileges based on variables such as their location, connectivity, and time of day. [See "Cisco enterprise management tools take on new network realities".] Tightly integrated with ISE is Cisco Prime Network Control System (NCS), which replaced the standalone Wireless Control System management application for Cisco WLANs, and creates single console for managing both wired and wireless.
The need for such an approach "just plain makes sense," commented Network World wireless blogger Craig Mathias in a post about NCS. "Along with [unified] security and integrity comes a fundamental need to handle the ever-increasing capacity demanded by an ever-growing population of wireless users with equally-demanding applications," he wrote. "A single-pane management console adds convenience, lowers cost (Cisco points out that generalists with the right tools can be just as productive as more-expensive specialists), and just plain makes sense...."
Cisco isn't the only WLAN supplier taking this unifying or converging approach, as Gartner's Zimmerman points out. "We see this in HP, in Aruba, which is now offering a [LAN] switch along with end-to-end, multivendor support," he says. "Vendors are addressing the multiple elements within this infrastructure layer."
The reality is that Cisco faces a rapidly changing enterprise mobile environment, and enterprise customers have plenty of options. Earlier this month, Aruba announced that Texas A&M University, a major Cisco shop, is replacing its existing Cisco WLAN with Aruba's products, after extensive testing. The school will eventually install 6,000 to 7,000 Aruba 802.11n access points, along with Aruba's AirWave wired/wireless network management application.
---Original reading appeared in networkworld.com
More Cisco Wireless News and Info:
Simple Ways to Secure Wireless Network
To be informed of the latest articles, subscribe: