Cisco's First Generation ISR Routers, Familiar to Cisco Users
Cisco's original Integrated Services Routers, with more than 6M products in operation, are the industry's most popular solution for small to medium-sized businesses and enterprises with branch offices to achieve high-performance, secure, and reliable access to strategic applications. Progent's CCIE network engineers are proven experts at providing online design, management, and problem solving services for Cisco 1800, 2800, and 3800 family ISR routers. Progent can assist your company to move up to the latest release of Cisco IOS Software with minimal disruption to your network, assess the security vulnerability of your existing router configuration, and assist you to migrate efficiently to the latest releases of Cisco ISR Generation 2 routers when it makes competitive sense for your company.
Cisco 1800 Integrated Services Routers



The modular Cisco 1800 family of routers incorporate data and protection within one resilient system for high-speed, scalable connectivity with strategic business programs. The Cisco 1800 Series router design has been specifically engineered to satisfy the requirements of small-to-medium-sized businesses (SMBs), branch offices, and ISP-managed services environments for delivery of simultaneous services at high speed. The integrated secure systems design of the Cisco 1800 Series routers offers optimum flexibility and fast ROI.
The Cisco 1841 router offers important benefits compared to older generations of Cisco 1700 Series devices by bringing more than a 5x performance increase and built-in hardware-based encryption enabled by an available Cisco IOS Software protection image. The Cisco 1841 router dramatically increases plug-in card slot performance as well as capacity over the 1700 Series routers while providing compatibility with over 30 available WAN interface cards (WICs) and multiflex trunk cards (VWICs-for data only). The Cisco 1841 device provides further enhancement of Virtual Private Network speed with an optional Virtual Private Network acceleration module; an intrusion prevention system (IPS) and firewall capabilities; support for a broad range of interface needs, such as support for optional switch ports; and sufficient performance and slot capacity for future network expansion and advanced applications.
Cisco 2800 Series Routers

Targeted at small to medium-sized businesses (SMBs) and corporate branch offices, Cisco's 2800 Series comprises several basic versions: the 2801, the 2811, the Cisco 2821, and the 2851. Cisco's 2800 Series routers offer substantial added value compared to prior generations of Cisco devices at comparable prices by offering as much as a fivefold throughput improvement, up to a tenfold increase in protection and voice performance, built-in service features, and radically enhanced slot speed and capacity while maintaining compatibility with the vast majority of the almost 100 popular expansion modules available currently for the 1700, the Cisco 2600 Series, and the Cisco 3700 routers.
Cisco's 2800 Series router provides a range of common protection functions such as a Cisco IOS Software Firewall, intrusion prevention, IP security VPN, Secure Sockets Layer (SSL) VPN, advanced application inspection and control, Secure Shell (SSH) Protocol V 2.0, and SNMPv3 in a single protected solution. Also, by incorporating security functions within the router, Cisco can enable unique intelligent protection functions other security appliances cannot, such as network admissions control (NAC) for virus protection; Voice and Video Enabled VPN for QoS enforcement when mixing voice, video, and Virtual Private Networks; Dynamic Multipoint VPN (DMVPN); Group Encrypted Transport; and Easy VPN for enabling more expandable and easier to manage VPN environments.
Businesses can utilize the 2800 Series to deploy an integrated IP telephony solution for up to 96 IP phones, and can securely combine data, voice, and IP telephony on a single router for their small-to-medium sized satellite offices.
The Cisco 2800 Series router incorporates an integrated access point for wireless LAN access, Wi-Fi Hotspot services for shared public wireless LANs, and network services for cordless wireless LAN telephony and for larger locations.
Cisco 3800 Series ISR Routers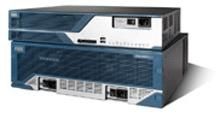 Cisco 3800 Series routers are engineered for small and midsize businesses (SMBs) and enterprise branch locations to offer businesses the highest degree of network agility, performance, and functionality. The Cisco 3800 Series integrated services routers smoothly integrate advanced network engineering, smart services, and protected corporate communications into one resilient system. The Cisco 3800 Series routers ease deployment and management, lower network cost and complexity, and provide investment protection. The Cisco 3800 Series integrated services routers feature embedded security processing, fast throughput and high memory capacity, and high-capacity interfaces that deliver the speed, resilience, and reliability required for scaling business-critical protection, IP telephony, high-volume video, system analysis, and web-based applications in the most demanding corporate environments. Built for speed, the 3800 Series integrated services routers provide multiple simultaneous services as fast as wired T3/E3 rates.
The integrated services routing technology of the 3800 Series router is built to integrate protection and voice handling with the latest wired and wireless services for rapid installation of new applications, including application layer functions, intelligent network services, and converged communications. The 3800 integrated services router supports the bandwidth demands of several Fast Ethernet interfaces for every slot, time-division multiplexing (TDM) connections, and integrated power sourcing to expansion modules compatible with 802.3af Power over Ethernet, while still supporting the traditional portfolio of interfaces. This ensures ongoing return on investment by allowing network expansion or accommodating changes in technology as the latest services are added. By integrating the capabilities of several separate appliances into one compact unit, the 3800 router significantly lowers the cost and complexity of administering remote networks.
More Notes: Cisco Integrated Services G2 Routers, Innovation Engine for Borderless Networks
To be informed of the latest articles, subscribe: