Cisco RV110W Wireless-N VPN Firewall Review
The Cisco RV110W Wireless-N VPN Firewall offers simple, highly secure wired and wireless connectivity for small offices, home offices, and remote workers at an affordable price. It comes with a high-speed, 802.11n wireless access point, a 4-port 10/100 Mbps Fast Ethernet switch, an intuitive, browser-based device manager, and support for the Cisco Small Business FindIT Network Discovery Utility.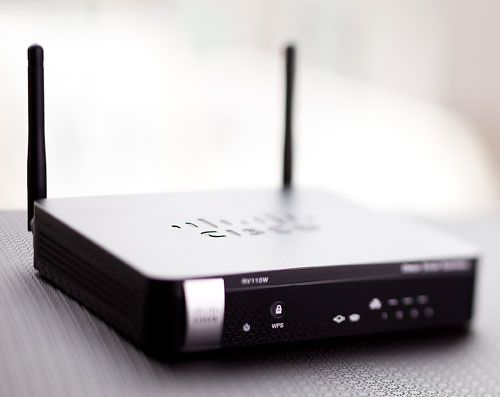 It combines business-class features, simple installation, and a quality user experience to provide basic connectivity for small businesses with five or fewer employees.
The RV110W Wireless-N VPN Firewall also features:
A proven firewall with support for access rules and advanced wireless security to help keep business assets safe

IP Security (IPsec) VPN support for highly secure remote-access client connectivity

Support for separate virtual networks to allow you to set up highly secure wireless guest access

Native support for IPv6, which allows you to take advantage of future networking applications and operating systems, without an equipment upgrade

Support for Cisco Small Business QuickVPN software
The good: The Cisco RV110W Wireless-N VPN Firewall router offers a built-in PPTP VPN server and fast performance. The compact, IPv6-ready router is easy to use and comes with a well-organized, responsive Web interface.
The bad: The RV110W lacks support for dual-band and Gigabit Ethernet. Its VPN supports only up to five remote clients at time.
The bottom line: The Cisco RV110W Wireless-N VPN Firewall would make a very good investment for a small business that needs an easy VPN solution for remote employees.
The Cisco RV110W Wireless-N VPN Firewall router is not for everyone, but those who need it will appreciate its simplicity. The router offers a built-in VPN for up to five clients at a time. Other than the VPN this is a simple single-band Wireless-N router that doesn't support dual-band wireless or Gigabit Ethernet. At an estimated price of less than $120, though, it's still a good choice for a small business.
Design and ease of use
The Cisco RV110W Wireless-N VPN Firewall router is square and compact, about the size of a bathroom tile. It has four little rubber feet on the bottom to keep it grounded, and is also wall-mountable. Unlike other home routers from Cisco, such as the E series, that have internal antennas, the RV110W has two antennas sticking up from the back. Also on the back you'll find the router's one WAN port (to hook up to the Internet) and four WAN ports (for wired clients). None of these ports, unfortunately, is Gigabit Ethernet, meaning the router offers at the most 100Mbps for its wired networks.
The router doesn't have a USB port, either, which means there's no built-in network storage or print-server capability.
On the front, the router has a Wi-Fi Protected Setup button that helps quickly add Wi-Fi clients to the network. There's also an LED array to show the statuses of the ports on the back and the connection to the Internet.
Unlike other routers, the RV110W doesn't come with the Cisco Connect software. Instead, it has a well-illustrated Quick Start Guide that takes you through the setup process, from hooking up the cables to getting the wireless network up and running. Part of the process involves logging in to the router's well-organized and responsive Web interface, which includes a wizard to make the setup process even easier.
Features
The RV110W's most important feature is the built-in support for hosting a VPN network, which allows clients outside the office to connect to the network as though they were within the local network. This enables remote workers to access local resources such as printers, remote desktops, and databases.
Generally, you'd need a domain server to do this, or you'd need to opt for a much more expensive router. The RV110W is possibly the cheapest simple VPN hosting product that offers an easy-to-use built-in PPTP VPN server on the market. Nonetheless, you'll need to be fairly well-versed in networking to configure a client to connect to the router. On the router side, however, it takes just a few mouse clicks to get the VPN ready.
The router's VPN network-hosting support is limited to up to five concurrent clients at a time, so if your business has more than five employees who work remotely, this router is not for you.
The RV110W is a single-band wireless router, offering Wireless-N (802.11n) on the 2.4GHz band only. Most new home routers offer support for dual-band, meaning they can also broadcast on the higher-bandwidth 5GHz band. For a business router, however, it's still normal not to offer 5GHz. What's not normal, and is disappointing, however, is the fact that the RV110W doesn't offer Gigabit Ethernet.
To make up for that, it's one of the few routers on the market that are IPv6-ready. The new version of Internet protocol promises better security and speed and, most importantly, is future-proofed as the world is now moving on from IPv4, which is running out of addresses.
More Cisco wireless info you can visit: http://blog.router-switch.com/category/technology/wireless/
To be informed of the latest articles, subscribe: