Cisco Routers---Linksys EA4500 Review
It's not every day simple Wi-Fi routers make headlines by angering just about all of Internet but that is exactly what Cisco managed to do with its latest packet punting products.
Cisco introduced a new and innovative (yes, really) feature called Connect Cloud with its spruced-up home router range. That's a nebulous name but Connect Cloud lets you shift management of the router away from the device itself, to the web so that you can get to your home network from everywhere.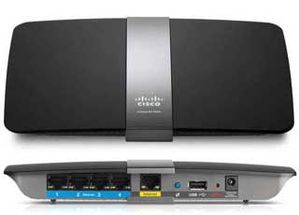 Also, Cisco made an app market for the routers so that developers could code useful programs that could take advantage of Connect Cloud. This is actually a pretty cool concept, although the apps are far and few between currently and mainly aimed paranoid people wanting to monitor and filter traffic.
However, the way Cisco launched Connect Cloud into this world is a case study in how not to do these things.
First, Cisco pushed out the service automatically as an update for the firmware that controls routers.
That is, Connect Cloud was installed on existing Cisco routers without anyone realising what had happened until they went to take a look at the management web page and discovered that instead of ending up at the box itself people were redirected to a site on the Internet.
In order to manage your router, you had to sign up at the Cisco Connect Cloud site. If you didn't, it was impossible to manage the router.
That's drastic enough, and should never happen without Cisco customers consenting to the change.
It gets worse though: if you signed up to the Connect Cloud service, the initial terms and conditions banned customers from using it "for obscene, pornographic, or offensive purposes" and also for infringing on "another's right, including but not limited to intellectual property rights".
The terms and conditions also said that Cisco would monitor the network traffic and Internet history of customers.
Adding insult to injury, Cisco threatened to disconnect users who didn't comply with the harsh terms with disconnection from the Connect Cloud service.
Long story short, the whole thing blew up spectacularly as enraged Cisco customers vented their fury online.
Cisco scrambled to repair the damage and has since removed some of the offending clauses, saying they were inserted by mistake. It remains to be seen if this is enough to restore the trust Cisco lost with customers, some of which are now installing alternative firmware on their routers.
Get off my cloud
The Connect Cloud furore happened before I received my review sample of the Cisco Linksys EA4500, the current range topping home Wi-Fi router from the US networking company, and I was wondering what I'd make of it.
Let's deal with the Connect Cloud feature first: I like the idea, but not Cisco's implementation of it.
Having remote access to your home network across the Internet and by using Android and iOS apps is a useful idea as it brings your network to the cloud in seamless fashion.

Connect Cloud needs an active Internet connection for set up however as well as a computer and don't lose that set-up CD that comes with the EA4500. You can configure the EA4500 without it, but with Connect Cloud in the mix and separate passwords for that service and the router itself, it's a complicated process.
Also, Connect Cloud is hosted in the United States. Being that far away from New Zealand, the Connect Cloud interface is sluggish to use. The built-in speed test feature shows low results as it's also in the US and the whole Connect Cloud service is focused on Americans.
If like many people you put the EA4500 behind a DSL modem and set the router to Bridge mode to avoid having two separate networks that can't talk to each other, Connect Cloud gets confused and randomly thinks your Internet connection is down - in which case you have to log locally to the router instead, so don't lose the password for the EA4500.
Normally, I never have to spend this much time with the admin interface on a router, and Cisco really needs to rethink the Connect Cloud concept.
The EA4500 is otherwise a good looking little box that provides fast throughput for wireless in the 2.4GHz and 5GHz bands: I was able reach 70-75Mbps in the former band, and 120-130Mbps in the latter, good figures both.
A fast Gigabit Ethernet network switch with four LAN is also included, and a fifth Internet port is included too, which is entirely logical for the EA4500 that's aimed at streaming high-definition video and other large files.
But, Cisco: why is the USB port for hard drives (and printers) only a 2.0 variant and not a newer 3.0 one? I could squeeze 175Mbps out of the USB 2.0 port, but USB 3.0 is much faster and better suited for the EA4500 which has a built-in media and ftp server for file sharing.
I also encountered a bug that meant my upload speed halved if I used the Internet port on the EA4500 to connect to my VDSL2 router. Not using the Internet port sorted out the problem. The problem has been reported to Cisco and I'll update the review if and when it is sorted out.
The Cisco EA4500 is a premium Wi-Fi router that performs well enough, but needs some annoying foibles fixed. This includes Connect Cloud.
What's good
Nice design
Good performance
Full range of features
---Original review reading from nzherald.co.nz
More Cisco routers Reviews:
Cisco Debuts Linksys Smart Wi-Fi Routers-EA6500, the Linksys Universal Media Connector
To be informed of the latest articles, subscribe: