Cisco Refreshes Campus Switching, Including Catalyst 6800 Core Chassis
Cisco unveiled a refresh of its campus switching and enterprise routing products at Cisco Live this week, highlighted by the Catalyst 6800 series, a big brother to the Catalyst 6500 that is compatible with the older switch's existing supervisor modules and line cards.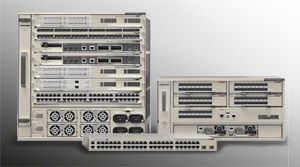 The new Catalyst 6807 is a 10/40/100 Gigabit Ethernet (GbE) modular switch with 11.4 Tbps of total throughput and 880 Gbps capacity per slot. It has five times the performance and six times the capacity of the venerable Catalyst 6500. Because it is compatible with the modules designed for the Catalyst 6500, this new switch hits the market with all the advanced services that customers usually have to wait a couple years for, such as the Wireless Services Module and Multiprotocol Label Switchingsupport.
"The Catalyst 6500 has an 80 Gb-per-slot limit, so they just couldn't work around that," said Andre Kindness, senior analyst with Cambridge, Mass.-based Forrester Research Inc. "So they came out with the 6800. The chassis had to change to accommodate 100 Gb throughput."
Kindness said the Catalyst 6800's compatibility with modules from the 6500 offers customers a new level of investment protection.
"This is the first time I've seen a vendor come out with a new chassis and be able to create a switch with higher speeds without having to build new modules," he said.
Switch to run on upgraded Supervisor Engine
The Catalyst 6807 will run on the Supervisor Engine 2T (Sup 2T) module, which was introduced as the next-generation supervisor for the Catalyst 6500 two years ago, said Inbar Lasser-Raab, Cisco's senior director of enterprise network marketing. Cisco has upgraded the software on the Sup 2T for the new chassis.
Paris-based utility giant EDF plans to adopt the Catalyst 6807 in a large network refresh. "We have a big project to replace all of the networks in our nuclear power plants, hydro-power plants and thermal power plants. We chose to place the Catalyst 6800 at the heart of this network," said Dominique Massoni, senior ICT architect for the global core at EDF.
Don Prince, senior IT architect with Atlanta-based Southern Company, said he appreciated "being able [to] use the same services and take advantage of the same line cards and other equipment [from the Catalyst 6500] that is compatible with the 6800. Investment protection is important to us."
Additionally, Cisco introduced a semi-fixed form factor model Catalyst 6880, a 10 GbE switch designed for midmarket customers who want a switch with moderate 10 GbE density and some advanced services. The Catalyst 6880 is a 4 rack-unit switch with 16x10 GbE fixed ports and half slots that can service an additional 80x10 GbE ports.
Wiring closet device optimized for campus
Cisco also announced a wiring closet device, the Catalyst 6800ia (Instant Access), a 1 rack-unit device with 48 GbE ports that extends the services and the image of a Catalyst 6500 or Catalyst 6800 to the access layer of a network.
"It's analogous to a [Nexus 2000 fabric extender], except that it's optimized for the campus, with features like PoE [Power over Ethernet]," said Rob Soderbery, senior vice president of Cisco's enterprise networking group.
Unlike the Nexus 2000, which extends the ports of a Nexus 5000 or 7000 data center switch to the top of a rack, the Catalyst 6800ia virtually adds ports to the core Catalyst devices. These additional ports are physically located in wiring closets on the 6800ia, but they exist logically on the chassis switch.
"I got immediately excited about the [Catalyst 6800ia] because my company could triple in size and I wouldn't have to increase the size of my networking staff," said Chris Tillett, network administrator with Halifax Media Group, a Daytona Beach, Fla.-based publisher that owns more than 30 newspapers. Since the Catalyst 6800ia extends the image of an existing core switch, a network engineer doesn't need to deploy and configure it. Tillett said he can send the device to an IT generalist who can simply plug it in and the device is up and running.
Cisco enhanced another part of its campus portfolio by introducing a new supervisor module for the Catalyst 4500. This new module features Cisco's Unified Access Data Plane (UADP) application-specific integrated chip (ASIC), which allows customers to integrate wireless LAN control into their switching fabric. Cisco first introduced this ASIC on its Catalyst 3850 stackable switch.
Finally, Cisco beefed up its enterprise routing products with a new top-of-the-line Integrated Services Router (ISR) 4451-AX [Application Experience]. This router ships with 1 Gbps performance, but its software license can be upgraded to 2 Gbps. All Application Experience features introduced recently on other ISR models ship on this new 4451-AX, but all the services are integrated directly into the box. No additional modules need to be installed. All advanced services, including Wide Area Application Services (WAAS) and security, operate at line rate.
Forrester's Kindness said existing ISR models provide all the Layer 4-7 services that the new ISR 4451-AX offers, but this new model has much better performance. Earlier models delivered those services as if a customer "was deploying a server on top. They can't do WAAS at full performance. This router is integrating Layer 2 through 7 so you can do WAAS and security at 1 to 2 Gb line speed."
Cisco also rolled out the Application Experience services package to the ASR-1000 router, which can be added to existing deployments through a software upgrade. Cisco said the 6807 and 6880 switches will be available in November. Other products and upgrades will be available in July.
Reviews from http://searchnetworking.techtarget.com/news/
More Related Reviews:
Cisco Delivers "Monster" Catalyst Switch, Routers for SDN Environments
Cisco Catalyst 6800 Switch and Friends
Cisco Catalyst Access Switching
To be informed of the latest articles, subscribe: