Cisco Readying the New Nexus 3500 Switch
Nexus 3500 will feature ultra-low latency, target Infiniband
Cisco has another Nexus Ethernet data center switch in the works, this one with ultra-low latency and a more formidable rival to Infiniband.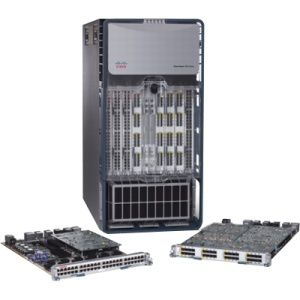 Details on the Nexus 3500 are unavailable. Cisco wouldn't discuss it when asked about an online adseeking a software engineer for it.
"This is to be announced later," a Cisco spokesperson e-mailed. "No details to share yet."
Sources, however, say the Nexus 3500 will feature 250 nanosecond port-to-port latency and integrated network address translation. They say it will give Infiniband a run for the money, especially when combined with a new NIC from Cisco called usNIC.
"If this product does come out with latency as stated, it will dominate the silicon industry slamming down on Broadcom and more importantly Fulcrum," the source says. "But also compete with Mellanox and close the gap with Infiniband. Cisco will be untouchable in ultra-low latency switching."
RedHat has apparently run tests of usNIC with its MRG-M high performance computing software. Slides 16-18 of this presentation appear to show performance improvements of MRG-M when running usNIC vs. Infiniband.
Red Hat was not immediately available for comment. But our source said it, along with the Nexus 3500, could be a viable alternative to Infiniband.
"That, combined with this new Nexus 3500 having 250ns latency would be a compelling solution against Infiniband," the source said. "If Cisco launches Nexus 3500 in the next few months and combines usNIC in the launch it will finally be the first Ethernet solution that can compete against (Infiniband)...(and) shows Cisco intent to kill Infiniband with Ethernet."
Mellanox is a leading Infiniband networking vendor. Requests to the company for comment were not answered by posting time.
Cisco currently offers the Nexus 3000 line for low-latency, top-of-rack switching targeted at high-frequency financial trading, as well as the Nexus 7000, 5000 and 2000 lines for data center fabric switching.
---Reading resource from networkworld.com
More Cisco Nexus Switch Tips & News:
Why Does the Nexus Core Switch Rock in the Datacenter?
Doc Sharing: How to Migrate from Catalyst to Nexus?
To be informed of the latest articles, subscribe: