Cisco Nexus 3100: Next-gen Merchant Silicon-based ToR Switch Series
Cisco expanded its line of merchant silicon-based, top-of-rack data center switches with its new Nexus 3100 series.

Like other switches in this family, including the Nexus 3000 and 3500 series, the Nexus 3100 is a low-latency, high-density Layer 2 and Layer 3 switch. And because it is based on merchant silicon, the Nexus 3100 series does not support FabricPath, Cisco's TRILL-based Layer 2 mulit-pathing technology, or Cisco's fabric extender technology. In other words, like previous Nexus 3000 switches, the Nexus 3100 is not a part of Cisco's FabricPath-based data center fabric strategy.
Instead, Cisco is positioning the Nexus 3100 as a top-of-rack device for enterprises that require high-density, low-latency, top-of-rack switches that can be deployed in a leaf-spine architecture using conventional Layer 3 protocols.
Cisco also said the Nexus 3100 will support a variety of software-defined networking (SDN) capabilities, including its onePK SDN interface, virtual extensible LAN and OpenFlow 1.0. Cisco did not specify if or when it will start supporting the newer OpenFlow 1.3 specification.
Cisco didn't announce when the new switch will start shipping, but promised more details would be available "in the coming weeks."
The Nexus 3100 comes in two flavors. The Nexus 3132Q is a 2.56 Tbps switch that ships with 32 ports of 40 Gigabit Ethernet (GbE). The Nexus 3172PQ is a 1.44 Tbps switch with 48 10 GbE ports and 6 40 Gbps ports. Cisco claimed these switches will support Layer 3 in-service software upgrades. Although it claimed the switches will be ultra-low latency, Cisco has not published exactly how low that latency will be.
Cisco Nexus 3132Q vs. Cisco Nexus 3172PQ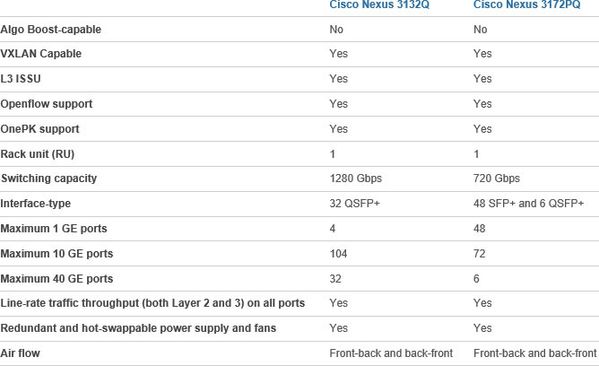 Cisco envisions two use cases for the Nexus 3100 series, according to Jimmy Shah, product manager at Cisco. First, the switches can serve as server access switches, particularly as leaf switches in a leaf-spine data center network. Second, the Nexus 3132Q, with its high-density 40 GbE ports, can serve as a pizza-box spine switch in the same leaf-spine environment.
Cisco's Nexus 3000 switches were seen by many experts as a response to rival Arista Networks' success in selling merchant silicon-based, ultra-low latency switches into financial trading firms. Cisco is calling the Nexus 3100 line the second generation of those switches.
"This is a big step up from the Nexus 3064," Shah said. "We see a lot of our 3064 customers transitioning to this product. If I'm building a new data center and I'm looking for the densest 10 Gb switch, then the 3100 becomes a great choice based on these hardware and software features."
Refer to http://searchnetworking.techtarget.com/news/2240206672/Cisco-Nexus-3100-Next-gen-merchant-silicon-based-ToR-switch-series
More Related Cisco Topics:
Cisco Will Raise Catalyst Switch Prices by Up to 67%
Cisco Released Wave 2-Ready 802.11ac Access Point and Catalyst 3650
Cisco Nexus 3100, Ready to Support VMware NSX?
Cisco to Unveil New Catalyst Access Switch to Converge Wired&Wireless Networking
To be informed of the latest articles, subscribe: