Cisco ISR G2 - the Best a Branch can Get? —Any Service, Any Branch, Anywhere
Transform your branch-office experience with the new Cisco Integrated Services Routers Generation 2 (ISR G2) Family, Cisco's latest addition to the tremendously successful integrated services router portfolio. The Cisco ISR G2s are part of the Cisco Borderless Network Architecture that enables business innovation and growth across all remote sites. The next-generation architecture delivers a new workspace experience by meeting the performance requirements for the next generation of WAN and network services, enabling the cost-effective delivery of high-definition collaboration at the branch office and providing the secure transition to the next generation of cloud and virtualized network services. Designed for optimal service delivery on a single platform, the new Cisco ISR G2 routers give businesses greater power to deliver a superior customer experience and deploy services "on demand" as business needs dictate—while reducing overall operating costs.
What Problems Do Cisco ISR G2s Help Solve?
With the number of employees growing at the branch office, IT teams are challenged to securely and efficiently connect remote locations at minimal cost. The Cisco ISR G2 not only addresses critical branch-office challenges like the first generation, it also introduces revolutionary ways to make the remote office more productive, more collaborative, and more operationally efficient. These new innovations enable branch offices to:
• Deliver next-generation WAN and network service requirements
• Become more productive through increased videobased collaboration and rich-media services
• Securely transition to cloud and virtualized network services
• Minimize energy consumption and costs to support corporate sustainability
• Enable small IT teams to scale services worldwide
Cisco ISR G2Positioning
The Cisco ISR G2 provides a highly secure and reliable platform for scalable multiservice integration at enterprise and commercial branch offices of all sizes and small-to-medium sized businesses (Figure 1). The excellent service delivery on a single platform, now up to 8x greater performance, offers the ultimate user experience with the architectural scalability and investment protection needed to minimize overall deployment costs.
Figure 1 Cisco Integrated Services Routers Generation 2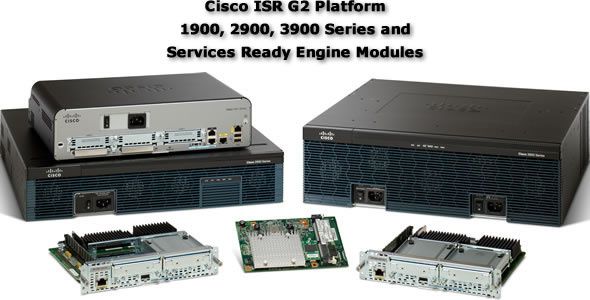 What's new on Cisco ISR G2?
Table 1 compares the features of the first and second generations of Cisco Integrated Services Routers.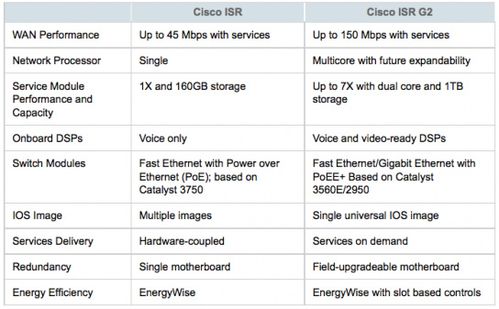 Why Upgrade Your Existing Access Router to a Cisco ISR G2 Router?
The Cisco ISR G2 portfolio builds upon the market success of the first generation of integrated services routers with new enhancements that deliver greater value to your business with new enhancements for service virtualization, video-ready capabilities, and operational excellence. Our exciting new innovations deliver:
• Video-ready branch office for a superior customer experience with new services that transform the branch-office workspace:
• Media engines that enable business-grade video applications based on high-density video-ready DSPs that deliver the media net high-definition experience
• Bandwidth-optimized and scalable video services, including media-rich video conferencing, video surveillance, video streaming, and digital signage
• High-performance (up to 8x), nonstop branch office experience to meet your future WAN and services requirements
• TelePresence capability to your midsize branch offices with T1/E1 links
• Service virtualization to deliver highly effective business innovation that achieves unparalleled service:
• Cloud extensibility and services virtualization for mission-critical application survivability to remote sites
• Broadest services offering to all branch-office sites, including security, unified communications, WANoptimization, application integration, and customizable virtual services
• A revolutionary "on-demand" services delivery model enabled by the innovative Cisco Services Ready Engine (SRE)
• Operational excellence providing the lowest total cost of ownership (TCO) with scalability, operational flexibility, and simplicity based on best-in-class service integration, innovative pay-as-you-grow model, and optimized energy efficiency:
• Superior business flexibility for on-demand service delivery with minimal system upgrades
• Increased branch-office uptime with enhanced availability features
• Greater energy efficiency with slot-based controls to decrease costs and support sustainability
• Simplified deployment with a single Cisco IOS Software image
• Investment protection with support for most of the prior generation of integrated services router interfaces
Cisco Services for the Branch Office
Services from Cisco and our certified partners can help you transform the branch-office experience and accelerate business innovation and growth with Borderless Networks. We have the depth and breadth of expertise to create a clear, replicable, optimized branch office footprint across technologies that will help you:
• Increase the accuracy, speed, and efficiency of deployment
• Improve operational efficiency, save money, and mitigate risk
• Continuously improve performance
Why Cisco?
Built on 25 years of innovation and product leadership along with broad market acceptance, the new generation of access routers continues to optimize service integration to transform the branch-office experience with the speed, scale, and flexibility to deliver tomorrow's services transparently at a low cost of ownership. For more information, please visit: www.cisco.com/go/isrg2.
Table 2 compares the models of the Cisco ISR G2 portfolio.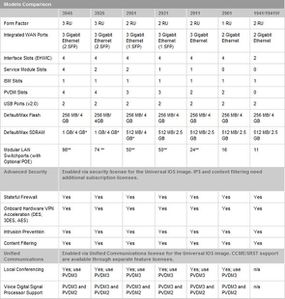 More Cisco ISR G2 Files: Cisco ISR G2 Management Overview
Share this post
To be informed of the latest articles, subscribe: