Cisco Delivers New Enterprise Collaboration Solutions
Cisco will boost its enterprise collaboration stack with products designed to simplify the way companies secure communications, interact with external parties and manage their collaboration tools.
At its annual Collaboration Summit event, Cisco announced the next phase of its vision for collaboration, which focuses on delivering innovations that embrace the modern workspace and enable users to work smarter and more efficiently from virtually anywhere. Cisco designed the new solutions specifically with the goal of making it easier for teams to instantly connect communicate and collaborate–so people can respond faster and make decisions more quickly. Tailor-made for the increasingly mobile and distributed workforce, these new innovations are simple to use, are highly intuitive and make collaboration easy to scale across organizations of all sizes.
"Collaboration tools are old and broken," said Rowan Trollope, senior vice president and general manager of Cisco's Collaboration Technology Group, during a meeting with reporters prior to today's announcement.
Younger workers demand and expect collaboration tools—including IM, presence, video conferencing, audio chats, IP telephony and Web meetings—to be readily available anytime and anywhere, so Cisco is doubling down on mobility and cloud computing.
"You haven't seen anything yet," Trollope said, adding that the products being unveiled represent "a new direction for collaboration at Cisco."
A Bevy of New Offerings
One of the products is the Cisco Expressway, a gateway that secures real-time collaboration, including voice, IM and video communications without requiring device registration, account setup or passwords.
Cisco Expressway, part of the company's Collaboration Edge Architecture, uses Transport Layer Security and works with Cisco product families like Jabber and TelePresence. Expressway will be available in December. Expressway remote and mobile access for Jabber will be included at no additional cost in Cisco Unified Workspace license bundles.
Another new product is Jabber Guest, which plugs into Expressway and lets companies provide secure, controlled access to their enterprise collaboration systems to external parties like partners, contractors and customers.
For example, Jabber Guest lets companies usher in outsiders via a link on an IM or through a button on their website, so that, say, a tech support representative can communicate with a customer through video conference and screen share via a browser or mobile device. Jabber Guest will be available in January. Pricing will be announced then and will be based on the number of concurrent "guest" sessions the customer wants to have available.
Cisco will also unveil a new technology called Intelligent Proximity, designed to make it easy for employees to link their mobile phones with their desk phones
Cisco will also unveil a new technology called Intelligent Proximity, designed to make it easy for employees to link their mobile phones with their desk phones so that they can switch calls in progress back and forth, and export contacts and call histories from the mobile phones. The first Cisco phone to gain this functionality will be the Android-based DX650 Smart Desk Phone.
The first implementation of Intelligent Proximity uses Bluetooth, but it will later employ an as-yet-unannounced Cisco technology that will further simplify the linking of devices, according to Trollope. The Intelligent Proximity for the DX650 will be delivered via a free firmware upgrade in November.
For IT administrators, Cisco has enhanced Prime Collaboration, giving it a centralized management console to control most Cisco collaboration products, including servers, desk phones and client software, monitor system health and provision users' own devices. It will be available in November.
Cisco is also announcing the second generation of its TelePresence MX300 endpoint, which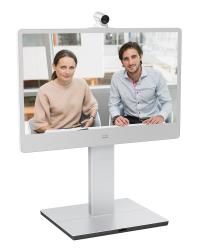 is a stand-mounted, high-definition (1080p) display with a camera, four-way conferencing capability, an industrial "sleek" design and simple assembly requirements, according to the company. Available in December, its list price starts at $23,900.
On the low end, Cisco unveiled the IP Phone 7800 Series for midmarket customers that offers what the company describes as "superior audio quality" with low power consumption. It will be available this month and cost $255.
Original News from http://www.pcworld.com/article/2057100/cisco-beefs-up-enterprise-collaboration-tools.html
More Related Cisco News:
Cisco Boosts Enterprise Collaboration Tools for the Modern Workspace
To be informed of the latest articles, subscribe: