Cisco Cut as Data-center Business Shifts
Software-defined-networking threat leads to J.P. Morgan downgrade
Cisco Systems could feel the impact of a new trend that expands the role of software in data center networks — and it could come much sooner than expected, an analyst said.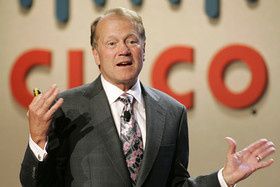 J.P. Morgan downgraded Cisco to underweight, or sell, from neutral based on what analyst Rod Hall described as a more rapid adoption of software-defined-networking.
The move came following a strong run-up on Cisco's shares, which have surged 25% since its last earnings report in mid-November. Cisco was trading down a fraction at $20.92 by mid-day Thursday.
Known simply as SDN, the new technology allows businesses to rely less heavily on networking hardware, using software systems used to run data centers. There's been a debate on the potential impact of the trend, which some analysts say could hurt Cisco's core hardware business in the long-term by turning data center switches into commodities.
In his note, Hall said he had earlier assumed that the impact of software-defined networking "would be gradual and would, therefore, not lead to a rapid decline in the unit price of an ethernet switch." He now sees the impact from the shift to SDN coming earlier.
"Since then, we have become more convinced that SDN impacts are likely to come sooner and that those impacts will occur more rapidly when they begin," he wrote.
In fact, Hall now projects that the "data center-oriented switching market could be reduced by as much as 33% by 2015 by technology shifts that are in motion."
In his same note, Hall upgraded Cisco rival Juniper Networks. He noted that the company recently outlined its own SDN strategy at a recent conference, but said investors "should continue to discount Juniper's data center opportunity until the company has results to show for their plans." He based his upgrade on optimism around the company's optical and router business.
The analysis of SDNs echoes the view of IDC, which put out its own report in December predicting that the worldwide market for software-defined networking would grow from $360 million in 2013 to $3.7 billion by 2016.
To be sure, Cisco is responding to the trend, and Hall noted the tech giant's recent acquisitions of SDN-focused firms that he says "show that management is spending significant time on the area."
In fact, the market doesn't appear to be too worried just yet. Cisco shares have gained roughly 7% this year, and have risen 25% over the last two months, partly on expectations that it will benefit from an expected wave of corporate IT spending.
Still, Hall said Cisco "has the most at stake" with the software-defined networking trend, and "is the most exposed to the downside if SDN triggers networking commoditization."
---Cisco PR news from marketwatch.com
More Cisco News you can visit: http://blog.router-switch.com/category/news/
To be informed of the latest articles, subscribe: