Cisco Catalyst 6500 Series VSS 1440
VSS is network system virtualization technology that pools multiple Cisco Catalyst 6500 Series Switches into one virtual switch, increasing operational efficiency, boosting nonstop communications, and scaling system bandwidth capacity to 1.4 Tbps. Switches would operate as a single logical virtual switch called a virtual switching system 1440 (VSS1440). VSS formed by two Cisco Catalyst 6500 Series Switches with the Virtual Switching Supervisor 720-10GE.
In a VSS, the data plane and switch fabric with capacity of 720 Gbps of supervisor engine in each chassis are active at the same time on both chassis, combining for an active 1400-Gbps switching capacity per VSS. Only one of the virtual switch members has the active control plane. Both chassis are kept in sync with the inter-chassis Stateful Switchover (SSO) mechanism along with Nonstop Forwarding (NSF) to provide nonstop communication even in the event of failure of one of the member supervisor engines or chassis.
The Cisco Catalyst 6500 Series Virtual Switching System (VSS) 1440 allows for the merging of two physical Cisco Catalyst 6500 Series Switches together into a single, logically managed entity. The following figure graphically represents this concept where you can manage two Cisco Catalyst 6509 chassis as a single, 18-slot chassis after enabling Cisco Virtual Switching System.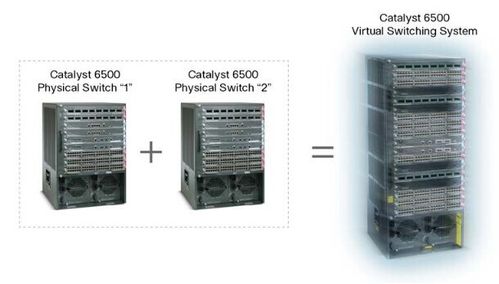 The Cisco Catalyst 6500 Virtual Switching System (VSS) 1440 takes the flagship Catalyst 6500 platform to the next level with network system virtualization.
Virtual Switching System 1440 Redundancy State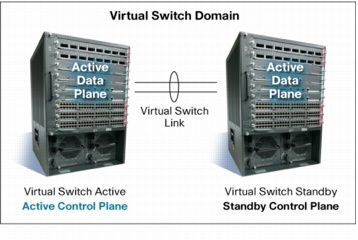 Creating a VSS 1440
The key enabler of a VSS 1440 is the Virtual Switching Supervisor 720-10G. Any two Cisco Catalyst 6500 Series Switches with this supervisor engine can be pooled together into a VSS 1440*. The two switches are connected with 10 GbE links called Virtual Switch Links (VSLs). Once a VSS 1440 is created it acts as a single virtual Catalyst switch delivering the following benefits:
Operational Manageability
Two Catalyst 6500s share a single point of management, single gateway IP address, and single routing instance

Eliminates the dependence on First Hop Redundancy Protocols (FHRP) and Spanning Tree Protocol
Non-Stop Communications
Delivers deterministic, sub-200 millisecond layer 2 link recovery through inter-chassis stateful failovers and the predictable resilience of Etherchannel
Scales to 1.4 Tbps
Scales system bandwidth capacity to 1.4 Tbps by activating all available bandwidth across redundant Catalyst 6500 switches

Up to 132 ports of 10 GbE per system
What are the benefits of using VSS?
VSS offers superior benefits compared to traditional Layer 2/Layer 3 network design. VSS increases operational efficiency by simplifying the network, reducing switch management overhead by at least 50 percent. Single point of management, IP address, and routing instance,Single configuration file and node to manage and you won't have to configure two switches with identical policies and other config. It eliminates the requirement for HSRP, VRRP or GLBP and you have to use just one IP address instead of three used with any FHRP.
Multi chassis Ether Channel (MEC) is a Layer 2 multipathing technology that creates simplified loop-free topologies, eliminating the dependency on Spanning Tree Protocol, which can still be activated to protect strictly against any user misconfiguration and with X2-10GB-ER 10 Gigabit Ethernet optics, the switches can be located up to 40 km apart.
Inter-chassis stateful failover results in no disruption to applications that rely on network state information (for example, forwarding table info, NetFlow, Network Address Translation [NAT], authentication, and authorization). VSS eliminates L2/L3 protocol reconvergence if a virtual switch member fails, resulting in deterministic subsecond virtual switch recovery.
By activating all available Layer 2 bandwidth across redundant Cisco Catalyst 6500 Series Switches with automatic, even load sharing. Link load sharing is optimized because it is based on more granular information, such as L2/L3/L4 parameters, unlike virtual LAN (VLAN)-based load balancing in Spanning Tree Protocol configuration.
More video about VSS
https://www.youtube.com/watch?v=RVwnXMVeKNs
VSS on the 4500
https://www.youtube.com/watch?v=KUecqX1OIww
More Related
A Sample VSS Configuration for 2x Cisco Cat6500 with Supervisor 720
VSS on Cisco 4500/4500X Switches
Cisco 4500 VSS Requirement-Software, Hardware and Licensing
To be informed of the latest articles, subscribe: