Cisco Catalyst 4948E Ethernet Switch for High-Performance Data Center Accesss
Cisco Catalyst 4900 Series Switches deliver high-performance, low-latency wire-speed Layer 2 and 3 services in a small form factor (1 or 2 rack units). The 4900 Series is ideal for space-constrained deployments.
The Cisco Catalyst 4948E offers forty-eight 10/100/1000-Gbps RJ45 downlink ports and four 1/10 Gigabit Ethernet uplink ports and is designed to simplify data center architecture and operations by offering enterprise-class hardware and software in a one-rack-unit (1RU) form factor optimized for smart top-of-rack (ToR) data center deployments (Figure 1).
Figure1.Cisco Catalyst 4948E

New Features of Cisco Catalyst 4948E Switch
The Cisco Catalyst 4948E offers:
• Twice the uplink capacity of the previous switch generation
• 1+1 power supply and fan redundancy for hardware replacement with no downtime
• Strict front-to-back cooling with no side or top venting
• Large shared packet buffers for microburst protection
• Nonblocking internal packet switching for east-to-west traffic patterns
• Full set of Layer 2 and 3 forwarding features
• Outstanding multicast performance
• Zero-touch provisioning with Cisco IOS Embedded Event Manager (EEM)
• Advanced quality of service (QoS)
• IP Version 6 (IPv6) switching and routing in hardware
• Extended MAC address tables to enable server virtualization
Table 1 summarizes the main features of the Cisco Catalyst 4900 Series Switches.
Table1. Cisco Catalyst 4900 Series Features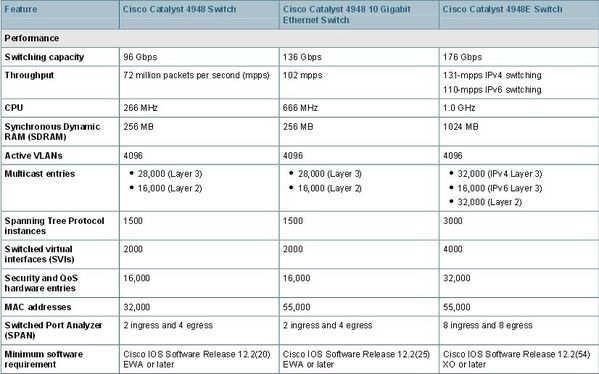 Cisco IOS Software
The Cisco Catalyst 4948E supports three levels of Cisco IOS Software, summarized in Table2. The basic level is LAN Base, developed for deployments that require data center - class hardware along with Layer 2 switching. The next level of software is IP Base; most customers will deploy this level of software because it offers many of the value-added Cisco features that provide operational consistency and an easy-to-manage environment. The top level of software is Enterprise Services. Enterprise Services adds support for advanced routing protocols such as Border Gateway Protocol (BGP), Open Shortest Path First (OSPF), Intermediate System to Intermediate System (IS-IS), and Enhanced Interior Gateway Routing Protocol (EIGRP).
Table2. Software Configuration Options
Enterprise Services

IP Base

• BGPv4

• EIGRP

• OSPFv2 and v3

• IS-IS

• IP-SLA

• Nonstop Forwarding (NSF)

• Policy-Based Routing (PBR)

• Virtual Route Forwarding Lite (VRF-Lite)

• Multicast VRF-Lite

LAN Base

• AutoQoS

• Cisco EnergyWise

• Flexlink+

• Layer 2 traceroute

• Multicast Listener Discovery (MLD) snooping

• Rapid Per VLAN Spanning Tree Plus (RPVST+)

• Static routing

• Routing Information Protocol (RIP)

• Cisco SmartPort macros

• VLAN access control list (VACL) and port ACL (PACL)

• EIGRP-stub

• OSPF for routed access

• IEEE 802.1Q-in-IEEE 802.1Q (QinQ)

• IP service-level agreement (IP-SLA) responder

• Network Mobility Service Protocol (NMSP)

• Layer 2 Protocol Tunneling (L2PT)

• Stub IP multicast

• Cisco IOS EEM

• Gateway Load Balancing

Protocol (GLBP)
More details: Ordering information for the Cisco Catalyst 4948E you can visit:
http://www.cisco.com/en/US/prod/collateral/switches/ps5718/ps6021/ps10947/product_bulletin_c25-600212.html
For More Information
For more information about the Cisco Catalyst 4948E, visit http://www.cisco.com/go/4900.
More Cisco 4900 Info:
To be informed of the latest articles, subscribe: