Cisco Catalyst 4500-X 10GE Modular Switch Review
Cisco Catalyst 4500-X Series Switches, the fixed 10GE aggregation switch, help you easily meet business growth objectives.
The Catalyst 4500-X series looks similar to the Cisco Nexus 5000 series switches, but actually it is definitely more of a campus LAN switch, rather than the Nexus data center line. There are two base configurations-a 16-port and a 32-port 10GE models. Each model has an expansion slot that currently supports an 8-port 10GE uplink model (Cisco datasheets suggest that a 40GE uplink module is on the roadmap).

Similar to the Nexus 5000s, the 4500-X ports support SFP+ 10GE optics along with 1GE SFP modules.The 4500-X supports both IPv4 and IPv6 routing in hardware, along with support for VRF-Lite and "Easy Virtual Network" (EVN) features. (The Nexus 5000s require an additional expansion module for layer 3 support).
VSS on Cisco 4500-X Series
The most intriguing feature in the 4500-X may be built-in VSS ("Virtual Switch System") support. Two 4500-X switches can be linked by 10GE ports and configured as a single logical switch. This simplifies configuration while providing a higher level of availability. It also allows ether-channels to be be built across two switches (for link redundancy and performance while eliminating the need to build spanning-tree triangles). The VSS feature has previously been reserved for the 6500 chassis with Supervisor 720s. The 4500-X therefore offers a much more cost effective way to provide a highly available distribution layer (or even a core for smaller environments that want a 10GE backbone).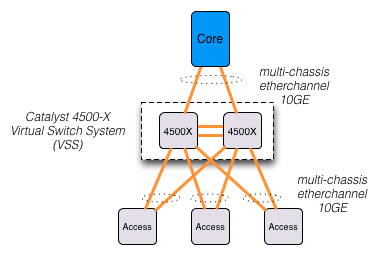 The Cisco 4500-X is an intriguing new solution as an aggregation switch for campus LANs that want to bring in 10GE uplinks without the cost or complexity of a chassis based switch. VSS capabilities in particularly allow for a dual switch redundant solution that logically functions as a single switch—a solution that up until now has required a much more expensive chassis based switch.
Quick Look at the Specifications of Cisco 4500-X Switch
| | |
| --- | --- |
| Total 1 Gigabit or 10 Gigabit Ethernet ports | Up to 40 |
| Hot-swap Uplink Module | 8 x 10 GE |
| Size | 1 rack unit |
| Hot-swap, Redundant Power Supplies and Fans | Yes |
| System Power Consumption | ~ 330 W |
| Integrated Services | Cisco Flexible NetFlow, Medianet, Cisco TrustSec |
Reference from http://architechnic.net/architechnic/2012/3/6/new-cisco-catalyst-4500-x-10ge-modular-switch.html
More Related
Cisco Catalyst 4500-X Series Switch Family
Cisco 4500 VSS Requirement-Software, Hardware and Licensing
Cisco Catalyst 4500E Supervisor Engine 8-E Review
To be informed of the latest articles, subscribe: