Cisco Catalyst 4500 Switches, Key Features and Hot Models
The Cisco Catalyst 4500 switch is a mid-range modular chassis network switch manufactured by Cisco Systems. A Cisco Catalyst 4500 comprises a chassis, power supplies, one or two supervisors, line cards and service modules.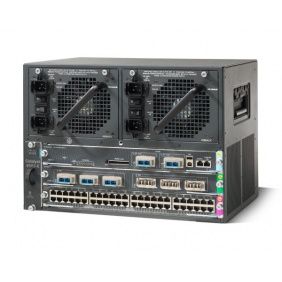 The Cisco Catalyst 4500 Series includes two series of Catalyst chassis: The Classic and newly launched E-Series chassis. The Classic and E-Series Catalyst 4500 chassis come in four sizes: 3-slot (4503-E), 6-slot (4506-E), 7-slot (4507R+E/4507R-E), and 10-slot (4510R+E/4510R-E).
The Cisco Catalyst 4500 Series Switches enable borderless networks, providing high performance, mobile, and secure user experience through Layer 2-4 switching investments. It enables security, mobility, application performance, video, and energy savings over an infrastructure that supports resiliency, virtualization, and automation.
Cisco 4500 Series Switches provide borderless performance, scalability, and services with reduced total cost of ownership and superior investment protection.
Key features you need to be clear:
Performance and Density:
848 Gbps fabric with 48 Gbps per slot delivers a 2.6x increase in performance over previous generation
Industry's highest PoEP port density with up to 240 ports of full 30 Watt PoEP
Application Performance:
Unprecedented layer 2 - 4 application visibility and control with Flexible NetFlow
Only modular access platform that can guarantee Service Level Agreements with IP SLA
Security:
Cisco TrustSec with 802.1ae (MACSec) hop-by-hop encryption and Security Group Tags (hardware-ready)
Anomaly and malware prevention through predefined, policy-based responses with Flexible NetFlow
Simplicity:
End-to-end campus deployment with single software release and common sparing
Complete Life Cycle Management: Design, Install, Operations and Upgrades
Simplified software licensing with a single image for LAN Base, IP base and Enterprise Services software
Operational efficiency:
In Service Software Upgrades for industry leading availability
Zero-touch, intelligent provisioning through Auto SmartPorts, AutoInstall and AutoQoS
Comprehensive automation with Cisco IOS Embedded Event Manager
Proactive diagnostics and remediation with Cisco Smart Call Home
Industry-leading power management with Cisco EnergyWise
Investment protection:
Backward and forward compatibility
Industry-leading investment protection with more than 10 years of backward compatibility
The benefits of Supervisor 7-E without line card upgrades
More details related to Cisco 4500 switches
Catalyst 4500 Line Cards
The Cisco Catalyst 4500 Series offers two classes of line cards: classic and E-Series. Classic line cards provide 6 gigabits of switching capacity per slot. E-Series line cards increase the per slot switching capacity to 24 gigabits.
Cisco 4500 switch power supplies
The Cisco 4500 is able to deliver high densities of Power over Ethernet across the chassis. Due to this, power supplies are a key element of configuration. The Cisco Catalyst 4500 E-Series offers AC power with several internal supplies: 1000W (data only), 1400W (data only), 1300W (data and PoE), 2800W (data and PoE), 4200W (data and PoE), and 6000W (data and PoE).
The Cisco Catalyst 4500 E-Series has two DC power options—one is optimized for data-only deployments in service provider central offices (part number PWR-C45-1400DC), and the other is used for high-power PoE deployments (PWR-C45-1400DC-P).
Operating systems
The Catalyst 4500 currently supports Cisco IOS Operating System.
To be informed of the latest articles, subscribe: