Cisco Catalyst 3750-X Series Switches-Compare Models
June 17 2013 , Written by Cisco & Cisco Router, Network Switch Published on #Cisco Switches - Cisco Firewall
Cisco Catalyst 3750-X Series Switches are designed to provide high availability, security, investment protection, high quality of service, energy efficiency, and simplified operation. These stackable switches are ideally suited to support demanding applications such as IP telephony, wireless, and video.
All models support network modules with four 1 Gigibit Ethernet (GE), two 10 GE Small Form-Factor Pluggable Plus (SFP+), or two 10GBase-T uplink ports.
All models include StackWise+ data stacking technology and StackPower capabilities for cross-stack power sharing,
Note: Cisco StackWise and StackWise Plus Technology
http://www.cisco.com/en/US/prod/collateral/switches/ps5718/ps5023/prod_white_paper09186a00801b096a.html
With LAN Base Software

With IP Base Software

With IP Services Software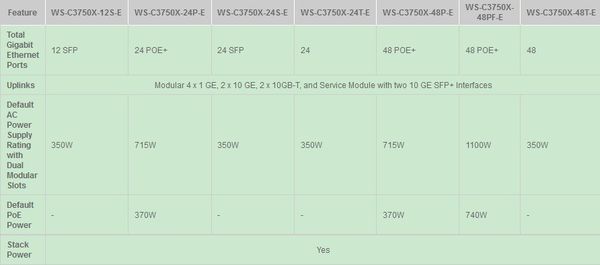 More Cisco 3750 Related:
Main Differences between Lines of Cisco 3750 Series Switches
How to Select Power Supply for Catalyst 3750-X Series and Cisco 3560-X Switch?
Cisco 3750 Stacking Configuration
How to Configure a Cisco 3750?
To be informed of the latest articles, subscribe: