Cisco Aironet 2700 Series' Main Points
The Cisco Aironet 2700 Series is a dual-band, 802.11ac supported Wi-Fi Access Point optimized for adding capacity and coverage to dense Wi-Fi networks.
It also serves the performance needs of the latest BYOD clients now shipping with 802.11ac connections.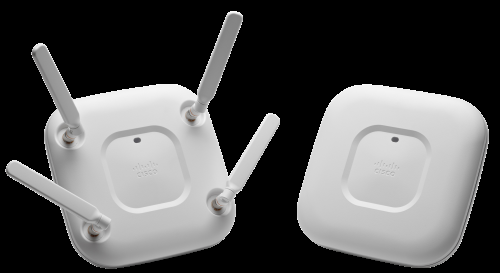 Delivering high performance for any small, medium-sized, and large enterprise network, the Aironet 2700 Series uses a purpose-built chipset with best-in-class RF architecture. It has been created specifically to take advantage of all the new speed and function of the latest Wi-Fi technology standard but at a price point that lets you ease into 802.11ac networking.
The Aironet 2700 Series Access Points is offered in two models:
Cisco Aironet 2700i Access Point has a sleek design with internal antennas and is ideal for office environments.

Cisco Aironet 2700e Access Point model is available for challenging indoor environments and requires external dual-band antennas.
The Cisco Aironet 2700 Series Access Point:
•Delivers the most advanced features in its class
•Includes an integrated 802.11ac radio that supports 3x4 MIMO with three spatial streams. The fourth receive antenna provides a performance advantage over all competing 802.11ac solutions on the market today.
•Supports true beamforming for clients that support one, two or three spatial streams
•Offers Cisco HDX support. HDX includes Cisco CleanAir within 80MHz channel widths, ClientLink 3.0, and RF Turbo Performance for better performance of all clients in a dense environment.
•Offers a 2700e model for harsh/challenging indoor environments. This model requires external dual-band antennas.
High Density Experience (HD Experience)
Building on the Cisco Aironet heritage of RF excellence, the 2700 Series APs run on a purpose-built, innovative chipset with a best-in-class RF architecture. This chipset provides a high-density experience for enterprise networks designed for mission-critical, high-performance applications. The 2700 is a component of a Cisco series of flagship, 802.11ac-enabled APs that delivers a robust mobility experience based on the following product features:
● 802.11ac with 3x4 multiple-input multiple-output (MIMO) technology supporting three spatial streams. This architecture offers a sustained 1.3-Gbps rates over a greater range for more capacity and reliability than competing APs.
● Cross-AP Noise Reduction, a Cisco innovation that enables APs to intelligently collaborate in real time about RF conditions so that users connect with optimized signal quality and performance.
● Optimized AP Roaming to ensure that client devices associate with the AP in their coverage range that offers the fastest data rate available.
● Cisco ClientLink 3.0 technology to improve downlink performance to all mobile devices, including one-, two-, and three-spatial-stream devices on 802.11ac. At the same time, the technology improves battery life on mobile devices.
● Cisco CleanAir technology enhanced with 80MHz channel support. CleanAir delivers proactive, high-speed spectrum intelligence across 20-, 40-, and 80-MHz-wide channels to combat performance problems due to wireless interference.
● MIMO equalization capabilities, which optimize uplink performance and reliability by reducing the impact of signal fade.
The Cisco Aironet 2700 Series sustains higher-speed connections farther from the AP than competing solutions. The result is up to three times greater availability of 1.3-Gbps rates in the Cisco environment for optimum mobile device performance and user experiences.
Cisco also offers the industry's broadest selection of 802.11n and 802.11ac antennas, delivering optimal coverage to different deployment scenarios.
Scalability
The Cisco Aironet 2700 Series is a component of the Cisco Unified Wireless Network, a foundation for operating both wired and wireless LANs in an integrated manner. The Unified Wireless Network can scale to as many as 18,000 APs with full Layer-3 mobility across locations on the enterprise campus, in branch offices, and at remote sites. The Cisco Unified Wireless Network delivers highly secure access to mobility services and applications. It offers the lowest total cost of ownership (TCO) and investment protection by integrating smoothly with existing wired networks.
The 802.11ac-enabled Cisco Aironet 2700 Series Access Point will help partners seize huge mobility opportunities while enabling more customers to accelerate their path to Gigabit Wi-Fi. This is the foundation for a fast, dependable and secure wireless Local Area Network (LAN) infrastructure that can support the many mobile devices, apps and data running in high-density customer environments.
Availability: The Cisco Aironet 2700 Access Point will be available in April 2014 and priced starting at $1,095 U.S.
More about Cisco 2700 Series AP:
Cisco Aironet 2700 Series: High Density Experience and 802.11ac
Comparison of Cisco AP 2600 and Aironet 3600 Series
Cisco Aironet 3700 Series-Meet and Exceed Mission-Critical Wireless Needs
To be informed of the latest articles, subscribe: