Cisco ACI Mode
The Nexus 9000 family of switches will operate in one of two modes:
NXOS Mode–If you've worked with Cisco's DC switches like the Nexus 7K or 5K, this should be very familiar to you. In this mode, you essentially have a 10GbE or 40GbE switch, with the features that are baked into that
In NXOS Mode, all of the additional custom ASICs that are present on the switch fabric are used primarily for enhancing the functionality of the merchant silicon platform, such as increasing buffer space, etc.
ACI Mode–This is a completely different mode of operation for the Nexus 9000 switch. In this mode, the switch participates in a leaf-spine based architecture that is purely driven by application policy. It is in this mode that we are able to define application relationships, and imprint them onto the fabric.
ACI is meant to provide that translation service between apps and the network.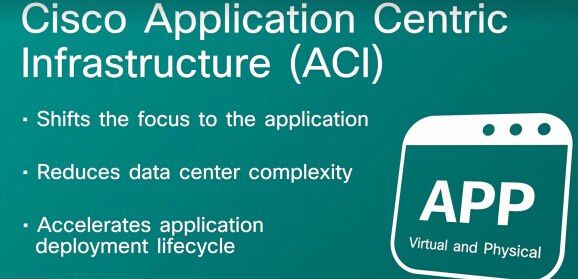 As mentioned before, also pointed out in the article 'Cisco Nexus 9000 Series Switches Overview', the second mode that the Nexus 9000 series operates in, is ACI mode. This mode allows for enhanced programmability across a complete fabric of Nexus 9000 switches. With ACI as the SDN solution on top, the fabric acts like one big switch–forwarding traffic using a myriad of policies that you can configure.
1/10G Access & 10/40G Aggregation (ACI)
48 1/10G-T & 4 40G QSFP+ (non blocking)–meant to replace end-of-rack 6500's
36 40G QSFP+ (1.5:1 oversubscribed)–used as a leaf switch, think end of rack
36 40G QSFP+ for Spine deployments (non blocking, ACI only)
1,152 10G ports per switch
36 spine ports x 8 line cards=288 leaf switches per spine

Leaf switches require 40G links to the spine
The line cards that support ACI will not be released until next year.
Spine line cards
36x 40G ports per line card and no blocking
Supervisor Modules
Redundant half-width supervisor engine

Common for 4, 8 and 16 slot chassis (9504, 9508, and 9516)

Sandy bridge quad core 1.8 GHz

16GB RAM

64GB SSD
System controllers
Offloads supervisor from switch device management tasks

Increased system resilience & scale

Dual core ARM 1.3GHz

EoBC switch between Sups and line cards

Power supplies via SMB (system management bus)
Fabric Extenders
Supports 2248TP, 2248TP-E, 2232PP-10G, 2232TM-10G , B22-HP, B22-Dell
Reference From http://keepingitclassless.net/2013/11/insieme-and-cisco-aci-part-1-hardware/
More Cisco ACI Mode Topics
Cisco Nexus 9000 Series Switches Overview
Cisco 9500 Nexus Switch Overview-Model Comparison
To be informed of the latest articles, subscribe: