Cisco 870 Series Routers Migration General Look
Integrated Services Routers for Small Offices, Teleworkers, Small Businesses...
This new family of integrated services routers supports delivery of secure data services over broadband connections including DSL, cable, and Metro Ethernet. Optional 802.11 WLANs, a four-port 10/100 Switch, and Power over Ethernet (PoE) external adapter make the Cisco 870 Series Integrated Services Routers ideal for small offices, teleworkers, and small businesses.
Top 10 Reasons to Migrate to CISCO 870 Series Routers
1. Increased performance for running concurrent services with broadband connections
2. Advanced security features, including Stateful Firewall, 3DES and AES IPsec encryption, antivirus through NAC, IPS
3. Four-port 10/100 MB managed LAN switch with DMZ ports
4. 802.11b/g WLAN option with external, replaceable antennas
5. External PoE adapter option for connecting IP phones or access points
6. Increased default and max memory architecture
7. 10/100 Mbps Ethernet WAN port on Cisco 871
8. Dual USB 2.0 ports (Cisco 871) for security tokens
9. ADSL 2+ and G.SHDSL four-wire support (on ADSL and G.SHDLS models)
10. Integrated ISDN BRI for dial backup on Cisco 876 and for out-of-band management on Cisco 876 and 878
Increased Performance and Expanded Features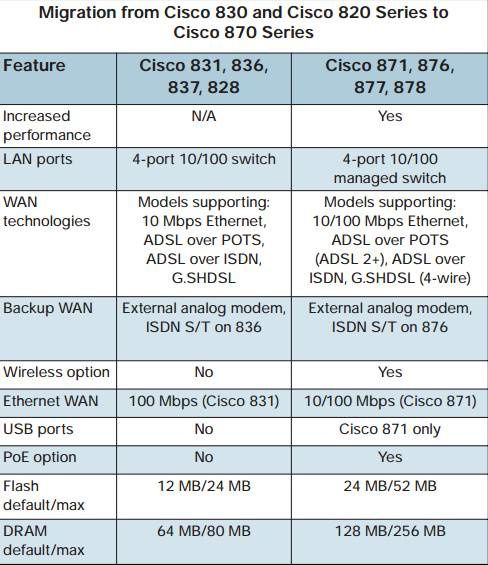 Migration Paths from Traditional Platforms
Models that bundle security features are designated with a "K9" in the model SKU
More Cisco 870 Series Tips:
Cisco 871 Interfaces and Basic Configuration
Cisco 870 Series Integrated Services Routers
Cisco 800 Series Routers Help You Prepare for CCNA Exam & CISCO IOS
Share this post
To be informed of the latest articles, subscribe: