Cisco 8-port Switch Series Simplifies Campus Network Design
When an enterprise needs more network ports in a conference room or an extra jack for a printer in an office, a network administrator has traditionally had very few good choices. There was the expensive option of pulling more cables from the wiring closet, or the option of plugging in an unmanaged 8-port switch from a low-cost vendor into an existing port, complicating campus network design.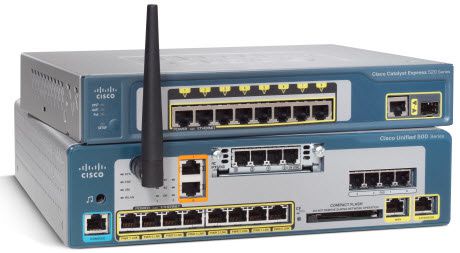 Now that port shortage problem has reached beyond the conference room as enterprises of all kinds are adding a multitude of IP devices and stretching the edge of the LAN beyond the wiring closet. Companies now deploy large numbers of IP phones and video surveillance cameras, schools have more computers and IP-based instructional technology and retail shops have deployed more IP-connected kiosks and point-of-sales stations. While 802.11n wireless LAN technology and cheap unmanaged switches have mitigated the port shortage to some extent, a better answer may lie in enterprise-class compact switches.
Cisco Systems unveiled a new family of compact switches targeting this problem. The switches are part of the Catalyst C-Series and consist of the Catalyst 2960-C and the 3560-C. There are five models and 8 to 12 Fast Ethernet or Gigabit Ethernet (GbE) ports with dual GbE uplinks. These switches do not require their own power source since each device has a new Power-over-Ethernet (PoE+) "pass-through" feature, which allows them to be powered by an upstream closet switch. They are then in turn able to pass the PoE power downstream to IP-connected devices like phones and cameras.
The Catalyst C switches also have many enterprise-class features that low-cost switches lack, such as auto-configuration, IPv6 acceleration and access control lists (ACL). They also have several features central to Cisco's broader Borderless Networks architecture, including Cisco security functions, TrustSec and the IEEE standard MACSec, and Cisco's EnergyWise energy management. The product compares somewhat to a port extender released by Extreme Networks in 2009, the ReachNXT 100-8t port extender, an 8-port device.
For Jordan Martin, technical services manager at a Pennsylvania-based healthcare enterprise, an enterprise-class 8-port switch would simplify his campus network design.
"We have all kinds of little, unmanaged switches lying around places where there just aren't enough jacks to facilitate what we need. Unfortunately a lot of our wiring in our building was done without a ton of forethought," Martin said.
"We have a campus here with a guard shack and we need to be able to process fiber in and Ethernet out, so we need a decent capability switch out there. But I don't want to spend $3,000 for one guy with a computer and a phone."
Using unmanaged switches from a low-cost vendor has been adequate at times within his network, but such devices don't scale well, Martin said. Replacing them with enterprise-class 8-port switches could improve operations, management and visibility into the edge of his network.
"In a non-managed switch, if you're having trouble with a device, it could be the switch; it could be the cabling. Being able to take a look at the interface and see if it's a duplex mismatch or whatever the issue may be without having to go out to the location and put some tap on the line… That remote diagnostic capability of an enterprise switch is big for us."
Campus network design: Even with good forethought you'll need the occasional 8-port switch
Eric Steel, network engineer with Georgia-based law firm Constangy, Brooks & Smith, said he usually avoids the need for switches beyond the wiring closet by planning ahead and making sure he has plenty of ports across the network.
"But in those cases where we can't, we end up putting in a cheap mini-switch -- Linksys or Netgear," he said. "
Those switches bring various operational challenges. Steel has to properly configure them for spanning tree protocol so that they don't loop into the LAN, and getting power to the device is also a frequent challenge. "Security is, of course, another headache, because you now have some open ports for people to plug into accidentally or maliciously," Steel said.
Replacing an unmanaged 8-port switch with compact enterprise-class switches allows users to have a network management and security feature set from the core to the edge, said Mike Spanbauer, principal analyst with Current Analysis.
"It offers the ability for the end user to basically standardize on a specific security configuration or software image," he said. "And if they have Catalyst 3560s in the closet and these 3560-Cs remotely deployed in a conference room, which offers the ability to simplify management."
These compact switches also give new campus network design options to enterprises with large numbers of small branches or locations with a light network footprint.
The Catalyst C switches replace a collection of older 8-port Fast Ethernet Catalyst 2960 switches which lacked the Borderless Networks capabilities, memory, PoE pass-through and dual uplinks of these new models.
---Original news from searchnetworking.techtarget.com
More Cisco Catalyst Switch Tips and Cisco Switch Info:
How to Choose the Right Cisco Switches for Your LAN?
Layer 2 Switches & Layer 3 switches
Cisco Catalyst 2960 LAN Base Series & Catalyst 2960 LAN Lite Series
Cisco Launches New Industrial Switches-Cisco IE 2000 Series
To be informed of the latest articles, subscribe: