12 LinkedIn Features You Need to Attention
There's a lot more to LinkedIn than just connecting with the people you know. Here's a look at 12 features, from a business card digitizer to a resume builder, that enhance your LinkedIn experience.
Play Tetris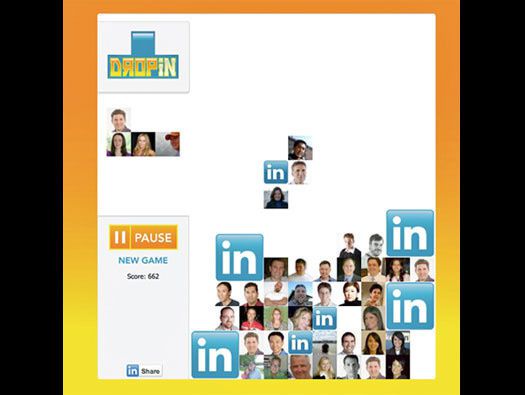 Need a break? Check out LinkedIn's version of Tetris, DropIn. The game, which was developed during a Hackday competition, uses blocks comprised of your contacts' profile pictures and LinkedIn "in" logos.
To play, log in to your LinkedIn account and visit LinkedIn Labs. Much like the original Tetris, DropIn uses your keyboard to rotate and place the blocks. Hover over a picture to review the contact's name, job info and latest status update. If your boss asks, you're networking.
Turn Business Cards into Contacts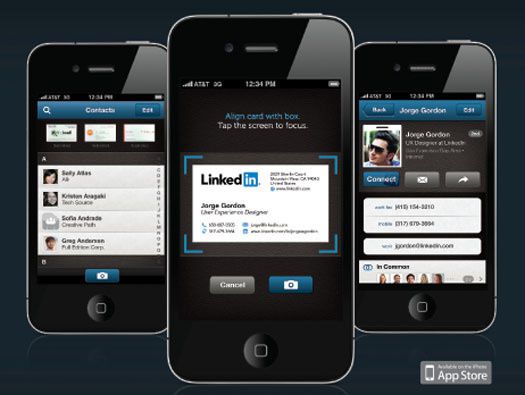 Whether you're at a trade show, conference or business meeting, you'll likely accrue a number of business cards that get lost at the bottom of your brief case. LinkedIn's Cardmunch iPhone app, however, takes your business cards, digitizes them and adds them to your LinkedIn contacts in a few quick steps.
Once you've downloaded the app, simply take a picture of the business card, and the information is converted to a contact automatically. Cardmunch will also show you LinkedIn profile information and connections you may have in common.
Customize the Updates on Your LinkedIn Homepage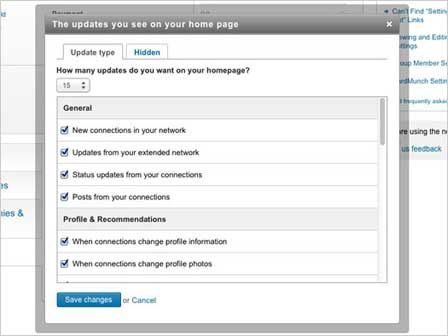 If your LinkedIn homepage is too cluttered with updates, posts and activity from your connections, pare it down by customizing the types of posts that you see.
To do this, visit your Settings page. In the Account tab, select "Customize the updates you see on your home page." By default, option is automatically checked; uncheck the items you want to hide.
Listen to Today's News Headlines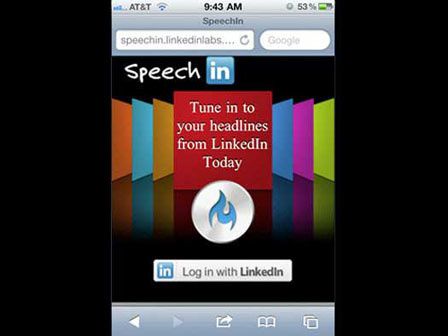 If you're in a rush and don't want to spend time flipping through the day's headlines, LinkedIn's "SpeechIn" is a quick fix to get you snippets of news while you're on the go.
Visit speechin.linkedinlabs.com to get started, then tap the flame button to begin the text-to-speech reading. Tap the forward or backward buttons to advance to the next headline or repeat the last one. Otherwise, the app will continue reading the headlines. Tap the flame icon again to pause the reading.
Browse LinkedIn Securely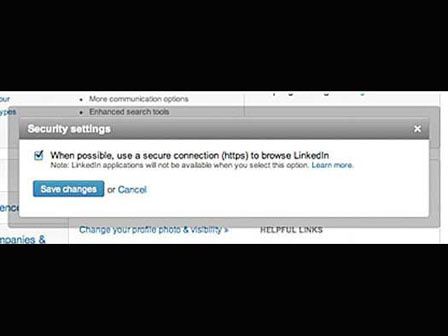 If you're accessing LinkedIn from open Wi-Fi hotspots, your security could be at risk. Check out LinkedIn's HTTPS browsing feature: an opt-in setting that provides encrypted communications and secure identification of a network's Web server.
To turn it on, select "Settings" from the drop-down menu that appears when you hover over the link to your name in the top-right corner. In the "Profile" tab at the bottom, select "Manage Security Settings." Next, check the box and save your settings.
Read What Your Connections Read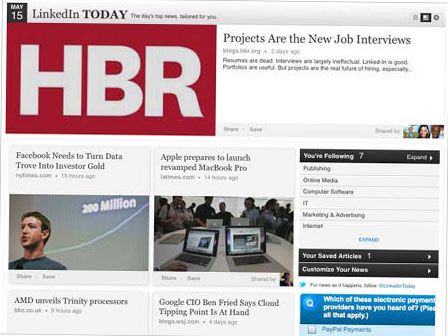 LinkedIn Today, which is a little more than a year old, is a social news service that aggregates the top headlines and stories related to your industry and based on what your connections share. Here, you can tailor the stories you see to your specific interests, save stories to read later and share ones you like with your connections.
Build a Resume From Your LinkedIn Profile
If you keep your LinkedIn profile up to date—and need a hard copy of your resume—give LinkedIn's Resume Builder a try.
Once connected to your account, the app takes the information from your LinkedIn profile and generates a resume. You can choose from a number of templates—from "classic" to "law" to "executive"—and edit any blank fields right on the page. LinkedIn's Resume Builder also lets you save your resumes, share them and keep them private, if you prefer.
Connect With People You Already Know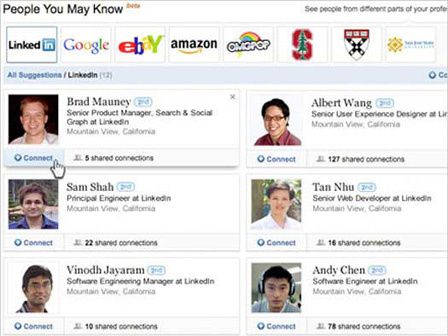 The new "People You May Know" feature, currently in beta, uses LinkedIn's algorithm that takes into account factors such as your existing network, past workplaces and where you've gone to school to produce a categorized portfolio of potential contacts.
A few noteworthy features in this update: the capability to toggle between the networks by clicking the icons at the top to sort your potential contacts; selecting the "Connect All" button to connect with all the individuals in that particular list at once; and infinite scrolling so you don't have to click through pages.
Browse 'Groups' Statistics
Curious about whether a LinkedIn Group is for you? Check out the Group's "Statistics" page to make your decision. Find this by navigating to the "More..." tab in the Group's menu, then selecting "Group Statistics."
Here, you'll find information such as the demographics of the group, including the members' seniority, function, location and industry; growth statistics, including new members; and activity details, such as how many jobs were posted and how often people start discussions.
Showcase Presentations with SlideShare
Earlier this month, LinkedIn acquired SlideShare, a professional content-sharing community. To add your SlideShare presentations to your LinkedIn profile page, select "More" from the top navigation bar and click "Get More Applications." Scroll to the "SlideShare Presentations" app, and it to your profile.
Browse Profiles Anonymously
If you don't want others to see information about you when you look at their profile, change the following setting: Navigate to your settings page and click the link for "Select what others see when you've viewed their profile." In the form that pops up, select the appropriate option—either anonymous profile characteristics or anonymity. Then click "save changes."
Visualize Your Network with InMaps
InMaps is an interactive, visual representation of your professional network that helps you better "understand the relationships between you and your entire set of LinkedIn connections," according to LinkedIn.
To try InMaps, visit its homepage and log in with LinkedIn. The map it generates is color-coded to represent different affiliations or groups from your career, such as previous employers, college classmates or industries you've worked in. As you zoom in, bigger names represent people who are the most connected with that specific cluster.
More Social Media News and Tips:
Cisco Unveils Mobile Visual Collaboration Tech in a Post-PC Era
To be informed of the latest articles, subscribe: