10 Tips You Should Know about Cisco UCS
Cisco UCS is a model-driven server management system designed to reduce hardware and connectivity constraints, simplify server lifecycle management, and provide an agile infrastructure to support cloud computing. Based on a 10-Gigabit Ethernet-FCoE unified fabric, UCS greatly reduces the number of server connections and access-layer switches by consolidating compute resources around a unified I/O fabric that supports network, storage, and management traffic simultaneously. What tips you should know about the exact Cisco UCS?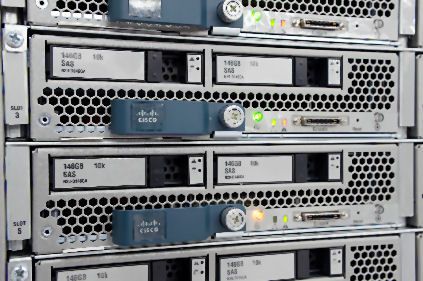 Here 10 Tips to Know about Cisco UCS
1. The most important feature of UCS is its management architecture. The hardware was all designed with unified management in mind in order to reduce the administrative overhead of today's server environments. As companies move to more highly virtualized environments and cloud architectures, automation and orchestration becomes key. UCS provides the management and provisioning tools at a hardware level to quickly realize the benefits of these types of environments and maximize the inherent cost reductions.
2. UCS is not just about blades. The management and I/O infrastructure is designed from the ground up to manage the entire server infrastructure including rack-mount servers. While blade adoption rates continue to grow, 60% of all servers are still rack-mount. UCS's ability to manage both rack-mount and blade servers under one platform is a key differentiator with major ROI benefits. This ability will be available by the end of the calendar year.
3. UCS is based on industry standards such as the 802 Ethernet standards and x86 hardware architecture, making it vendor neutral and fully compatible with other systems. The UCS system is interoperable with any existing infrastructure and can be tied into management and monitoring applications already being utilized.
4. Using the Virtual Interface Card (VIC) or Generation 1 Converged Network Adapters (CNA) from Emulex or Qlogic, UCS has a unique capability of detecting network failures and fail traffic paths in hardware on the card. This allows network administrators to design and configure network failover end-to-end, ensuring consistent policies and bandwidth utilization. Additionally this unique feature provides faster failover and higher redundancy than other systems.
5. The management infrastructure of UCS is designed to allow an organization to provision and manage the system in the way that most closely fits its process. If a more dynamic process is desired, UCS allows a single administrator to cross traditional boundaries in order to increase operational flexibility. If the current organizational structure is rigid and changes are not desired, UCS provides tight Role Based Access Control (RBAC) tools to maintain strict boundaries that match the current customer environment. If an organization is looking to UCS to provide an Infrastructure as a Service (IaaS) type environments, the benefits of UCS can be extended into custom self-service portals using the UCS XML interface.
6. UCS reduces infrastructure components and costs by providing advanced tools for I/O consolidation. The UCS system is designed to converge disparate I/O networks onto a single Ethernet infrastructure. This consolidation is not limited to FCoE deployments; it extends these benefits to NFS, iSCSI, RDMA and any other protocol utilizing Ethernet for Layer 2 communication.
7. Current UCS hardware provides up to 80Gbps of converged I/O to each chassis of 4-8 blades. This is done using a pair of redundant I/O modules which both operate in an active fashion. This is not a bandwidth limitation of the mid-plane which was designed for 40Gbps Ethernet and above. Future I/O modules will provide additional bandwidth to the chassis and blades as data center I/O demands increase.
8. The single-point-of-management for the server access layer provided by UCS can be extended to the VMware virtual switching infrastructure, further reducing administrative overhead. Using Pass-Through Switching (PTS) on UCS, the VMware virtual switching environment can be managed through the UCS service profile the same way physical blades are managed.
9. Memory extension on the UCS B250-M1 and B250-M2 blades provide industry leading 384GB of memory density for 2 socket servers. Moreover, because this increased density is gained through additional DIMM slots, lower density DIMMS can be used at significantly lower cost to reach up to 194GB of memory. In addition to the M250 blades, the B440 adds support for the 2 or 4 Xeon 7500 processors with 4, 6, or 8 cores depending on processor model.
10. While the UCS architecture was designed to amplify the benefits of server virtualization and Virtual Desktop infrastructures (VDI), the platform is standards based and can be used with any bare metal x86 based operating system such as Windows, SUSE/Red Hat Linux, etc. UCS can operate with any mix of server operating systems desired for any given customer.
More Related Cisco UCS Info:
Basic Tech Tips for Configuring UCS with VMware vSphere
To be informed of the latest articles, subscribe: