10 gigabit Ethernet /10 GbE Overview
Most companies these days are familiar with the 10 GbE technology. Why 10 GbE? Why 10 Gigabit Today? In the following part, we will share what the exact 10GbE is and more examples of using 10 GigE technology.
What is the Exact 10 GbE Technology?
10 gigabit Ethernet, a telecommunication technology, offers data speeds up to 10 billion bits per second. 10 gigabit Ethernet (10-Gigabit Ethernet) is also known as 10GE, 10GbE or 10 GigE.
The 10 GbE standard is fully interoperable with existing Ethernet protocols. It differs from traditional Ethernet in that it is a full-duplex protocol, meaning it does not need Carrier Sense Multiple Access/Collision Detection (CSMA/CD) protocols. In every other way, 10 GbE is the same as the original Ethernet protocol. This is important for network managers because as the demand for speed increases, 10 Gb Ethernet can easily be deployed within existing networks, providing a cost-effective technology that can support high-speed, low-latency requirements.
10-Gigabit Ethernet is often described as a disruptive technology that offers a more efficient and less expensive approach to moving data on backbone connections between networks. The IEEE 802.3ae standard permits distances between physical locations up to 40 kilometers over a single-mode fiber. Both single-mode and multi-mode fiber systems can be used with 10 GbE applications.
Similar to existing Ethernet protocols, 10 Gb Ethernet is a Layer 1 and Layer 2 protocol that adheres to key Ethernet attributes, including the Media Access Control (MAC) protocol, the Ethernet frame format, and minimum and maximum frame size. 10 Gb Ethernet connects current to fiber optic cable but is expected to be compatible with twisted-pair copper as well. The standard supports connections to both LANs and WANs, and can connect to SONET and SDH wide area networks.
Challenges to deploying 10 Gb Ethernet are primarily based on the costs to deploy versus the benefits received, along with issues associated with the potential replacement of legacy network technologies, such as point-to-point private lines and/or multiprotocol label switching (MPLS).
For Many Companies & Enterprises, Why 10 Gigabit Today?
More for Less
In the past, 10GbE was neither necessary nor affordable. As with most burgeoning technologies, those dynamics are changing. Technological advancements have resulted in higher performance at lower costs. As such, gigabit and 10GbE bandwidth has become affordable for most companies.
Regardless of cost, there is also a distinct need. An increasing number of applications require considerable bandwidth to support the transfer and streaming of large data, video and audio files. As bandwidth-intensive applications and latency sensitive traffic types become ubiquitous, so does the need to support and transport them.
In addition, many companies are seeking to"future proof" their network to ensure they can support emerging technologies and preserve their initial investments. In the past, fiber and wire cabling systems were installed with a 10-year lifespan in mind. However, with the rapid, ongoing evolution of network technologies, companies must be concerned with their current infrastructure's ability to keep pace.
Costs associated with re-cabling a network can be exorbitant and organizations should take precautions to ensure their cabling systems can last well into the future. 10GbE provides the very best assurance for being able to support forthcoming technologies and delivers utmost investment protection.
Data Centers
For many institutions–especially those that utilize automated trading – uptime and response time is critical. Delays longer than a second can be exceedingly costly. With servers now being able to transmit near gigabit bandwidth and network downtime proving catastrophic, today's enterprise data centers need extended bandwidth.
10GbE is an ideal technology to move large amounts of data quickly. The bandwidth it provides in conjunction with server consolidation is highly advantageous for Web caching, real-time application response, parallel processing and storage.
Campus Backbone Links
Many organizations wish to connect their campus buildings with high-speed links. Carrier-based services offload the burden of establishing and maintaining a 10GbE backbone, but limit flexibility and oftentimes prove too costly with expensive, unending monthly bills. This ongoing expense can be overwhelming for educational institutions, government organizations and hospitals as well as enterprises that do not have a set budget year to year.
Establishing a 10GbE campus backbone is a one-time expense that can provide significant cost savings when compared to monthly communications link bills.
Enterprise data center with 10GbE backbone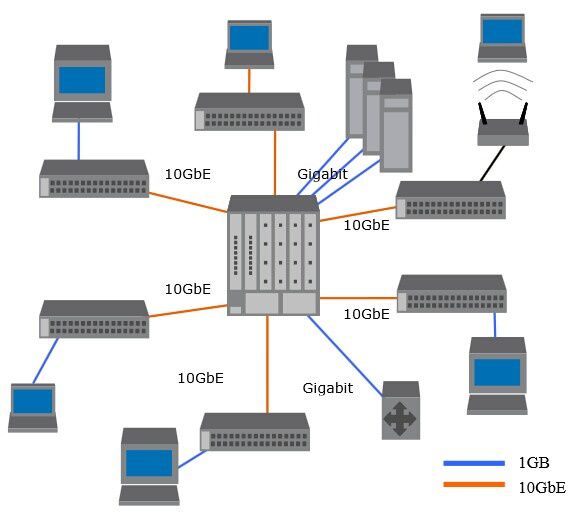 Metro Area Transmission
Many companies also need to send and receive data beyond their campus, oftentimes in the form of large or streaming files that require high-speed links. Traditionally an area for carriers, 10GbE now offers an attractive alternative to costly monthly charges for long distance data transmission.
Many carriers offer expensive transmission services utilizing SONET OC-48 or OC-192c standards. These are considered "lit" services where a company has to add protocol conversion to be able to link from end to end.
Conversely, "un-lit" fiber–called Dark Fiber–is now being offered by carriers to companies able to provide their own connectivity. In these cases, routing switches supporting the 10GbE standard can provide their own transmission. Taking advantage of 10GbE performance in tandem with carriers' Dark Fiber services can drastically reduce costs when compared to"lit" transmission services.
About 10GbE Transceivers
IT professionals must also consider the devices that connect their cabling to their network. Transceivers provide the interface between the equipment sending and receiving data and the cabling transporting it. Just as there are distinct cabling technologies that coincide with distinct gigabit technologies, various transceivers are also available to match each gigabit standard.
Both gigabit and 10GbE technologies have "pluggable" transceivers. For gigabit technology, there are two defined transceiver types: Gigabit Interface Connector (GBIC) with its large metal case for insertion into low-density interface modules and units (switches), and the newer "mini-GBIC" or Small Form Factor Pluggable (SFP).
10GbE has four defined transceiver types. These transceivers are the result of Multi-Source Agreements (MSAs) that enable vendors to produce 802.3ae-compliant pluggable transceivers.
The four types are:
XENPAK–the first 10GbE pluggable transceivers on the market to support the 802.3ae standard transmission optics. They are large, bulky and used mainly in LAN switches. These transceivers are "hot pluggable" and support the new 802.3ak Copper standard with vendors now producing transceivers to connect CX4 cables.
XPAK–used primarily in Network Interface Cards (NIC) and Host Bus Adapter (HBA) markets for use in Servers and NAS devices.
X2–the smaller brother of the XENPAK pluggable transceivers, the X2 form factor is about 2/3 the size of the XENPAK. With the same "hot pluggable" specifications and supporting all the 10GbE standards (including copper), the X2 form factor allows for more port density on switches. X2 is being used by ProCurve and Cisco thereby providing customers with a strong sense of assurance that this technology is the best choice for today and will have strong vendor support.
XFP–the newest pluggable transceiver on the market, XFP is the closest in size to the SFP pluggable transceiver now used for gigabit technology. Because it relies on a high-speed interface (10.3125Gbps), high-priced serializer/deserializer (SERDES) are required inside the switch to support it. Over time, the cost of such SERDES will decline, but today they add an unacceptable cost to the base system. Still, the positive aspect of the XFP form factor is it will allow switch vendors to increase port density in a smaller area for cost savings. A drawback of the XFP will be its inability to support the current Copper (802.3ak) or the 10GBASE-LX4 standards.
SFP+-As the industry brings down the cost and power of 10G optical devices, effort to increase the capacity of the existing SFP is being considered. For many customers, the possibility of achieving 10G speeds and a mechanical form factor that allows 1G or 10G to reside in the same footprint, might prove attractive. ProCurve continues to evaluate SFP+ as an alternative for the future.
As organizations grow their networks and support bandwidth-intensive applications and traffic types, 10GbE technology is becoming evermore pervasive. 10GbE functionality can provide immediate performance benefits and safeguard a company's investment well into the future.
Just as there are many manifestations of the gigabit and 10GbE standards to suit various networking environments, there are also many copper and fiber cabling technologies to support them. Companies must have a solid understanding of not only their environment and need, but also the different standards and cabling technologies available to them. Doing so will help them develop a sound migration and cabling strategy, enabling them to reap the benefits of 10GbE for years to come.
More related Cisco 10GbE Transceivers
Catalyst 4500E & 4500X Series 10 GbE Review
About Transceiver & Cisco Transceiver Modules
Cisco SFP vs. GBIC vs. XEP vs. SFP Plus
Cisco 10GBASE SFP+ Modules Overview
Cisco 10GbE Optics Modules & Optical Standards
Reference from http://searchnetworking.techtarget.com/definition/10-Gigabit-Ethernet and more...
To be informed of the latest articles, subscribe: