What Factors Will Affect Server Purchases for IT Buyers?
How many factors do you consider to choose a server? For example, VM and container consolidation, as well as visualization and scientific computing, each affect the decision. Yes, server selection is a quandary for IT, as security, the use of file servers and whether multiple servers of CPU systems will meet enterprise demand plague enterprises.
In the following part, Stephen J. Bigelow (Senior Technology Editor in the Data Center and Virtualization media group at TechTarget Inc.) discussed some important factors on server purchases for your enterprise.
1. Enhanced server security plays a role in server purchases
Although server purchases aren't based solely on security capabilities, there is a proliferation of protection, detection and recovery features to consider for most enterprise tasks. Modern security features now extend well beyond traditional Trusted Platform Modules.
For example, secure servers can offer protection through a hardware-based root of trust, which uses hardware validation of server management platforms, such as an integrated Dell Remote Access Controller, and server firmware as the system boots. Validation typically includes cryptographic signatures to ensure that only valid firmware and drivers are running on the server. Similarly, firmware and driver updates are usually cryptographically signed to verify their authenticity or source. You can execute validations periodically even though the system might not reboot for months. Native data encryption is increasingly available at the server processor level to protect data in flight and at rest.
An increasing number of systems can detect unauthorized or unexpected changes in system firmware images and firmware configurations, enforcing a system lockdown to prevent such changes and alerting administrators when change attempts occur at the firmware level. Servers frequently include persistent event logging, which includes an indelible record of all activity.
And servers benefit from various recovery capabilities. For example, automatic BIOS/firmware recovery can restore firmware to a known goodstate after the system detects any flaw or compromise in the firmware code base. Some systems can apply similar restoration to the OS by detecting possible malicious activity and restoring the OS to a known good state as well. And system erasure features can be used to wipe all hardware configuration settings of the server, including BIOS data, diagnostic data, management configuration states, nonvolatile cache and internal SD cards. System erasure can be particularly important before redeploying the server or removing it from service.
When choosing a server, evaluate the importance of certain features based on the use cases.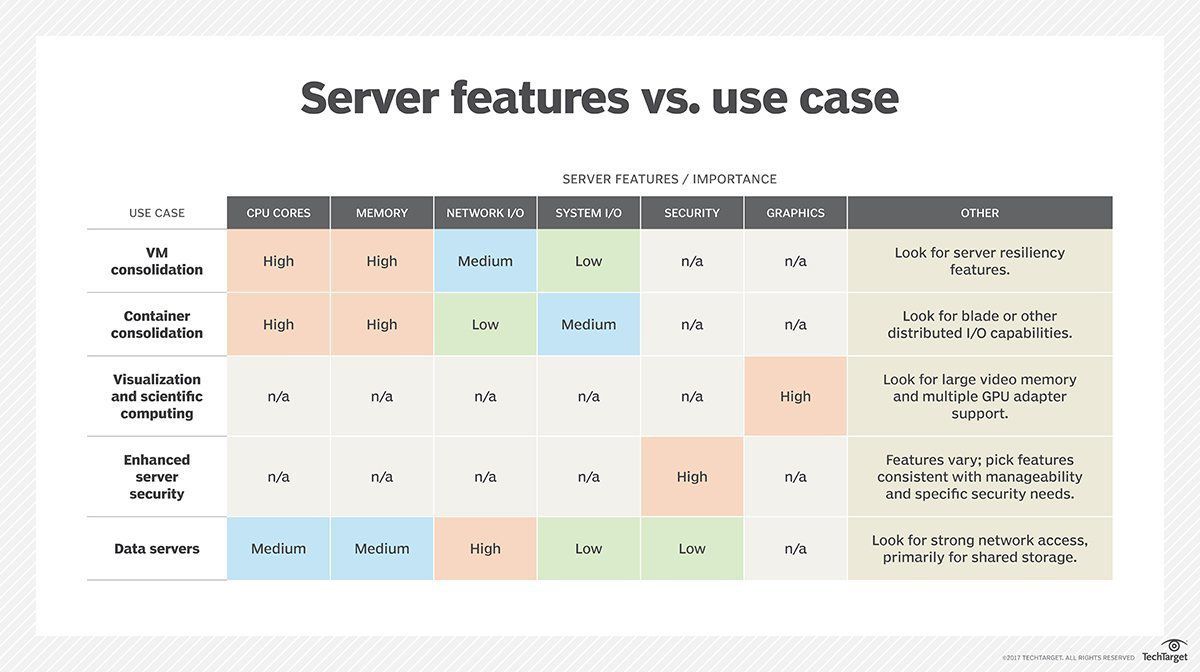 When choosing a server, evaluate the importance of certain features based on the use cases.
2. For data servers, focus on network I/O
File servers, or data servers, can take many shapes and sizes depending on the needs of each specific business. The actual compute resources needed in a data server are typically light. For example, file servers rarely process data or make computations that demand extensive processor or memory capacity. Web servers may include more resources if the system will also be running code or back-end applications, such as databases. If the organization plans to employ virtualization to consolidate multiple data servers onto a single physical box, the processor and memory requirements will need a closer look.
However, the emphasis for data servers is more frequently focused on network I/O, which can be critical for accessing shared/centralized storage resources and exchanging files or web content with many simultaneous users -- network bottlenecks are commonplace. If the data server will employ internal storage, the choice of disk types and capacity can have a significant influence on storage access performance and resilience. Data servers can deploy a fast 10 Gigabit Ethernet port or multiple 1 GbE ports, which you can trunk together for more speed and resilience.
As just one example, a modestly configured Dell EMC PowerEdge R430 rack server offers two processor sockets, 16 GB of memory, four 1 GbE ports and a 1 TB 7.2K rpm Serial Advance Technology Attachment (SATA) 6 Gbps disk drive by default. However, you can select the R430 chassis to accept varied disk configurations with up to 10 hot-pluggable Serial-Attached SCSI, SATA, nearline SAS or solid-state drives if the business chooses to place storage in the server itself. You can also enhance network performance through a choice of Peripheral Component Interconnect Express network adapters or storage host bus adapters.
Systems versus CPUs
Many data centers are shrinking as virtualization, fast networking and other technologies allow fewer servers to host more workloads. The quandary for server purchases then becomes server count versus CPU count. Is it better to have more servers or more resources within fewer servers? Packing more capability into fewer boxes can reduce overall capital expenses, data center floor space and power and cooling demands. But hosting more workloads on fewer boxes can also increase risk to the business because more workloads are affected if the server fails or requires routine maintenance. Clustering, snapshot restoration and other techniques can help to guard against hardware failures, but a business still needs to establish a comfortable balance between server count and server capability, regardless of how the servers are used.
The original article from http://searchdatacenter.techtarget.com/tip/Security-vendor-choices-affect-server-purchases-for-IT-buyers
Outside of cost, what are the biggest factors in your server selection process? Join the Discussion
Read More: HPE Servers Topics
More Related
How to Buy a Server for Your Business?
To be informed of the latest articles, subscribe: