Cisco's Data Center Architecture
Originally, most of the traffic data center network architects designed around was client-to-server communication or what we call "north-south." With client-to-server traffic being the most dominant, network engineers/architects primarily built data centers based on the traditional Core/Aggregation/Access layer design, as seen in Figure1, and the Collapsed Core/Aggregation design, as seen in Figure2.
Figure1. Cisco Three-Tier Network Design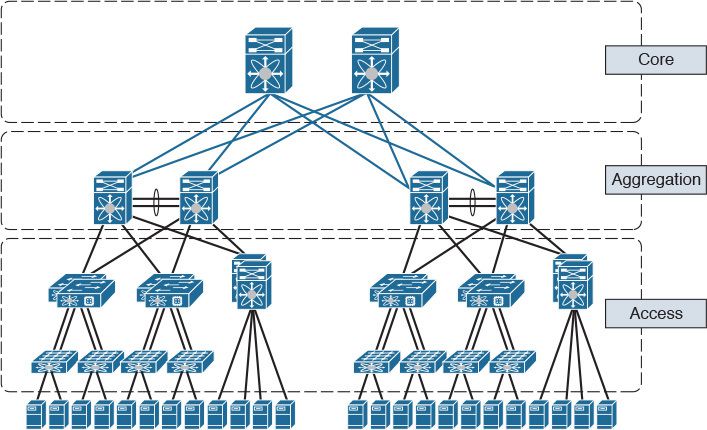 Figure2. Collapsed Core/Aggregation Network Design
In the three-tier and Collapsed Core designs, the architecture is set up for allowing optimal traffic flow for clients accessing servers in the data center, and the return traffic and links between the tiers are set for optimal oversubscription ratios to deal with traffic coming in to and out of the data center. As the increase in link speeds and virtualization became more prevalent, network engineers looked for a way to use all links in between any tiers and hide spanning tree from blocking certain links, as shown in Figure3. To do this in the data center, the Nexus product line introduced virtual Port Channel (vPC). vPC enables two switches to look like one, from a Layer 2 perspective, allowing for all links to be active between tiers, as seen in Figure4.
Figure3. Spanning Tree between Tiers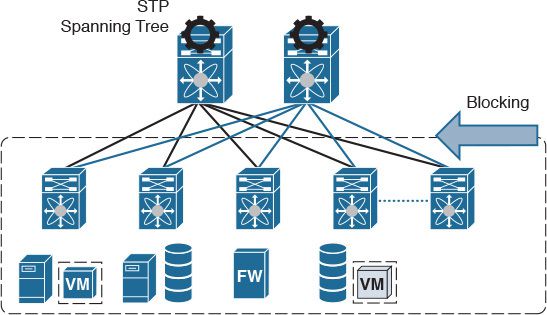 Figure4. Virtual Port Channel (vPC)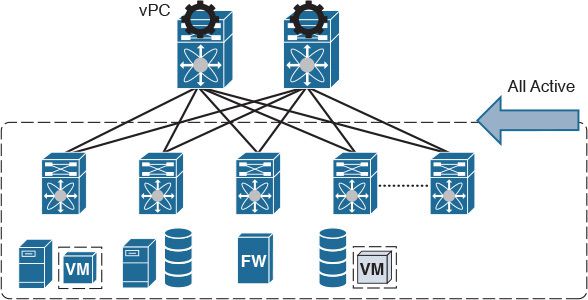 In the latest trends in the data center, the traffic patterns have shifted to virtualization and new application architectures. This new traffic trend is called "east to west," which means the majority of the traffic and bandwidth being used is actually between nodes within the data center, such as when motioning a virtual machine from one node to another or application clustering.
This topology is a spine-leaf, as seen in Figure5. Spine-leaf has several desirable characteristics that play into the hands of engineers who need to optimize east-west traffic.
Figure5. Spine-Leaf Network Topology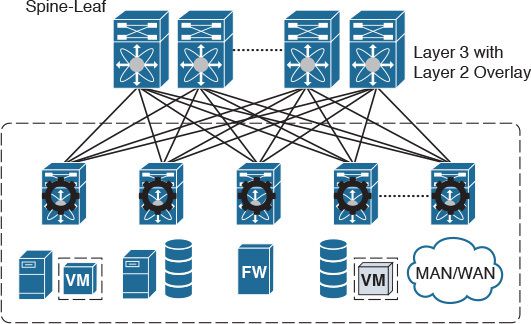 Just to name a few benefits, a spine-leaf design scales horizontally through the addition of spine switches which add availability and bandwidth, which a spanning tree network cannot do. Spine-leaf also uses routing with equal-cost multipathing to allow for all links to be active with higher availability during link failures. With these characteristics, spine-leaf has become the de facto architecture of network engineers and architects for their next wave of data center architectures.
Describe the Cisco Nexus Product Family
The Cisco Nexus product family is a key component of the Cisco unified data center architecture, which is the Unified Fabric. The objective of the Unified Fabric is to build highly available, highly secure network fabrics.
Using the Cisco Nexus products, you can build end-to-end data center designs based on three-tier architecture or based on spine-leaf architecture. Cisco Nexus Product line offers high-density 10G, 40G, and 100G ports as well.
Modern data center designs need the following properties:
Effective use of available bandwidth in designs where multiple links exist between the source and destination and one path is active and the other is blocked by spanning tree, or the design is limiting you to use Active/Standby NIC teaming. This is addressed today using Layer 2 multipathing technologies such as FabricPath and virtual Port Channels (vPC).

Computing resources must be optimized, which happens by building a computing fabric and dealing with CPU and memory as resources that are utilized when needed. Doing capacity planning for all the workloads and identifying candidates to be virtualized help reduce the number of compute nodes in the data center.

Using the concept of a service profile and booting from a SAN in the Cisco Unified Computing system will reduce the time to instantiate new servers. This makes it easy to build and tear down test and development environments.

Power and cooling are key problems in the data center today. Ways to address them include using Unified Fabric (converged SAN and LAN), using Cisco virtual interface cards, and using technologies such as VM-FEX and Adapter-FEX. Rather than using, for example, eight 10G links, you can use two 40G links, and so on. Reducing cabling creates efficient airflow, which in turn reduces cooling requirements.

The concept of hybrid clouds can benefit your organization. Hybrid clouds extend your existing data center to public clouds as needed, with consistent network and security policies. Cisco is helping customers utilize this concept using CliQr/Cisco CloudCenter.

Improved reliability during software updates, configuration changes, or adding components to the data center environment, which should happen with minimum disruption.

Hosts, especially virtual hosts, must move without the need to change the topology or require an address change.
The following Figure shows the different product types available at the time this chapter was written.
Cisco Nexus Product Family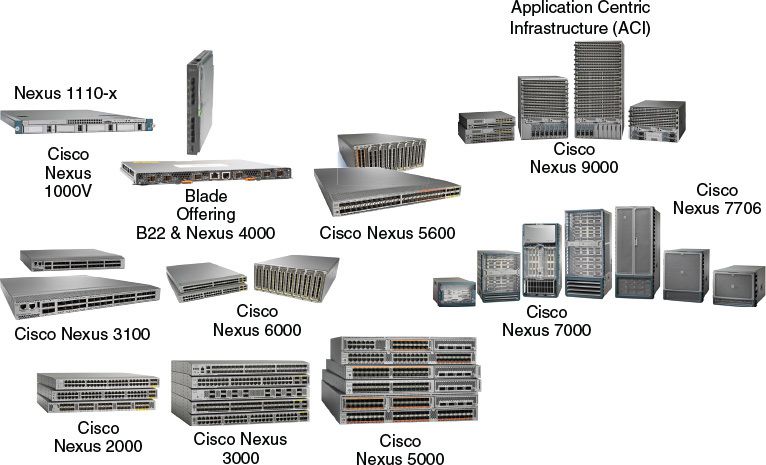 NOTE: Cisco is always innovating and creating new modules/switches. Therefore, while studying for your exam, it is always a good idea to check Cisco.com/go/nexus to verify new modules/switches and their associated features.
Info from http://www.ciscopress.com/articles/article.asp?p=2762085&seqNum=2
More Related
Make the Cisco Nexus 9000 Series Your Network Switch Today
Cisco Nexus Positioning: 2 and 3 Tier
Why Choose Cisco Nexus 9000 Series Switches? Top Five Reasons…
The Latest Cisco Nexus 9000 Innovations
Cisco Nexus 9000 Family: Nexus 9500 Modular Switches and the Nexus 9300 Fixed Configuration
To be informed of the latest articles, subscribe: