Cisco UPOE, Benefits and Solutions
Cisco Universal Power over Ethernet (UPOE) extends the IEEE Power over Ethernet Plus (PoE+) standard to double the power per port to 60 watts.
Cisco UPOE can extend resilient network power to a broad range of devices, including virtual desktop terminals, IP turrets, compact switches, building management gateways, LED lights, wireless access points, and IP phones.
Cisco UPOE is currently available on the Cisco Catalyst 4500E and Cisco Catalyst 3850 platforms.
UPoE Architecture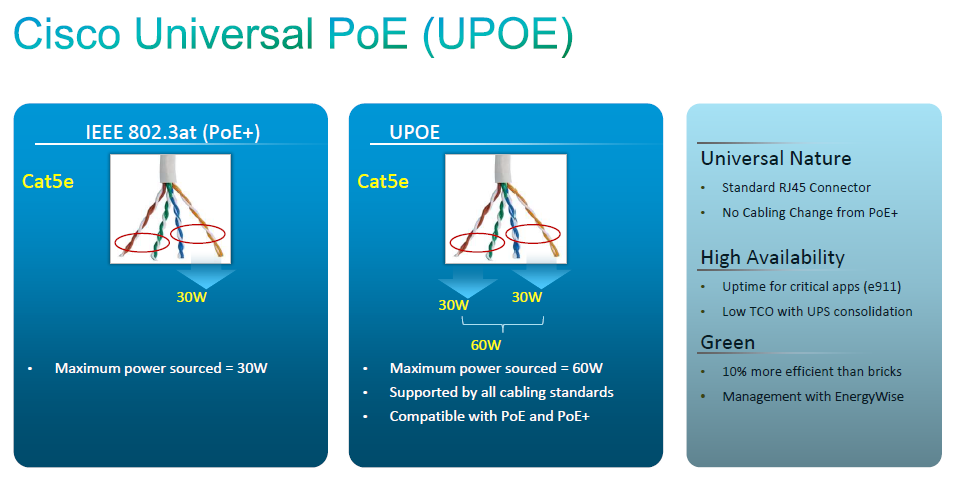 As defined in IEEE 802.3af and IEEE 802.3at, PoE delivers electrical power over two pairs out of the four twisted pairs of cable in Class D (also known as Cat5e) or better, cabling as specified in ISO/IEC 11801:1995. A PSE uses only signal pairs, the pairs 1, 2 and 3, 6, to transport power from the PSE to the PD and leaves the spare pairs, the pairs 4, 5 and 7, 8, idle. This architecture can deliver up to 30W per port.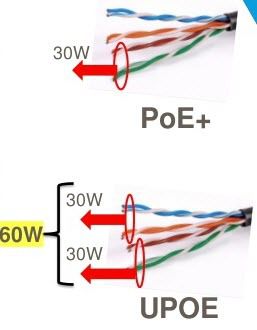 UPOE uses the same cabling standard as PoE. Instead of delivering power over two twisted pairs, it provides the capability to source up to 60W of power by using all the four pairs of standard Ethernet cabling (Cat5e or better).
The architecture for a 4-pair system is pretty straightforward; it is an extension of the 2-pair design. The 2-pair system uses one PSE controller to power the PD through the signal pairs of the cable. In the new 4-pair system two PSE controllers will be used to power both the signal pairs and the spare pairs. Figure 6 shows the UPOE architecture.
UPoE Operation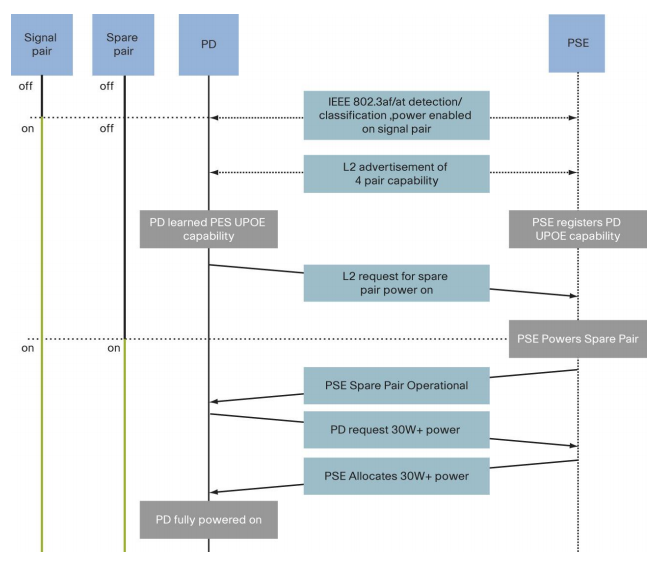 PoE/PoE Plus/UPOE comparison
| | | | |
| --- | --- | --- | --- |
| | PoE | PoE Plus | UPOE |
| Minimum cable type | Cat5e | Cat5e | Cat5e |
| IEEE standard definition | 802.3af | 802.3at | Cisco proprietary |
| Maximum power per PSE port | 15.4W | 30W | 60W |
| Maximum power to PD | 12.95W | 25.5W | 51W |
| Twisted pair used | 2-pair | 2-pair | 4-pair |
Available on Cisco Catalyst 4500E Series Switches, Cisco UPOE can:
Lower capital expenditures by eliminating wall circuits for endpoints

Reduce operating expenses by consolidating distributed uninterruptible power supply (UPS) deployments

Reduce deployment time through interoperability testing of devices

Reduce energy expenditure through Cisco EnergyWise

Extend intelligent load shedding capabilities to the devices connected to the switch
More Related
Need Cisco Inline Power, POE or the New POE+?
To be informed of the latest articles, subscribe: