New Catalyst 9000 Switches for a Changing World
Cisco switches are constantly learning, constantly adapting, constantly protecting in your data center, core, or edge.
This is the new era in networking. The Network. Intuitive.
Now here comes the Cisco Catalyst 9000 Series.
Cisco's new Catalyst 9000 switches, switching for a changing world, constantly adapt to help you solve new challenges.
Their integrated security helps you address ever-changing threats.

They simplify management of your evolving mobility, Internet-of-Things (IoT), and cloud requirements.
There are three series in Catalyst 9000 family: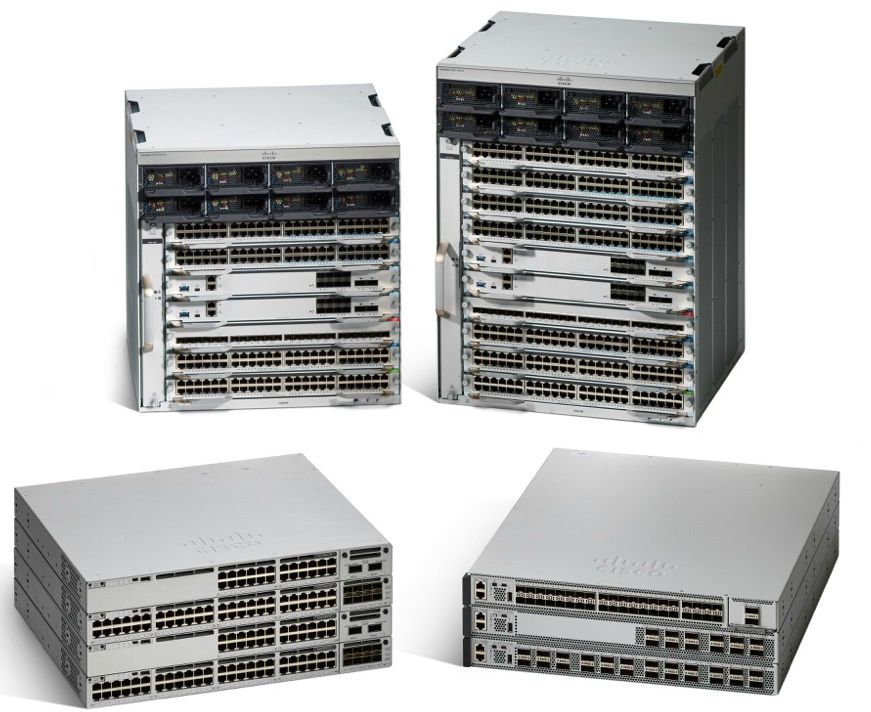 Catalyst 9300 Series: The Catalyst 9300 Series is our top fixed-access enterprise network switch series, stacking to 480 Gbps.
Catalyst 9400 Series: Cisco's leading modular-access switches for enterprise, the Catalyst 9400 Series supports up to 9 Tbps.
Catalyst 9500 Series: The Catalyst 9500 Series is the industry's first fixed-core 40-Gbps switch for the enterprise.
More fast questions and answers help you learn more about the new Catalyst 9000 Series.
Cisco Catalyst 9000 network features and services (common to all Cisco Catalyst 9000 Switches)
Q: What feature sets do the Cisco Catalyst 9000 Switches support?
A: The Cisco Catalyst 9000 Series Switches support the packaging of features into Essentials and Advantage packages. The details of the features in each package are listed in the data sheets–link provided below in the Pricing and Ordering section.
Q: What programmability capabilities are available on the Cisco Catalyst 9000?
A: The Cisco Catalyst 9000 opens a completely new paradigm in network configuration, operation, and monitoring through network automation. The Cisco automation solution is open, standards-based, and extensible across the entire network lifecycle of a network device.
• Device provisioning: Through Plug-and-Play (PnP), Zero-Touch Provisioning (ZTP), and Preboot Execution (PXE)
• Configuration: Model-driven operation through open Application Programming Interfaces (APIs) over NETCONF, Python Scripting
• Customization and monitoring: Streaming telemetry
• Upgrade and manageability: In-Service Software Upgrade (ISSU), patchability, and config/replace
Q: What management capabilities are available for the Cisco Catalyst 9000?
A: You can manage it using the Cisco IOS Software Command-Line Interface (CLI), using Cisco Prime® Infrastructure 3.1.7 DP13, Cisco Application Policy Infrastructure Controller Enterprise Module (APIC-EM), onboard Cisco IOS XE Software Web User Interface (WebUI), Simple Network Management Protocol (SNMP), or Netconf/YANG.
Q: Is there an onboard web GUI on the Cisco Catalyst 9000?
A: Yes. An onboard web GUI is available.
Q: What is the purpose of the blue beacon LED on the Cisco Catalyst 9000?
A: The blue beacon LED is common across the Cisco Catalyst 9000 Series Switches to simplify the operations. It makes chassis identification easier when several such switches are mounted on racks. A remote administrator can enable the LED to blink to help the local operator quickly locate the chassis. The local operator presses the mode button to acknowledge.
Q: What is the maximum number of VRF instances that I can configure on a Cisco Catalyst 9000?
A: The maximum number of VRFs that you can configure on a Cisco Catalyst 9000 is 256.
Q: What is Cisco's direction for wireless?
A: Cisco believes that the best solution for a wired or wireless network is achieved when integrated into SD-Access, Cisco's lead architecture for the next-generation enterprise network. This solution delivers consistency with wired infrastructure around policy, segmentation, orchestration and automation, and assurance. This new architecture delivers the best experience for mobility, guest, IoT, multicast services, and overall network performance with its distributed data plane and centralized control-plane architecture.
Q: What wireless support is provided with the Cisco Catalyst 9000 platforms?
A: Cisco Catalyst 9000 products are instrumental in supporting the following wireless capabilities in the SD-Access architecture:
• Connect access points and integrate them into the SD-Access fabric. The switch integrates with the fabric control plane (LISP), thereby providing reachability for the access points and clients in the fabric.
• Deliver macro (VRF) and micro (Scalable Group Tag (SGT) [SGT] group-based) segmentation to the access points to deliver end-to-end policies.
• Can terminate guest VXLAN traffic, so there is no need for a dedicated guest anchor controller.
The support for wireless capability at launch will be together with the AireOS 8.5 Controller running on an Cisco 8540 Wireless Controller, Cisco 5520 Wireless Controller, or Cisco 3504 Wireless Controller appliance with the Cisco Catalyst platforms functioning as Fabric Edge and Fabric Border nodes.

Q: What are the SD-Access wireless capabilities?
A: The new Cisco Catalyst 9000 Series switches provide a complete solution for Campus with Cisco AireOS Conrollers and Wave 2 access points.
Q: What are the advantages of integrating wireless in the SD-Access fabric architecture?
A: • Highest performance and scale: Distributed data-plane forwarding in hardware distributed in the network paired with the large control-plane scale offered by the dedicated controller appliances.
• Best guest: You don't need a dedicated guest anchor controller in the Demilitarized Zone (DMZ): Traffic is sent directly to the fabric border to exit the fabric. Also, there is no sub-optimal traffic forwarding such as from an access point to a foreign controller and on to a guest anchor controller.
• Best mobility: IP addressing is simpler; there is one subnet for the entire wireless SSID across the network, and no hairpin of traffic when roams occur.
• Simple operation: Operation is simple because wired and wireless are treated the same and operated together; they have common policies and controller-based automation.
• Wired innovations applied to wireless: First-hop security innovations available for wired can also be applied to wireless; for example, Dynamic ARP Inspection (DAI), IP Source Guard (IPSG), and DHCP Snooping.
• Segmentation across wired and wireless:
-The virtual network now passes all the way to wired as well as wireless devices.
-This segmentation is important for separation of certain devices from others, such as IoT and building automation devices connected over wireless.
-It is also important for security reasons to reduce attack the surface; if someone gets into a segment, the person can move only within that segment.
-Because segmentation is handled by the fabric, the number of SSIDs can be limited.
• Best multicast:
-The solution offers the best performance of distributed replication in hardware across the network.
These switches truly deliver the best of wired and wireless together.
More Related
The New Catalyst 9000 Switches Simplify IoT & Cloud Requirements
Why Migrate to the Cisco Catalyst 9400 Series Switches?
http://www.router-switch.com/Price-cisco-wireless-ap-cisco-wlan-controller_c60
To be informed of the latest articles, subscribe: