What do the Small Office Routers-Cisco 800 Series Deliver for You
Updates: Cisco 800 Series Routers Overview
Looking for best-in-class routing, built-in voice, application visibility, and more? Need a router you can deploy at remote branch locations or at your home office? Need a machine-to-machine deployment for the Internet of Things (IoT)?
You can get the Cisco 800 Series Routers. The 800 Series Routers have all in one box. It is ideal for offices with 10 to 50 users. Yes, you can say: "Small office routers deliver big performance."
Cisco 800 Series models include the 860 Series, 880 Series (the most popular one), 810 Series, 800M Series, 890 Series (the higher performance series).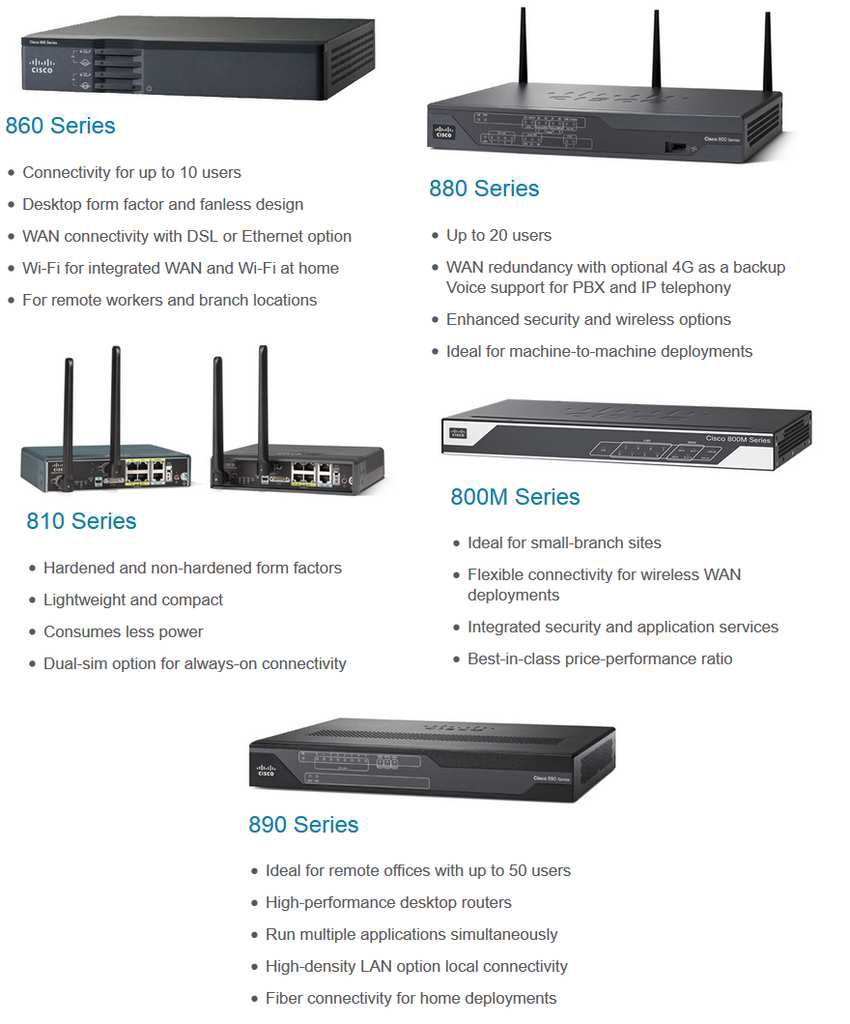 What Benefits You can get from Setting Up Network with Cisco 800 Series?
Diverse WAN connectivity: Enable a variety of WAN technologies, including xDSL, Ethernet, 3G and 4G, and fiber. The series offers a range of performance levels to meet your needs.
Voice, video, wireless, and data in one box: Get voice connectivity and video traffic, and provide Wi-Fi. It's all in a single box, so you can cut capital expenditures.
Enterprise-grade security: 800 Series routers provide encryption, VPN, firewall, and URL filtering (cloud web security). That helps you safeguard your customers and data.
Compact and quiet: These routers come in a small form factor for easy placement. They have a fanless design for quieter operation.
Compare the Hot Cisco 800 Models: Cisco 812 vs. 819 vs. 860VAE vs. 881 vs. 880VA vs. 888 vs. 880G
Cisco 800 Series Routers

812

819

860VAE

880VA

888

880G

Use Case

Typical deployment

Integrated wireless solutions (cellular plus Wi-Fi) for service providers and enterprises

Machine to machine and ruggedized small form-factor cellular deployments

Enterprise teleworker or service provider managed CPE

Small branch, retail, or managed CPE

Small branch, retail, or managed CPE

Small branch, retail, or managed CPE

Small remote office or ATM with cellular backup WAN

Typical number of users

1 executive up to 20 employees

1-20 remote teleworkers

1-10 enterprise teleworkers

1 executive up to 20 employees

1 executive up to 20 employees

1 executive up to 20 employees

1 executive up to 20 employees

Performance positioning

Up to 15 Mbps

Up to 15 Mbps

Up to 10 Mbps

Up to 15 Mbps

Up to 15 Mbps

Up to 15 Mbps

Up to 15 Mbps

WAN

Ethernet

Gigabit Ethernet 10/100/1000

Gigabit Ethernet 10/100/1000

Gigabit Ethernet 10/100/1000

Fast Ethernet 10/100

-

-

Fast Ethernet 10/100

VDSL2/ADSL2+

-

-

Multimode VDSL2, ADSL2+, ADSL2 & ADSL1

-

Multimode VDSL2, ADSL2+, ADSL2 & ADSL1

-

Multimode VDSL2, ADSL2+, ADSL2 & ADSL1

SHDSL

-

-

-

-

-

Multimode EFM/ATM SHDSL

Multimode EFM/ATM SHDSL

Fiber

-

-

-

-

-

-

-

3G/4G LTE

3.7G HSPA+ or 3G EVDO

3.5G/3.7G HSPA+ or 3G EVDO or LTE

-

3.5G/3.7G HSPA+ or 3G EVDO

3.7G HSPA + or 3G EVDO

3.7 HSPA+

3.5G/3.7G HSPA+ or 3G EVDO

Serial

-

Cisco 12:1 Smart serial

-

-

-

-

-

LAN

Ports

-

4

5

4

4

4

4

802.11 wireless

Dual-band concurrent 2.4/5.0 GHz 802.11n Wi-Fi with DFS/CleanAir (Q4CY2012)

Dual-band concurrent 2.4/5.0 GHz 802.11n Wi-Fi with DFS/CleanAir (Q4CY2012)

Dual-band concurrent 2.4/5.0 GHz 802.11n Wi-Fi (Q1CY2013)

2.4 GHz 802.11n integrated antenna; dual-band concurrent 2.4/5.0 GHz 802.11n Wi-Fi with DFS/CleanAir (Q4CY2012)

2.4 GHz 802.11n integrated antenna; dual-band concurrent 2.4/5.0 GHz 802.11n Wi-Fi with DFS/CleanAir (Q4CY2012)

2.4 GHz 802.11n integrated antenna

Dual-band concurrent 2.4/5.0 GHz 802.11n Wi-Fi with DFS/CleanAir (Q4CY2012)

Voice

-

-

-

4 FXS , 1 FXO, 1 BRI

4 FXS, 2 BRI

-

-

PoE

-

-

-

2 port integrated PoE

2-port integrated PoE

2-port integrated PoE

2-port integrated PoE

Software Features

Routing protocols

RIPv1, v2, BGP, OSPF, EIGRP

RIPv1, v2, BGP, OSPF, EIGRP

RIPv1, v2, BGP

RIPv1, v2, BGP, OSPF, EIGRP

RIPv1, v2, BGP, OSPF, EIGRP

RIPv1, v2, BGP, OSPF, EIGRP

RIPv1, v2, BGP, OSPF, EIGRP

IPv6

Yes

Yes

Yes

Yes

Yes

Yes

Yes

Advanced IP services

Default

Default

No

Upgradeable

Upgradeable

Upgradeable

Default

Video/medianet

Ready

Ready

No

Ready

Ready

Ready

Ready

Security

VPN support

GETVPN, DMVPN included

GETVPN, DMVPN included

Easy VPN, IPsec VPN on highly secure router

GETVPN, DMVPN with license

GETVPN, DMVPN with license

GETVPN, DMVPN with license

GETVPN, DMVPN included

ScanSafe

Ready

Ready

Ready, Secure Router

Ready

Ready

Ready

Ready

IPsec tunnels

20

20

10

20

20

20

20

SSL VPN

With license

With license

No

With license

With license

With license

With license

Content filtering

With license

With license

No

With license

With license

With license

With license

Application Experience

Integrated WAN optimization - Cisco WAAS Express

1.5 Mbps optimized; 50 TCP connections, license included with all 812 models

1.5 Mbps optimized; 50 TCP connections, included with 819H or with license for 819

No

1.5 Mbps optimized; 30-75 TCP connections; with license

1.5 Mbps optimized; 30-75 TCP connections; with license

1.5 Mbps optimized; 30-75 TCP connections; with license

1.5 Mbps optimized; 30-75 TCP connections; with license

Application Visibility and Control (AVC)

No

No

No

No

No

No

No

IOS high-availability features

Yes

Yes

No

Yes

Yes

Yes

Yes

Physical Attributes

Maximum dimensions

2.01 x 8.95 x 9.49 in.

1.73 x 7.7 x 8.1 in.

1.75 x 9.5 x 9.0 in

1.9 x 12.8 x 10.4 in

1.9 x 12.8 x 10.4 in

1.9 x 12.8 x 10.4 in

1.9 x 12.8 x 10.4 in

Maximum weight

4 lb (1.8 kg)

3.2 lb (1.5 kg)

5.5 lb (2.5 kg)

5.5 lb (2.5 kg)

5.5 lb (2.5 kg)

5.5 lb (2.5 kg)

5.5 lb (2.5 kg)

Fanless

Yes

Yes

Yes

Yes

Yes

Yes

Yes

Optional hardened form factor

No

Yes

No

No
More Resources such as models' data sheet, End-of-Sale notices, Q&A, Case Studies, etc. you can read here http://www.cisco.com/c/en/us/products/routers/800-series-routers/index.html
More Related:
To be informed of the latest articles, subscribe: