Cisco Nexus 9000 Series Switches for Classic Network Design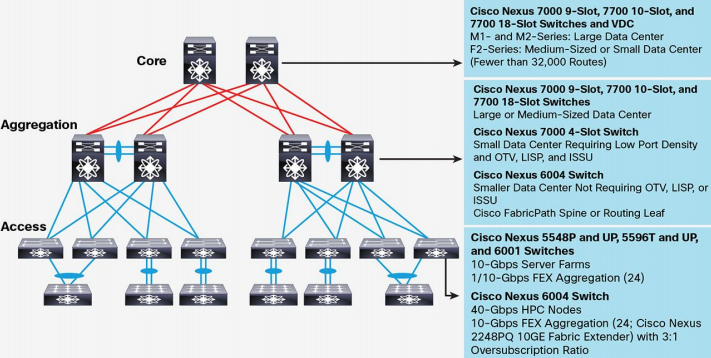 It's so cool that Cisco Nexus 9000 series, through their dual-mode capabilities, allow you to deploy them as traditional switches within your existing data center network. Cisco Nexus 9000 Series Switches are ideal for small-to-medium-sized data centers, it makes the next generation of data center switching accessible to customers of any size. And what's the data center? Why is it so important? The data center infrastructure is central to the overall IT architecture. It is where most business-critical applications are hosted and various types of services are provided to the business. A classic network is the typical three-tier architecture commonly deployed in many data center environments. It has distinct core, aggregation, and access layers, which together provide the foundation for any data center design.
Note: The figure above shows a classic design using the current Cisco Nexus product portfolio, including Cisco Nexus 7000 Series Switches and 2000 Series Fabric Extenders (FEXs). You can use this three-tier design to migrate to the new Cisco Nexus 9000 Series Switches.
Many types of services, primarily firewalls and load balancers, can be integrated into these designs. Careful planning is needed for a smooth migration from this type of hardware and topology combination to the new Cisco Nexus 9000 Series hardware and topology combination.
The main features of the new Cisco Nexus 9000 Series are support for FEX, virtual Port Channel (vPC), and Virtual Extensible LAN (VXLAN). The data center architecture can be deployed in a classic design in which existing designs variations are supported, such as the following:
● Data center pods
● Large-scale multitier designs
● VXLAN fabric
…More about data center design and Nexus switches including Nexus 7000, Nexus 9000 family you can read the full info page: http://www.cisco.com/c/en/us/products/collateral/switches/nexus-9000-series-switches/guide-c07-730115.pdf
More Related Cisco Nexus 9000 Topics
New: ACI Alternative for Cisco Nexus 9000
Cisco Nexus 9500 Comparison-Chassis, Supervisors and Modules…
Cisco Nexus 9000 Series Switches Overview
Cisco 9500 Nexus Switch Overview-Model Comparison
Cisco Nexus 9000 Models Comparison: Nexus 9500 & Nexus 9300 Series
Three Cisco Nexus 9300 Models Overview
To be informed of the latest articles, subscribe: