802.11ac Solution, Benefits & Migration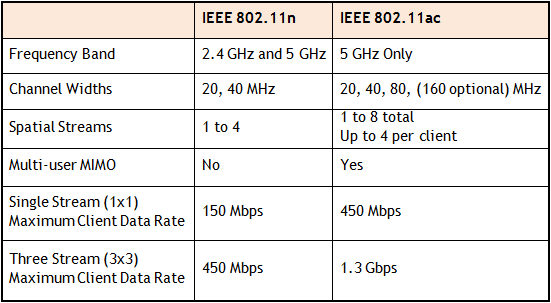 802.11ac is important? Do you want to upgrade to 802.11ac? Why? 802.11ac addresses the speed and capacity challenges facing the next-generation unified access network
● Wi-Fi is the primary access method for all new devices.
● Cisco VNI trend data shows that by 2016 over half of all IP traffic will originate on fixed Wi-Fi.
● Chip manufacturers have accelerated their delivery timetables for 802.11ac to meet device manufacturers' demands.
● Wi-Fi is assumed. Device manufacturers have never included Ethernet ports on smartphones or tablets, and they are no longer including Ethernet ports on laptops.
Benefits of 802.11ac
802.11ac offers longer battery life, more bandwidth, greater client density, and fast client adoption.
● Longer battery life: Better airtime utilization means devices are on and off the network more efficiently, conserving precious battery life.
● More bandwidth: Three to four times higher throughput than 802.11n means users have better experience for data, voice, video, virtual desktops, etc.
● Greater client density: More users and more devices per user can be accommodated.
Fast client adoption: Client devices such as smartphones and tablets are adopting 802.11ac faster than 802.11n.
802.11ac radios also support 802.11a/n clients.
● Most enterprise-grade access points provide at least two radios: 2.4 GHz for 802.11b/g/n and 5 GHz for 802.11a/n.
● 802.11ac is offered only in the 5-GHz band.
802.11g/a/n vs. 802.11ac
The differences are found in frequency, speed, modulation, battery savings, and channel width.
● Frequency Band: 802.11n operates in both the 2.4-GHz and 5-GHz band. Both 802.11a and 802.11ac operate in 5 GHz band only.
● Speed: Some of the latest generation of 802.11n access points have a maximum datarate of 450 Mbps. Wave 1 of 802.11ac provides a maximum datarate of 1.3 Gbps, and Wave 2 will offer a maximum datarate of 6.9 Gbps.
● Modulation: 802.11ac provides 256 quadrature amplitude modulation (QAM) vs. 64-QAM for 802.11n. Basically, when you have better modulation, you can transport more data. 802.11ac can operate up to three times faster than 802.11n.
● Battery savings: Since 802.11ac devices are more efficient over the air, they transmit for shorter intervals, conserving battery life. 802.11ac has been shown to improve battery life by up to 2x over 802.11n.
● Channel width: 802.11n allows a 20 MHz and 40-MHz channel. 802.11ac allows up to 80-MHz channels in Wave 1 and 160-MHz Channel in Wave 2.
Has the 802.11ac standard been ratified? Yes; the ratification and publication of 802.11ac by IEEE was completed December 9, 2013, and ANSI approved it on December 11, 2013. (The 802.11 timeline updates can always be found under the "RevCom & Standards Board Final or Continuous Process Approval" at http://www.ieee802.org/11/Reports/802.11_Timelines.htm.)
What is the difference between Wave 1 and Wave 2 of 802.11ac?
The biggest difference is that Wave 1 802.11ac is available now and the expectation is that 802.11ac Wave 2 will come to market in CY15.
● 802.11ac Wave 2 will require new hardware, so it will not simply be a software upgrade to current 802.11ac platforms.
● The main features of 802.11ac Wave 1 include: The maximum datarate is 1.3 Gbps; Channel bonding support for 80 MHz (mandatory); Three spatial streams, single-user multiple-input and multiple-output (MIMO); Two spatial streams are mandatory for non-battery-powered access points; Only one spatial stream is mandatory for battery-powered access points and clients; Faster modulation: 256-QAM
● The main features expected in 802.11ac Wave 2 include: Multi-user MIMO; Up to 8 spatial streams; 160-MHz-wide channels; Maximum datarate is 6.9Gbps
Why deploy 802.11ac Wave 1?
◦ You can expand your network and adopt 802.11ac Wave 1 today, instead of buying 802.11n or waiting for Wave 2, which won't be available until 2015.
◦ 802.11ac Wave 1 represents fundamental improvements and enhancements to 802.11n in terms of client performance due to three to four times higher throughput than 802.11n.
◦ Device users can expect to have better experience for data, voice, video, virtual desktop, etc.
◦ Wider channel bandwidth in 802.11ac means more real estate to support higher client density in conference rooms, auditoriums, and stadiums.
◦ Client devices are adopting 802.11ac faster than 802.11n.
◦ Smartphones, tablets, and laptops are on and off the network faster with 802.11ac, thereby conserving battery life.
What benefits can I expect with 802.11ac Wave 2?
◦ MU-MIMO switch-like behavior will allow for an even higher number of concurrent Wi-Fi devices.
◦ Higher throughput is expected with the additional spatial streams and 160-MHz-wide channels.
How does Cisco support 802.11ac? Cisco also offers the Aironet 2700 and 3700 Series Access Points, both of which have integrated 802.11ac Wave 1 radios. Cisco also offers an 802.11ac module that can be added to the Cisco Aironet 3600 Series Access Points.
● The Cisco Aironet 3700 Series also support a modular architecture that allows expansion to the Wireless Security Module, the 3G Small Cell Module, and support for future technology such as 802.11ac Wave 2.
● Both the Cisco Aironet 3700 and 2700 Series supports Cisco's High Density Experience (HDX) technology.
● Cisco's HDX High-Density Experience is a purpose-built Innovative Chipset designed specifically for the high performance environments of 802.11ac.
● The features of HDX includes:
◦ Turbo Performance which Scales to Support More Devices
◦ Running High Bandwidth Apps
◦ Optimized Roaming which Intelligently Decides the Proper
◦ Access Point as People Move
◦ Cisco's CleanAIr with 80MHZ channel support which mitigates interference and improves channel capacity
◦ Cisco's ClientLink 3.0 which improves legacy and 802.11ac Client performance
◦ Cross AP Noise Reduction (future) which enables dense Access Point Coexistence/implementation
More Related Topics of Cisco Wireless APs & 802.11ac
Why You Should Upgrade with Cisco 802.11ac Solution?
Cisco Aironet 1700 Series-Entry-Level 802.11ac Access Points
To be informed of the latest articles, subscribe: